The ten most important matches to follow, for us – the newish American fans of the global game.
On Friday's, schedules run a little lighter.  Noob takes the opportunity to hit up the best local games, and then it's off to soccer hinterlands less-known!
Come, jet-set with Noob.  The bags of peanuts in-flight are HYOOJ.
Louisville FC vs. New York Red Bulls II – United Soccer League playoffs
Time for the Eastern Conference Final!  Defending champions Louisville host the Red Bull reserve teams.  They finished the regular season #2 and #5, respectively.
Louisville's been clicking on both sides of both for weeks so, to the tune of nine straight wins.  The defense has been quite good, the offense – phenomenal.
NRYB Jr. have won five straight.    They've been comparable on defense, if not quite as dominant on offense.
It's an interesting twist.   Through most of the regular season, they were both scoring like gangbusters, but with NYRB doing so very much at the expense of defense.  Now Red Bulls have switched their habits around.
No matter which style NY2 play, LFC are the clear fave.  Winner gets either Orange County or Phoenix for the title.   (7:30 PM EST, ESPN+)
RESULT:    L'ville  5-1       Devon Williams with two goals in two minutes
Looks like we know which club Number B is rooting for.  Awwwww!
B.  Morelia vs. UANL Tigres – Liga MX
Three matches to go in the Apertura (first half-season).  And since each of the two half-seasons are only 17 matches long, it means things in the table are tight.  Top eight make the Liguilla (postseason tournament).
Morelia's in 7th, but their numbers don't make them look like a Playoff team.  The offense is borderline, but the defense is bottom quartile-caliber.  Still, they're trending the right way.  After not winning a match for more than a month straight, they're now winners of three in a row.  Those three were against bottom-half teams, but it's still something.
Tigres are #8.  Two teams trail them by just a point.   They've not won in their last four, the defense having completely fallen apart (11 goals allowed).
9th-place Pachuca is going to pass at least one of these two.  So if one of these two loses today, Noob considers it an elimination match of sorts.   (9:00 PM, Univision Deportes)
Paris Saint-Germain vs. Lille – France Ligue 1
Hard to believe PSG is looking like they might get eliminated from the current Champions League at the group stage.   They're not having any trouble in their domestic league.   11-0-0, eight points up on #B Lille in the table already.
Lille sport an above average offense and defense.    No reason to think they'll have any trouble finishing in the top three and qualify for the 2019-20 Champions League.  They just won't look like it today.   PSG 3-1 today.
RESULT:   PSG   2-1     Mbappe with a goal and an assist
Al Ahly vs. Esperance – CAF Champions League
The Final!    Two matches, home and away, for the club title in Africa.
Al Ahly are the #1 team in all Africa.  It doesn't even seem to be particularly close.   Noob's Elo ratings-source footballdatabase.com indicated it.  So does my newer one for Elo-ish numbers – soccerverse.com.  (The former has been down for long enough recently that I'm worried it's gone for good.)
They're well down the table in their domestic league so far this year, but that's mostly by virtue of having played far fewer matches than most teams there.  The international play leads to a lot of postponements for them.   Extrapolate their basic stats out and they're easily performing like a top-four club.
They host what may well be the #2 club on the continent.  This looks like an awful matchup for the Tunisians.  They're struggling on defense in their league, and Ahly is just relentless on offense.   Ahly by two on their own pitch today.
RESULT:   Ahly   3-1           Walid Soliman scored twice on penalties in a match that also featured a third penalty score
Mathing.
I know, right?
El Entag El Harby vs. Smouha – Egyptian Premier
You know, as long as we're here!
Top two finishers qualify for the next Champions League.  Right now, these two are #B and #3, respectively.  ENEH have played a game or two more than the teams around them in the table.  They're not going to stay this high in all likelihood.   They don't score enough, plain and simple.
Smouha, however, look to have the firepower to at least flirt with a top-two finish.  They will be hard-pressed to catch #1 El Zamalek (best O and D in the country) or hold of Al Ahly.  But so far, Smouha looks very balanced and sound.
RESULT:   2-2        Smouha blows an 0-2 halftime lead
URA vs. Nyamityobora – Uganda Premier
Uganda's top flite Is a league on the move.  They just cracked the CAF rankings for the first time recently, appearing at #18.   They'd have to move up a few more notches to qualify two teams to Champions League, but it's a start.
It's too early to perhaps say much, fewer than a half dozen matches into the season.  but #5 URA appear to be a Small Ball team – pack it in on defense, don't try to even score much themselves.
Noob believes The Nyamity-ville Horror-obora just got Promoted to top tier this year.  Judging by their utter lack of defense, they'll be headed right back down.
RESULT:   0-0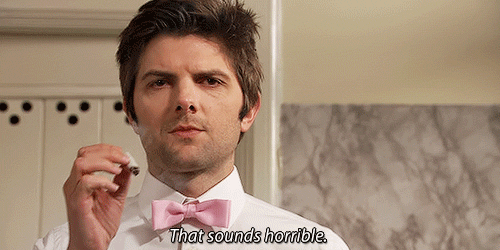 What, the play on words there?
Quiet, Adam Scott!   Don't you have a "Krampus" sequel to go shoot?
1 de Agosto vs. Hulia – Angola Girabola
Congrats to Angola's domestic top league!   Big jump coming in the 2019-20 rankings – #17 all the way to #9.
1dA didn't need the league to have an extra berth into Champions League last season like it will get soon.  They only lost one match all last season.   How?  By only giving up eight goals in 28 matches.   Stifling.
Hulia finished 6th, as perfectly average as they could be, statistically.
RESULT:         is now slated for Sun., 11/4
That African stint can be so draining.  Let's take a break for the third-ever installment of —
Noob's Sandwich Reviewoobs!
Is a child dressed as a hot dog a sandwich? ? #NYCvPHI // Audi #MLSCupPlayoffs pic.twitter.com/Rrnwj4cIYs

— Major League Soccer (@MLS) November 1, 2018
@MLS on Twitter asked the important, obvious question.  Essentially, is a hot dog, in fact, a sandwich?
Among most noble apes, a sandwich is defined as any meat or other filling between two SLICES of bread.  Buns are NOT slices, or Noob's name is John Montagu.
To be fair, one can find definitions and contexts where any pieces of bread – sliced or otherwise – are called "sandwich".  I'm not here to argue against that.
Because it's already been establish in Amuricuhn court of LAW.
In 2006, A Worcester, MS judge ruled against Panera in a heated case regarding a non-compete clause in a mall food court.  The judge allowed the mall could rent to Qdoba, that tacos and burritos were NOT sandwiches.  His or Her Honor formally told Panera, "Sit on it, Potsy" in the ruling and summary.
What's fun is that most of that is true.
So — is a hot dog a sandwich?  No.  Heretical.  Illegal!
@MLS, thanks for the picture of the cute kid.  But Noob rates your sandwich question  at a mere two and a half out of five sandwiches on the Noob Sandwich Reviewoob sandwich rating scale.
Ballymena United vs. Glenavon – Northern Ireland Football League Premiership
Next, we jet-set to Europe.  This is one of Europe's very weakest domestic leagues.  In fact, it's only semi-professional.  But hey — they're playing!
They get just the one berth into Champions League.  Glenavon are #1 now, but they only lead Linfield by a point.  They lead the league in scoring, and trail just Linfield in defensive prowess (albeit by a lot).
#3 Ballymena are nicely balanced, but are ten points behind their league-leading hosts.  At least they're in a position to perhaps get one of the league's two automatic invites to Europa League.
RESULT:   Bally   2-1
Mr. Bean always flies first class for NIFL Premiership.
Kukesi vs. Flamutari – Albania Superliga
Our second and final stop on our European league takes us to the #34 league in UEFA.  Below average, but a damn sight higher than Northern Ireland.  Wheeeeeeee!
These are the #3 and #5 clubs there currently.  Kukesi are only four points in back of league leaders Skenderbau Korce, but that team's been the power there for forever.  Even recently getting a 10-year ban from FIFA over match-fixing hasn't seemingly slowed that bunch much.
If recent history holds, Kukesi won't catch the Banned Ones or #B Tirana.  Flamutari are far less likely.   When the defense gets down to league average, those clubs won't be able to stop the perennial title contenders.
RESULT:   Flamutari   1-2
Melbourne City vs. Sydney FC – Australia A-League
The league season is just getting (Down) underway in OZ.  Yet already a big trophy has been awarded.   League defending champs Sydney FC just lost in the FFA Cup final to Adelaide.
Melbourne City finished #3 last year, a nice push for a team that's historically only average there.  They were either lucky or tough or both, too, as they didn't score a lot compared to their peers.
RESULT:   Sydney   0-3     Paulo Retre with a goal an an assist
So long from Melbourne!  
Apparently so violent, their club may soon get a Copa Libertadores invitation.