"The ten most important matches to follow, for us – the newish American fans of the global game" – hit their peak of importance today. MLS Semifinals! After tonight, we'll know who's playing for the big trophy.
Tuesday and Wednesday's match results follow below. Remember you can always check back for results on every single day, plus often a note or two about who starred, or how the results affected what was at stake.
Thursday
9. Sporting Kansas City vs. Portland Timbers – Major League Soccer
Second leg of the Western Conference Finals! While any team would of course like to get a road win every time, #1 KC got the draw in Portland in the first match of this two-game series. Now they have the chance to take care of business at home.
But that scoreless draw has to be troubling for them. Goalkeeper Tim Melia of USMNT fame played well and Graham Zusi was a monster on the back defensive line. But Noob highlighted Daniel Salloi for that first match and instead of starring, he was the weak link, losing duels and not being terribly good with passes.
The 5th-seed Portland was better on passing, held the ball longer, and created more shots on goal. That didn't and won't matter if they can't get better play from striker Jeremy Ebobisse though.
Ultimately, it's hard to beat home cookin'. KC did what was necessary, if just, and should be a moderate to heavy favorite at home.   (9:30 PM Eastern, ESPN)
RESULT:   Portland    2-3           Diego Valeri with two Timbers goals, including the game winner at 90′
10. New York Red Bulls vs. Atlanta United – Major League Soccer
Some are calling the Eastern Conference finals the de facto league finals. Both teams had several more point in the the table than K.C.
#B Atlanta laid the smack down at their place in the first leg of this overall Semi, 3-0. Franco Escobar was the slightly-surprisng star with both a goal and an assist. This club has the best offense in the entire league. It will be interesting to see if they keep dancing with the girl that brought them and continue attacking, or try to take the air out of the ball with such a big lead from the first leg.
NYRB have a HYOOJ hole to dig themselves out of. Lots of goals will certainly mean the involvement of BrandonWright-Phillips, who looked like an MVP the first half of the MLS season. Not that he tanked after that, but his effectiveness definitely diminished. But if the right side of Red Bulls' back line get manhandled again (Tim Parker, Michael Murillo), BWP's possible resurgence won't matter.   (7:00 PM, FS1)
RESULT:   NYRB   1-0         But it's not enough!    ATL will host the single-match Final versus Portland.
So long from…wherever the Red Bull box cart races were held.
Yeeeah.  Wow.
Extra Credit: Two Liga MX qf's, a couple dozen group stage Europa league matches, Copa Sudamericana sf, El Salvador and Guatemala qf's, second round Arab Club Championship
Wednesday
3.
Tottenham

Sir Topham Hatt Hotspur vs. Inter Milan – UEFA Champions League

You can scroll down to the Tuesday portion of the Midweek Track for a few extra details on the event, should you be a completely unseasoned Noobite.

Noob-reviled Hotspur is nearly out of Champions League, as is good, right and appropriate. When your club is named for an historic traitor (Harry Percy), good things cannot follow.

The scourge of England's Premier League, Hotspur trail Inter by three points in the table and won the first match between them (tiebreaker). Since Hotspur's remaining match other than this one is at #1 Barcelona, they're in desperate need of a win today.

Hotspur are winners of five straight across all competitions. Inter are in just 5th in Italy's Serie A. Where Hotspur lack a little offensive punch compared to many other top teams, Inter have been sagging on defense. Bad matchup for the visitors, sadly.   (3:00 PM Eastern, TNT)

RESULT:   Hotspur   1-0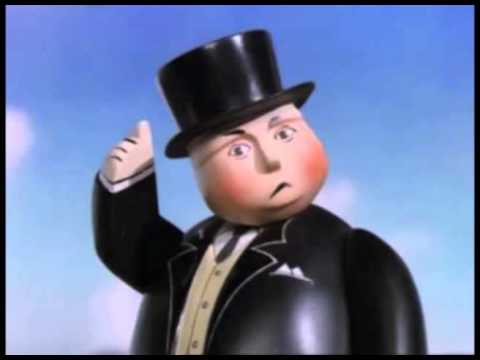 Sir Topham Hatt — flexing the pimp hand.  Gotta keep it strong for those Hotspur COYS.
4. Paris Saint-Germain vs. Liverpool – UEFA Champions League
This is the most competitive Group going here. Liverpool and Napoli are tied for first. PSG are just a point behind and Red Star Belgrade only a point behind them in turn.
PSG are running roughshod over Ligue 1 – no losses or draws. Yet many people Noob reads suggest the league is not very good this year. Liverpool have yet to lose in Champions League, putting them in second place there. Neither team allow goals.
Both teams are stronger than the ones in Track Match three here. If either doesn't qualify for the Knockout Round, that's big news.   (3:00 PM, Univision Deportes)
RESULT:   PSG   2-1
5. Porto vs. Schalke – UEFA Champions League
Three matches from one event? Thought you were filtering event like these, Noob.
Oh, but I am. But I won't ignore important ones this late in the Group Stage just for the sake of it. Porto is Portugal's #1 team. That doesn't make them one of the very strongest clubs remaining, but they won't be a pushover for anyone next round. They're dominating the Primeira Liga and can score and defend amazingly.
Germany's Schalke trail Porto by two in the Group C table. An upset win today would guarantee them a berth in the Knockout Round. And it would be a remarkable upset at that. In the Bundesliga, they're playing so darn badly that they're fighting just to stay out of the Relegation Zone.
They don't defend half badly, but they didn't wow on offense last year and don't score much at all now. Still, they lead the Group 3rd-place team by four, seem likely to sneak out of the Group Stage no matter how today goes.
RESULT:   Porto   3-1
Is that the German Mr. Magoo?
6. Monterrey vs. Santos – Liga MX
Let the playoffs begin! This is the Liguilla. The eight best teams from the Apertura (first half-season) qualified. This is a bracketed tournament. Each pair of teams will play two-legged, home-and-away series.
It is seeded just like the NCAA basketball tourney would be, and this is your 4/5 matchup. Santos has been a shade better on both sides of the ball. More, they haven't lost to Monterrey in their last three matches. But Monterrey haven't lost in three matches, while Santos didn't win in any of their last three.   (10:06 PM, Fox Deportes)
RESULT:   Monterrey    1-0
7. Saprissa vs. Herediano – Costa Rica Premier
This is CONCACAF's third-strongest league. They might argue they're better than MLS. Mexicans might argue their second division league is better. Regardless, this is a sneaky-good football league.
And the Playoffs are already underway! The top four qualified for this postseason tournament. Apertura regular season champs Saprissa host this second match of the home-and-away Semifinal series. Herediano – the other perennial power here – finished 4th, won the first leg 1-0 at their place.
Saprissa was better on both sides of the ball all Apertura, but particularly so on offense. That one-goal deficit should be one they can overcome today, move on to the Final.
RESULT:   Saprissa   1-0       …which means the series was tied and they moved on to penalty kicks!    Herediano advances to the final on those, 2-4
One foot-sport, one heart.  
But the logo's more than a little puffy-nipply.   No.
8. Portmore United vs. Tivoli Gardens – Jamaica Premier
This, too, is one of CONCACAF's stronger domestic leagues – almost certainly the best of the island nations in our federation. Hallooo, neighbors! Noob's making a concerted effort to get to know ya. May I borrow a cup of sugar?
The top six finishers here will make the Playoffs, with the top two getting byes into the Semifinals. They're a dozen matches into the season, and rhese two are #1 and #3. This is a classic best offense versus best defense scenario. An upset win wouldn't move Gardens into 1st, but would tighten up an already good-looking race.
RESULT:   Portmore   2-0
Extra Credit:   the other UEFA Champions League matches, Costa Rican semifinal, Liga MX qf; 
Also, Spain's Copa del Rey round of 32 match, Copa Argentina sf, Copa Sudamericana sf, Czech Cup Round of 16, Guatemala National League sf
Also, #1 Shkendija vs. #3 Academy Pandev in Macedonai's Prva Liga, Russian FA Cup qf, very early round CAF Champions League, #3 Brittania vs. #2 Nacional in Aruba's Division di Honor, second round Arab Club Championship
Tuesday
1. Lyon vs. Manchester City – UEFA Champions League
But make no mistake, I'm glad it's back, baybeeeeee! A quick reminder for the newest Noobites what the it is:. League champions and other top teams of Europe in the crown jewel of all club tournaments. They're currently in the Group Stage. Pods of four playing double round robins. Top two finishers from each will advance to the Knockout (single elimination, bracket-style) Stage. Everybody's got two matches to go.
Man City is thought by many to be the #1 team in the world currently. They're undefeated in Premier League play, lead Lyon by three point in the Group F table. But they've lost one match.
To Lyon. At Man City! The French team is a distant #B to undefeated Paris Saint-Germain in Ligue 1 there, but #B nonetheless. They haven't lost to anyone, anywhere, besides PSG since August. Yet strangely, that win over Man City is their only win in Group F. All their other matches have ended in draws.
So what's at stake? Noob's laser-focused of late on stakes, letting you know why any given match is important. Man City are almost 100% to advance to the Knockout Round now, and any result (win or draw) will seal that deal.
A win for Lyon would do the same. Anything else, and the door is very much open for the other two Group F clubs, trailing by three and four points, respectively. So yes, remaining undefeated with a draw would leave the, in jeopardy yet. What a tournament.
Oh, and based on ELO ratings (thank you, footballdatabase.com), Noob thinks Man City will win easily, 1-2 goal margin, in France.
RESULT:   2-2         Maxwell Cornet with a goal and an assist for Lyon as they blew two leads.  
B. AS Roma vs. Real Madrid – UEFA Champions League
Noob is often reluctant to feature multiple matches from the same league or tournament on a given day. I wish to act as filter for we newish fans, allow us to focus on the most important things, yet with a broad gaze. Eight matches today for UEFA CL. We can do two.
It's an easy decision when the three-time defending champions are in the mix, too. Real and Roma are tied for the Group G lead. The next team down is five points behind. Look, these two are going through to the Knockout Stage no matter how the match ends today. But finishing 1st or runner-up matters for seeding in the next Round, so this match is still monster.
Defending champs or not, this isn't the same Real team of recent years. Losing the greatest active player in the world – Cristiano Ronaldo – will have that effect. They're in just 5th place in La Liga and just suffered a blistering 3-0 loss to Eibar. If you don't know that name, that's the point. And their newfound issues are on both sides of the ball.
Yet after a 3rd place Italian Serie A finish last year, Roma have slipped as many places as Real – down to 7th at present. They'd appeared to have the righted their ship to some degree of late, but than lost to Udinese last time out. Once again, if you don't know that club, that's the point.
Real's crash back to earth this year has been the steeper fall. Still, Noob wouldn't put Roma at any better than an even match for them at home.
RESULT:   Real   0-2
New feature! EXTRA CREDIT will appear with some frequency now – these are events, matches Noob scouted for a given date but that didn't make the cut for the Track.
Extra Credit: Early round-Coupe de France, Scotland's FA Cup, very early round 2018-19 CAF Champions League, later round EFL Cup (tournament of tertiary importance in England), and Semifinals of Africa's women's Cup of Nations – all are in action.
ALSO! Congrats to Guadalajara, UANL, America and Pachuca of Liga MX Femenil. They all just qualified for the Semifinals of the Apertura (first half-season) there.
Noob's trying to learn women's and more CONCACAF soccer in general, but the site I use (for the moment) screws up dates something fierce. I'd scouted the Quarterfinals I thought were today, but they're in the books already. Part of the learning for Noob is finding the best resources.