This site serves two purposes, or such is Noob's intent.   We learn about the leagues and tournaments of the world through the lens of a newish American fan.  And it's all presented with pretty oddball humor oft times, something for fans Noobite and veteran alike (hopefully).
Weekends, though, the zaniness gets comparatively left by the wayside.  Even during this, the European International Break – which in turn affects most of the world – Saturday and Sunday will offer the best matches of the week.
So let's dig in and see what goodies the day has to offer.
1. Italy vs. Portugal – UEFA Nations League
Here's a direct link to understand the basics of what this tournament is: http://www.soccernoob.com/2018/01/01/uefa-nations-league-explainer/
Portugal are in the driver's seat to win the Group and make the Playoffs. They already lead Italy by two in the table and still have a match to play after this. For Italy, this is fourth and final Group Stage match.
Italy must have a win today and than likely are forced to root for Poland to beat Portugal in the final match for those two. If Italy win by more than two today, than a Poland-Portugal draw would suffice. If Italy can at least get a draw today, they will have avoided any possibility of being Relegated to the League B for the next incarnation of this tournament in 2020-21.
Italy have dropped to #19 in the FIFA rankings and failed to even qualify for the last 2018 World Cup. In getting an 0-1 win over Poland in this tournament, they had their first win of any kind since March, a streak of six matches. Just like our U.S. men's national team, they're trending towards younger players in a reset, and it's showing.
Portugal made it all the way to the World Cup quarterfinals, are ranked #7 in the world. They beat the Italians 1-0 in their first meeting of this event and have one three straight matches. (2:45 PM EST, Univision Deportes)
RESULT:   0-0
B. Serbia vs. Montenegro – UEFA Nations League
This one is in League C, yet that means there's more at stake, in a way. Those League A teams are all likely to qualify for the 2020 European Championships through a variety of channels. Not so necessarily with teams down here. Each League's winner automatically qualifies for the Euros, and this may be the only realistic shot for some teams.
Both these teams have played four of their six matches. League C groups have four teams each, unlike the three-team pods in League A, so their double round-robin is longer. Serbia are a point clear of Montenegro and two ahead of Romania.
The teams are ranked #35 and #39, respectively. Given that Serbia won the first match between them on the road 0-2, it's hard not to see them as the favorite today.
RESULT:   Serbia   2-1
The Number B brings unmitigated joy!
No Number Two ever prompted that degree of delight.
3. Palestino vs. Audax Italiano – Copa Chile
It's the second leg of the Final! And the stakes are high. The winners qualify for the next Copa Libertadores (South American Champions League). Neither of these teams was anywhere near the top of the country's Premier League standings, so this has been there only possible path.
In the first leg, Palestino scored the only goal at 90 +3′. Now they have the chance to take care of business at home for the title. But they're particularly challenged on defense typically, so don't look for them to be able to take the air out of the ball and hold on for a 0-0 draw for the match.
RESULT:   Palestino   3-2        Victors!    Congrats on Copa Libertadores invite
4. UPNFM vs. Platense – Honduras National League
Honduras' football season is divided into separate Apertura and Clausura halves. The Apertura regular season is completed and the Playoffs have begun. The top six make these Playoffs, with the top two seeds getting byes.
These two enter as the #3 and #6 seeds. UPNFM earned a 1-1 draw in the first match of this two-legged quarterfinal tie. They'll likely look to push the pace at home, which is going to be very hard on the visitors. Platense didn't score much all regular season. Anything but an 0-1 win for Platense is probably doom.
RESULT:   Platense   0-1      On to the Semifinals!
5. Namibia vs. Guinea Bassau – Africa Cup of Nations qualification
The CAF's premier national team competition is next year. This tournament is the play-in for that. Groups of four, each clubs plays a home-and-away round robine. Top two finishers in each get invites to the ACN.
South Africa hosting Nigeria might be the best game from this event today. But more is at stake in this one. These two are tied for 1st after four matches. More, the two teams below them in their Group each have a win and a draw. And Zambia is easily the highest-ranked team in the group, so one can expect them to make a push their last two matches.
Namibia's been the best of this bunch on defense, G-B on offense. Midfield control may well decide this one. A low-scoring draw would serve both reasonably well, giving both a four-point lead over the others. That feels an unlikely conspiracy though. A win for either all but guarantee a top-two finish.
RESULT:    0-0       low-scoring draw it is
6. Barry Town vs. T.N.S – Wales Premier
It's International Break in Europe, but that's not keeping the Welsh top flite from gearing up. Surprising Barry Town are merely average on both sides of the ball, yet sit tied for 1st nearly halfway through the season. They even just pulled off a very solid road draw against co-leaders Connah's Quay.
Perennial power The New Saints have been perhaps even more surprising, at least of late. They've dropped two matches in a row to midtable clubs and only got a draw against another just before that. The studly offense has simply vanished somehow.
This is one of Europe's weaker leagues, so only the winner will get a berth in the next Champions League.
RESULT:   T.N.S.   0-2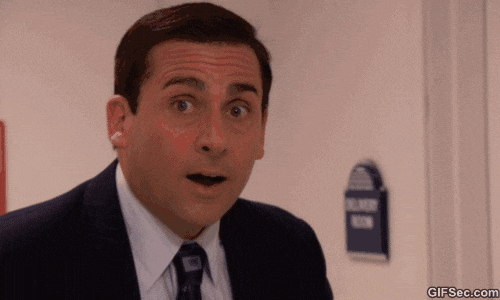 Steve Carrell is pleasantly surprised by Barry Town.  Perhaps.
7. ASE Matoury vs. US Concarneau – Coupe de France
The French FA Cup is just getting underway. Well, the Regional Leagues' amateur clubs have been competing to get to this, the Seventh Round. This is where qualifying teams from France's overseas territories enter in, as well as the pro teams from League Two.
The overseas territories' entries are the reason Noob is choosing to start highlighting this competition so early on. Some of those territories are CONCACAF members, and I'm more focused than ever on our getting familiar with our neighbors.
Noob's not certain how ASE Matoury qualified from French Guiana. They and US Matoury finished #B and #3 in 2017-18 Division d'Honneur and are playing the Coupe, but not winners Le Geldar.
US Concarneau play out of the third division Championnat National league, where they're struggling on defense and sitting midtable. Noob doesn't have any sense of how the leagues and clubs compare, so it will be fun to see how the overseas territorial clubs do.
RESULT:   Concarneau   2-3
8. Edinburgh City vs. Alloa Athletic – Scotland Challenge Cup
Teams from levels two through five of the Scottish football pyramid compete in this Knockout tournament. They also invite a handful of teams from other nearby countries.
This is a quarterfinal match. Hosts Edinburgh are from the fourth-tier Scottish League Two, for the moment. They're winning it, would be promoted if they finish #1.
Alloa are struggling in the second division Championship league, having just been promoted themselves. Still, Noob would easily favor the visitors to win by a goal or two here on the road.
RESULT:   Edinburgh City   2-2  /  4-3   pk            Upset City!   E.C. climbs back from an 0-2 whole to take it in penalty kicks.
9. Tolima vs. Santa Fe – Colombia Premier
The top eight make the Clausura (second half-season) here. This is the second leg of a quarterfinal two-legged tie between the #1 and #8 seeds. Tolima won the first match 2-1. Even on the road, Santa Fe still shouldn't be counted out though. Statistically, these teams aren't that far apart.
Colombia determines its entrants into Copa Libertadores by aggregate table, combining the Apertura and Clausura regular season records. That takes a tiny bit of the shine off things for these Playoffs, but but not much.
RESULT:   Santa Fe   0-1        But it's Tolima who advance, 4-3 on penalty kicks
10. Hassania Agadir vs. Raja Casablanca – Morocco Botola Pro
We finish out Track in one of Africa's best leagues. The most recent rankings as this sixth-best on the content, and their on pace to climb as high as #B by 2020.
This match features the current league leader against #10. Wait, 10? Yep. International Break means slimmer pickings, but this is an important match there, too. Raja Casablanca have only played half as many matches as many clubs there because of having been playing in the Champions League. They've not lost any of their four matches and are statistically the best team.
Agadir can really defend, are likely to be near the table's top all season long, competing for one of the two CL berths for next year. But R.C. defend just as well and score a lot more.
RESULT:   0-0
So long from Agadir!
not trick photography
goats climb Argan trees for the fruit in Agadir.