Suffering English Premier League withdrawal?   With just three Matchdays remaining, Sodor's got your fix.   Oh and how.
Saturday:   Co-#1 Dryaw FC host #3 Knapford Town, who trail by just two in the table.
Sunday:   -Two- intracity derbies!  One has very direct effect on the battle to stay above the Relegation line.  Plus, co-#1 Peel Godred go on the road.   Not the toughest opponent, but away matches are always possible missteps waiting to happen.
Full weekend lineup:
Sat., 5/18
#10  Suddery                 vs.    #5   Crovan's Gate
#19  Tidmouth City    vs.    #20  Arlesburgh Utd.
#18  Ulfstead                 vs.    #13  Lakeside
#1   Dryaw                      vs.     #3   Knapford Town
#16  Ffarquhar             vs.    #7   Wellsworth
Sun., 5/19
#11  Marron                       vs.     #9   Glennock
#15  Brendam Harbor    vs.    #17 Brendam Utd.
#8   E.C.D.                           vs.    #12 Vicarstown
#14  Castle Rolf                vs.    #2   Peel Godred
#6   Junction & Sheds    vs.    #4   Kirk Ronan
First, the Derbies.  Cool for the rivalries.  Better for the hats.
The Walney Channel Derby second edition will be a clash of styles.  The waterside, blue collar brutes of E.C.D. and more suburbanite Vicarstown FC drew 6-6 in their first edition.  Refs have cracked down on East Coast Diesel after that upped their extremely physical defensive ways.  Vicarstown are 3-1 over their last four, are favored.
The Brendam Derby II has more on the line.  Harbor appear safe from Relegation.   B-Utd., however, only lead Ulfstead by a point in the table.  For them, the Drop Zone looms.  The Harbormen won 7-0 the first time around.  This result will come down to how badly United don't want to end up in the 2019-20 Championship.
Weekend Feature Match:  #1  Dryaw vs. #3 Knapford Town
Welcome back to absolutely electric village Dryaw – home and vacation spot for authors and thinkers for time immemorial.  Noob's been largely holed up at local Tidy Joseph's with his usual teetotalling usual suspects – American author Daniel Heck and actor/producer/vintner Doug Barr of 1980's "The Fall Guy" TV fame. 
Doug brought a dozen bottles of his Hollywood and Vine Cellar's "2480" Cab Magnum.   We've been free about buying drinks for folks who recognize Doug, but been wholly stingy about the Cab Sav.   It's a 2014 vintage, and the brightest red I can ever say I've loved.   And as I type this up at a corner table, a buzzed Doug Barr just announced that if Dryaw win Saturday, he's going to bid on the naming rights for  Dryaw's football grounds!
Anyway!  When these two faced off Matchday 2 this season, few if any would've guessed how important that result would be.
Sure, folks knew KTFC could be a title contender.   Knapford's one of the "main towns" on the Isle.   Even with two teams there, bigger population to draw from for players.   They've been one of the historically better teams over the pre-FA decades.
Dryaw is one of the larger villages, but not classified even as a "Town" here.  They're in a soccer-dense area – near bigger Towns, and villages, many with their own clubs.    Assumed to be a bottom half-table club, they're somehow vying for the first ever PL League Trophy.   Star striker Christopher Wilbertson has carried them beyond expectations and into the spotlight.
That Matchday 2 face-off went the way of home team Knapford Town, 5-4.   Now the contenders see if they can duplicate on the road all these months later.
Knapford Town are 3-1 in their last four outings.  It started with a big 2-3 win over Peel Godred that now stands even bigger.   A one-goal home win over also-ran Castle Rolf didn't exactly impress, was seen as a trap game handled.
Then #4 Kirk Ronan came calling and walloped them 4-10.  That looked like a season-ended.   But life is all about second chances!  Last week, they smashed #7 Wellsworth 11-4 at home.   The win close-lose big aura was gone.   They finally learned to keep a foot on someone's throat.
Dryaw  — how have they held on to a share of the top spot?   The Wilbertson injury three weeks seemed to have derailed them.   They haven't faced a top-half table team in a month, yet have only gone 1-1-2 over that stretch.
For all the praises Wilbertson has earned – and he's certainly out front for POTY honors – this team has actually thrived on ball control and defense all season.  Sudric soccer historically is all about defense that's not too physical.  Higher scores.   Yet Dryaw win consistently without ever putting up the occasional gaudy goal-scoring numbers others teams do OR slide-tackling all over the place.  For their back end tactics, be sure Ian Poingdestre will be a Manager of the Year frontrunner.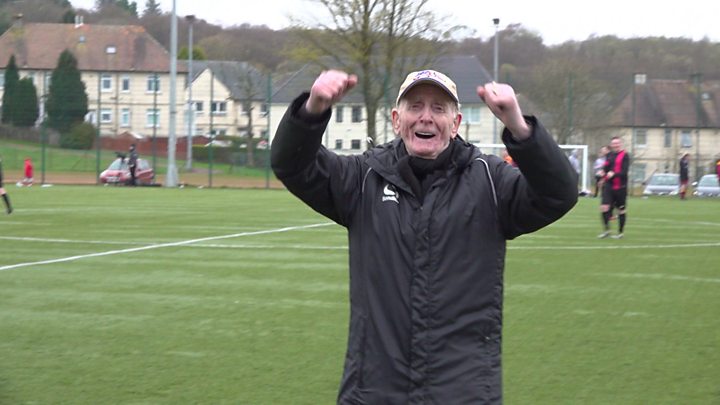 Ian's just excited to have lived long enough to finally see FA football happen on Sodor
Noob's Call:
The momentum seems to favor Knapford Town.  That 11-spot they put up last week was amazing.  They pressed more than ever in the midfield.  Noob's anticipates they'll push even harder against a more even-keeled Dryaw squad.
Dryaw will finally be in top form again, Wilbertson appearing 100% healthy again.  And they're at home.  Wilbertson has a history of late-match heroics and thinks he will get another late goal to save a point.    Noob's head says 3-3 for your final.   
…But I'm going with my HEART!  Hollywood and Vine Cellars Stadium MUST happen.   Dryaw MUST continue their fairy tale run atop the table!  Doug Barr and I WILL buy adjacent cottages on the village outskirts and be BEST friends.    Dryaw 4-3!