Fridays are a little light on the world scheds, so Fridays here at Noob we steal Samsonite's luggage and head off to see the world!
As always, the Track will start at or close to home, then it's off to footyball hinterlands of wonder.
Please don't forget to check back for results, follow on Twitter at SoccerNoobUSA.  And in the name of all that's holy, stop assuming the drink cart carries absinthe.
Houston Dash vs. Washington Spirit – National Women's Soccer League
Just top the four from the NWSL make the playoffs.  Washington are long-since eliminated.  7th-place Houston is just four points behind 4th-place Orlando.  That's a lot of teams to have to leapfrog, but hope lives.
The Dash have been winning and losing every other match like clockwork for weeks.  If pattern holds, they're due for a loss today.  But the Spirit have lost seven in a row.  And they score only about goal every other game on average.  And they're really bad.  And they won't win today.
But Noob roots against you, Houston Dash?  Why?
RESULT:   Houston   4-0
You can't build cities on swamps and expect good things.
B.  Atlas vs. Monarcas Morelia – Liga MX
Little Billy Donovan from Springfield writes:
Dear Mr. Noob,
I'm in grade school and I can count.  Well. 
So, what is up with never using a Number Two and putting in Number B instead?
First of all, Little Billy, thanks for being a great Noobite.  No questions are dumb here, because Noob doesn't anthropomorphize sentences.
Depending on how one chooses to look at it, Number Two has been the victim or instigator of problems people have when listing off points for time immemorial.   Say someone's having an argument and trying to logically list points.  So often, things spin out of control:
"Why am I leaving your sorry ass??  One!   You always leave the toilet seat up.  B!  You never answer my texts within 0.45 seconds when you're at work.  Three!  You –
     — Ha!   You can't even make a list right.  You went 'One' and then 'B' as if you'd labeled your first point 'A'.  So fine, leave!  You're a dysfunctional albatross around my neck anyway."
See the issue, Billy?  So Noob says, "Why not just replace Number Two with Number B In all lists, permanently and forever?"  More, Noob doesn't likely need to tell a grade schooler of all people about the negative connotation of "Number Two".  So –
1, B, 3, 4, etc. when it comes to lists.    But Noob's not crazy.  Still count normally in non-list contexts.   You would still say, "I have two apples in my Grizzly Adams lunchbox".
RESULT:   Morelia   0-1
Birmingham City vs. Swansea City – English Championship
No English Premier League matches today doesn't mean we can't get our British footyball fix.  Though this is equal part Welsh, thanks to Swansea.  They were Relegated after last season.  They couldn't kick a ball and hit the broad side of a barn.
Birmingham City was on the fringe of Relegation discussions last year themselves.  Opposite problem.  Second-worst defense in the ECL.
But it's a new season, and everyone will dream of climbing back up to the Premier League and the bajillions of tv dollars that come with it.
Fun Fact:   Birmingham were the first English club to play in European competition, losing to Barcelona in the Inter-Cities Fairs Cup of 1956.
RESULT:   0-0
Schweinfurt 05 vs. Schalke 04 – Germany FA Cup
Most anywhere else Noobites will find this game written about, the tournament will be referred to as "DFB-Pokal".   The tournament participants are of a strange makeup to me.  All the clubs from the top two leagues.  That makes sense.  Only four from the third-tier league.  But then 24 teams come out of lower, regional divisions.
Schweinfurt is one of the last group.  They play out of the Bayern Regional League, which is fourth-tier.  They finished second in it last season.  They qualified for this event by winning the Bayern Cup tournament.
And today they get last year's #B team from Bundesliga.  At least they had enough luck to get to host the match.  Minnows are fun to root for, but Schalke by two today.
RESULT:   Schalke   0-2
Schweinfurt play at Willy-Sachs Stadion.
Sometimes jokes are too easy.  Noob chooses to exercise a little grace.
Wydad Casablanca vs. Mamelodi Sundowns – CAF Champions League
Africa's CL is in it's Group Stage still.   The 16 remaining teams are divided into pods of four, in which they play double-round robins.  All winners and runners-up advance to the Knockout Stage.
Wydad are the defending champions and lead their current Group.  They are a Noob-fave because of their unique name, being for a famous Egyptian actress-singer.  Which is odd, given that the team is in Morocco.
Mamelodi are out of South Africa's Premier League.  They're tied with a Guinean team for #B in the Group right now, though they lead on away-goal tiebreaker.  By rating (footballdatabase.com), this would be a very even matchup on a neutral pitch.  The defending titlists have to be favored on their home pitch today.
RESULT:   Wydad   1-0
Martizburg United vs. Kaizer Chiefs – South Africa Premier
So let's move cross-continent in our Globetrotting!   South Africa's Premier is 5th-rated on the continent.  It's also getting the 2018-19 season started.
These two finished 4th and 3rd in last year's edition, narrowly missing out on the two CL berths afforded the country.  It will be especially interesting to see if Chiefs can stay near the table's top again.  Based on goal differential, they overachieved, and only had an average offense at best.
RESULT:   0-0
Please enjoy this musical interlude from the U.K.'s Kaiser Chiefs.
JS Saoura vs. MC Oran – Algeria Ligue 1
Algeria's top flite ranks 4th in Africa, so we're still seeing major quality on our trek today.
JS Souara may also get Tracked sooner or later for being in the current CAF Champions League, as they finished #B in this league last season.  MC Oran came in at fourth, but never truly threatened.  They score almost at will, but Noob's not sure they play a goalie based on the numbers.
Fun Fact:   Saoura are based in the town of Meridja.  That's Arabic for "little swamp".
Didn't we just cover how we feel around here about Swamp Cities.  Bad urban planning!  Down with them and the teams that inhabit them!
RESULT:   Saoura   2-0
Deportivo Maipu vs. Temperley – Copa Argentina
It's the Round of 32 now in this single-match Knockout FA Cup.  Maipu play in Torneo Federal A, one of the nation's two third-tier leagues.  Temperley got mercifully Relegated out of the Premier last year.
Maipu host today.  They've also already beaten Chacarita Juniors, another team that got booted down to second-division last season.  Minnow watch!
RESULT:   Temperley   0-4
Maipu are known as "los Botelleros" – "the wine racks".
Weird.  But Noob likes malbecs ok, so ok.
Skenderbau Korce vs. Partizani Tirana – Albania Superliga
The 34th-ranked league in UEFA, really Noob?  Oh yes.  There's a special reason for this inclusion.
Skenderbau, in March, was banned for 10 years from international UEFA competitions.  They had to forfeit their spot in the current Champions League to Kukesi.  This is the stiffest penalty ever handed out.  Match-fixing was the issue.
Applying mathematical algorithms to gambling patters is a or perhaps THE big new way match-fixing is discovered now.  Skenderbau are fighting the ban, and it will be fascinating to see just how accepted the methodology is.
RESULT:   S.K.   1-0
Buxoro vs. Lokomotiv – Uzbekistan Super League
We take out rest from jet-setting at last in Asia.  This is the 10th-best league there.  As such, they will receive two berths into the next AFC Champions League.
Lokomotiv aren't quite in line for one, but they're threatening – tied for 3rd.  Buxoro are in 5th, not likely to make a big move.  Negative GD, and they have particular trouble putting the ball in the back of nets.  In the table, they're problem is a lack of draws.  They actually have more losses than most teams in the entire league.
RESULT:   Lokomotiv   0-1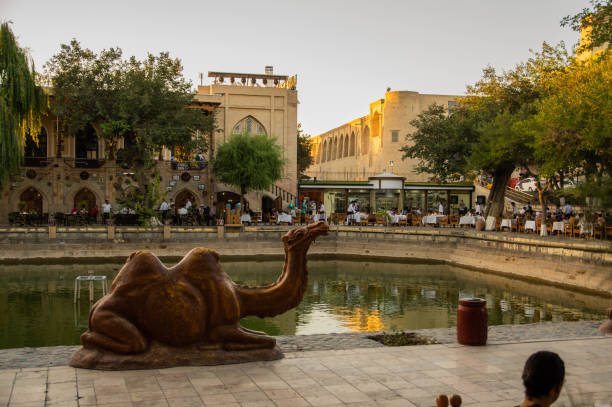 So long from the "old town" of Buxoro!
(As if the whole town isn't ancient.  People living there for 5000+ years.)