It won't belong now until the big European leagues are in full swing and Noob likely expands back to doing separate Tracks for Saturday and Sunday.
For this weekend though, the ten most important matches to follow for us – the newish American fans of the global game – the best from our soccer perspective span both days.
That's my way of saying these weekend is all trim meat, Noobites.  Slice of piece of the grade-A soccer.
Sporting Kansas City vs. FC Dallas – Major League Soccer
KC spent most of the first half of the season leading the Western Conference, but now Dallas is on top (and LAFC is #B).  The difference.  KC has given up two or more goals in five straight matches, not winning any of them.
Dallas, meanwhile, have only conceded four in their last five games.   (And they won the one where they allowed multiple goals.)  Dallas' defense is only surpassed league-wide by New York Red Bulls.  Jesse Gonzalez is their netminder and a title run is likely If he keeps playing at this level.   (8:00 PM EST, ESPN+)
RESULT:   Dallas   2-3     Michael Barrios with all three Dallas goals
Jesse likes cold drinks, hot Texas nights, and wearing Mickey Mouse goalie gloves on dates.
His number is…
B.  Montreal Impact vs. Atlanta United – Major League Soccer
And now to the East!
Impact haven't lost in their last seven times out, pushing into the Playoff picture (5th place).  Noob's betting they won't stay there.  Their defense has been more than suspect on the season, though better lately.  It's helped them into two four-game losing streaks in 2018 so far.
Atlanta are #1, and that's some tough business with both New York teams breathing down their necks.  Josef Martinez is their offensive star.  Noob mentions him again because he scored all three scores in their last match and win against D.C. United!   (7:00 PM, ESPN+, Fox Sports Southeast)
RESULT:   Atlanta   1-2    Ueber-star Josef Martinez with two goals
Number B thinks himself a star.
But has he replaced numeral 2 in your hearts?
He should.
Benfica vs. Juventus – International Champions Cup
Fans at Red Bull Arena certainly have been hoping to see Italian league champs' new acquisition in action – world's greatest Cristiano Ronaldo.   Sadly, he won't be involved today though.  Benfica had won four Portuguese Primeira titles in a row before missing the mark last year.
It's hard to handicap events in this tournament, since reserves may start or get substantial playing time as teams tune up for domestic leagues with the friendlies that make up this tournament.  Both teams won the first of the three matches they'll each play in this event.   (1:00 PM, ESPN2)
RESULT:   Juventus   1-1  /  2-4 pk
Chicago Red Stars vs. Sky Blue FC – National Women's Soccer League
New Jersey's Sky Blue FC have lost four in a tow and have yet to win a match all season.  They've allowed a dozen goals in their last for matches, all losses.
Despite losing only once in their last seven outings, Chicago are in 5th place, just outside the Playoff picture.  A likely win today will vault then all the way to 3rd though.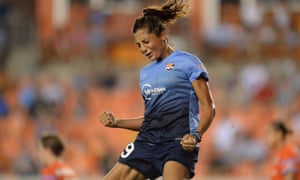 SBFC's Nadia Nadim celebrates a goal.
Maybe someday she'll get to celebrate a W.
CF America vs. Atlas – Liga MX
Atlas is the city of Guadalajara's "other team", as the headliners there are Club Deportivo Guadalajara (Chivas).  Last Clausura (second half-season), Atlas actually outperformed their rivals.  That said, the two were just 15th and 17th place, respectively.
Liga MX is just starting it's 2017-18 season.  But if things remain similar to last year, America's defense should be able to get the three points today.   (8:00 PM, Univision)
RESULT:   CFA   3-0    Guido Rodriguez nets a pair
Wydad Casablanca vs. Horoya AC – CAF Champions League
Ah, Wydad, Noob's Moroccan favorite!  Only club I've found named for an actress/singer.  Or either one.  If either is a fan of the sport, maybe someday we'll have a Club Timberlake or Joe Jonas FC…
Aaaanyway, Wydad are the defending champions of Africa's CL.  Horoya qualified out of the unheralded top-flight league in Guinea. This event is in its Group Stage.  These two and South Africa's Mamelodi Sundowns are all tied for 1st out of the four teams in this Group.  Also, they all earned just draws against one another in their first matches in the Round Robin. After tiebreakers, the table goes Sundowns, Horoya, Wydad.
On paper, there shouldn't be any reasonable way to expect Horoya to compete with Wydad.  But they play the matches on grass, not paper.  That would be weird and crumply-noisy probably.   (3:00 PM, beIN Sports)
RESULT:    Wydad   2-0
What witchcraft is this??
Sunday
U.S.A. vs. Australia – Tournament of Nations
To whom can Noob write a strongly-worded letter about the boring and yet still misleading name for this event?  It's not wrong, but there are just four teams participating.  Granted, these are really good national teams.
And so, reminder:  This is essentially a tournament of glorified friendlies.  With Women's World Cup next year, this can be considered a tune-up for that.  They're playing a round robin, no additional round.
#1 FIFA-ranked U.S.A. beat #6 Japan 4-2 in their first match, in which Alex Morgan netted a hat trick (three goals).  #8 Australia ("the Matildas") pulled the minor upset over #7 Brazil 3-1 in theirs.  Those matches were in Kansas City.  Both matches today are being played in East Hartford Connecticut, at UConn's home field.   (7:00 PM, FS1)
RESULT:   1-1
North Carolina Courage vs. Lyon – women's International Champions Cup
Another four-team event, all matches being played at Miami Gardens.  Noob doesn't know enough yet to say that NC's victory over Paris Saint-Germain was an upset or now.  Courage are easily the best American women's team.  PSG is the secondary power in perhaps Europe's top league.
Today, NCC get the real test.  Lyon as won three straight World Cup's, and their own league 12 straight seasons.  Noon suspect's the Courage will need even more than a career day from Alex Morgan.  Their other big star is Rapinoe, who also scored in the win over PSG.   (9:00 PM, ESPN2)
RESULT:   Courage   1-0
And when you score three goals in a match, you can rock whatever coif you want.  Right, Ms. Morgan?
L.A. Galaxy vs. Orlando City – Major League Soccer
At time of this writing, Real Salt Lake is in action.  By the time some of reading this, they may have passed the Galaxy for 4th.  No matter what happens there, what a turnaround it's been for the home team today.
Noob featured the Galaxy on Thursday.  "El Trafico" – the intracity rivalry match with LAFC – ended 2-2.  LAFC stormed back with two very late goals.  Will Zlatan & Co. be able to rev up after that derby?
Will it matter?  9th-place Orlando stink out loud.  This is good, right and appropriate.  The Management and Noob consider it a priority to espouse the evils of bad urban planning.  Nothing – NOTHING – good can ever come from building a city on a swamp.   (9:30 PM, FS1)
RESULT:   Galaxy   4-3
UANL vs. Tijuana – Liga MX
It's early in this league's new season.  These are two teams that made last year's playoffs for the Clausura (second-half season).  OK.
What Noob really can't stop thinking about is how embarrassed I should be about the fact that I didn't know until I started covering soccer that Tijuana is spelled without an A before the J.  That pronunciation is cited as common and perfectly acceptable.  Still, Noob feels more shame heaped upon shame.  Just thought I would've picked up that there was a phantom sound in there long before now.   (7:00 PM, Univision Deportes)
RESULT:   Tigres   1-0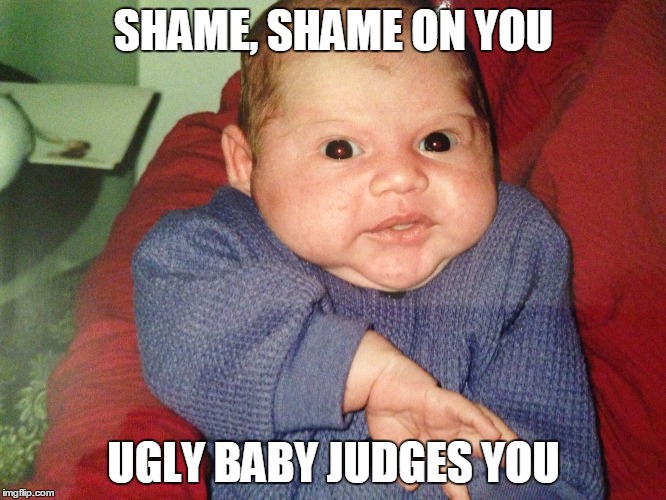 Use the phrase "chromosomally-challenged".    It's more PC.
Cruziero vs. Sao Paulo – Brazil Serie A
To be a truly knowledgeable soccer citizen of the world. gotta follow Brazil.  South America's best.  Sorry, Argentina.
Six clubs from here will qualify automatically for the Copa Libertadores Group Stage next year.  Cruziero are in 6th now, despite struggling a little on offense for a top club.  Noob would say their just-OK defense won't make up for that lack, but they had similar stat lines a year ago and finished 5th.
Sao Paulo just keep continuing to surprise.  They're #B in the league now, after a dismal 13th-place finish last year.  They've shored up their defense some.  Not enough to maintain a spot quite this high in the table for the whole season, but they sure look CL-bound at the very least.    (3:00 PM, Premiere Futebol Clube)
RESULT:   Sao Paulo   0-2
MLS Homegrown vs. UANL U20 – MLS All-Star week
The MLS All-Star game will be on Aug. 1 in Atlanta.  This game is a lead-in, and in some ways maybe the more interesting affair.
Noob's not exactly sure how MLS defines a "homegrown" player.  Could mean that the player is a U.S. native, or refer to anyone who came through an MLS soccer youth academy.  Or both, or neither, or involve some other variable.  Think I'm on the right track though, roughly.
They'll be taking on UANL Tigres Under-20 team, their Mexican league's champions.   This is matchup is part of a broad, multi-year partnership effort between America and Mexico to promote and develop the youth game.
Players to watch and who have been in this before are Kellyn Acosta from FC Dallas, New York Red Bulls' Tyler Adams, and Justen Glad who plays for Real Salt Lake.   (8:30 PM, Univision Deportes)
RESULT:   1-1    Mexican kid got a red card at 78′, just a minute after his team got the equalizer.
So long, from Noob and ATL soccer fan Lil Jon.
A-what?  Okay.