First, nuts and bolts.  Here is Saturday's recap.  And here are Sunday's results:
T17  Ulfstead          0   vs.   2      #6  Junction & Sheds
#8   E.C.D.                2   vs.   5     #12  Marron
#1   Dryaw               3   vs.   3     #10  Suddery
#3   Peel Godred   2   vs.   0      #9   Glennock
#12  Lakside           3   vs.   5     #18  Brendam Utd.
We'll recap that bolded Feature Match in a bit.  Where does the weekend madness leave everything?    Here's a smexy link to the updated complete table.
With four matches in this inaugural league season to go, we now have a tie atop the table!   More, there's once again a tie for 17th, right on the Relegation line.  And remember, in IoS PL, even on points means even –  period.  No goal differential or other tiebreakers.   If needs be, tied teams will have a playoff match in Suddery at season's end.
Starting at the bottom, Brendam United jumped back out of the Drop Zone again with a solid road win.    After Ffarquhar's home loss Saturday, fated favored B-Utd. again as Ulfstead couldn't even score a goal at their own place.  The two losers sit on the Cutline, tied.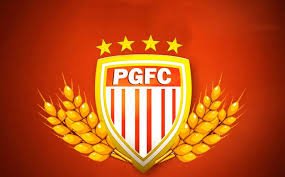 At table's top, a team other than Dryaw FC sit on the top line for the first time in months!  On a rainy day over most of the Isle that kept scores down, then-#3 Peel Godred scored two early, then played keep-away to win 2-0.
That meant Dryaw needed the full three points at home against Suddery to maintain their #1 solo status.    Here was Noob's prediction to this Feature Match:
Noob's call:     Dryaw haven't overwhelmed teams all season long for the most part, so one fears them overly.   Suddery will have confidence after having beaten them in March and be no less comfortable wearing visitors' kits today.    But with Wilbertson back, DFC won't drop all the points.    3-3
Even former full-time website prognosticator Noobstradamus had to admit I nailed this one COLD.  
"Lucky schmuck."
The teams traded early goals and then that rain came in and made it tough on everyone.   Visiting Suddery led 2-3 heading into stoppage time, appeared set to sweep the season series from Dryaw and perhaps ruin their championship campaign.
But after a week off with an injured neck, Dryaw star striker Christopher Wilbertson made his move on POTY!   Clearly not 100% yet, he struggled to contribute all match long.  Just couldn't keep pace nursing that neck.   It took a corner kick set piece to give our hero his chance.
CW hung back at the edge of the box, understandably seeming to not want to risk further neck injury in the scrum up front.   But it was trickery!    Suddery made the mistake of leaving him completely unmarked and could only ogle in wonder after CW went charging to an edge for the tying header at 93′.  The late point earned keeps them even with PGFC.
Get ready for a wild and woolly finish, Noobites, Matchday 35 will be

Wednesday

with all 10 teams in action!   They'll all play the next two Wednesdays AND weekends these last two weeks to finish the amazing first-ever IoS PL season.