The most important matches to follow, for us – the newish American fans of the global game.
Our collective soccer education.  Noob's unstable mind and left field-humor.   A combination almost as good as chocolate-almond-coconut ice  cream served by a Brazilian agriculture student.
Read on to have THAT explained.  Check back for results, too.  On matches, not the Brazilian girl.   And follow Noob on Twitter at SoccerNoobUSA.com.  Thanks.
Sporting Kansas City vs. Portland Timbers – Major League Soccer
As the regular season moves into its final third, it appears eight Western Conference teams are vying for the six postseason berths allotted them.  Just ten points separate the last of that group from first.
(Minnesota United fans, Noob looks forward to your emails of bile and vitriol.  Your club is trading away its talent now.  Management knows it's over this year.  Embrace the pain.)
Portland are in 5th now, but not playing like they'll stay there.  Two losses in a row to non-playoff bound competition don't bode well.  Admittedly, that D.C. United team looks frisky this week, but were in last for a long time for a reason.  Reasons.
Kansas City have their groove back.  They've been in a brutal stretch of schedule, had lost three straight to fall to 4th.  Now, they've won back-to-back games against solid competition and have #1 Dallas in their sights, who dangle just three points ahead.
The key to recovering from their tailspin has been the back line.  Unsurprisingly, it has been spearheaded by MLS' 2017 Defender of the Year award winner Ike Opara.   (8:30 PM EST, ESPN+)
RESULT:   KC   3-0
Defense:  Top-notch
Ike's head wear choice:
YOU make the call.
B.  Philadelphia Union vs. NYCFC – Major League Soccer
Things are shaping up a little differently in the East.  The top three seeds look secure, though in what order they'll finish is up for grabs.  Columbus will be the #4 seed.  NYCFC and NY Red Bulls are tied for #B, just two in back of Atlanta.
The last two Playoff slots are down to four clubs realistically.  Here, we find Philly, tied for 5th.  They just bagged a big win over peer New England.  Since they're hosting, Noob's calling this match a tossup today.   (7:00 PM, ESPN+)
RESULT:   Philly   2-0
And for "blue" and for "Noob" spelled backwards.
Tres chic, Number B.
Portland Thorns vs. Chicago Red Stars – Nationals Women's Soccer League
Three matches to go in the regular season.  Here's what we know:  North Carolina kick butt.  What we think we know:  Seattle are going to get the #B seed.
Five teams remain alive for the other two Playoff spots.  Portland are in the driver's seat for the coveted #3 seed.  Not having to play NC in the opening round is a big deal.  Chicago and Orlando are tied for 4th.
Portland have won four of five and Chicago haven't lost in four consecutive outings.   Check out this humdinger on ESPNEWS at 10:30 PM.
RESULT:   2-2
Monterrey vs. UNAM Pumas – Liga MX
We're essentially at the quarter mark for the Apertura (first half-season) already!   Noob loves just 17 matches.  Every single one is so important.  And so it's time for Noob to stop using last season's results as a crutch and look at what we really have in Mexico now.
Pumas went from 14th to 7th between the 2017-18 half-season tournaments.  And look at UNAM now!  1st place.  One of two clubs with no losses.  Tied for the best offense in the league.  They grow up so fast!  *sniffle*
in 5th, we find Monterrey.  They finished in 1st and 3rd last year in the two tournaments.  They're matches have been low-scoring to start out this Apertura, a surprise.  This one's at 10:06 PM on FS2 to see of Pumas can continue to hold the top spot.
RESULT:   Monterrey   1-0
Yes, Fox Sports 2 is a real channel.
We're not to "The Ocho" yet, but all in good time.
Chelsea vs. Arsenal – English Premier
Early here in the EPL season we get a matchup between last year's two best teams that were disappointments.  At 5th and 6th place, they just missed out on Champions League berths.
The stories about these teams that will get you through Level One water cooler-chat:
Both teams have new coaches.  Chelsea expectedly won their first game while Arsenal lost to the defending champs to start this season.  And Chelsea star Eden Hazard should join the starting lineup now.  He's gotten some rest after his run with his World Cup team in Belgium.  (12:30 PM, NBC)
RESULT:   Chelsea   3-2      Chelsea squandered a 2-0 early lead before closing this one out late.
Lazio vs. Napoli – Serie A
Nearly all the talk this European off-season has been about Cristiano Ronaldo moving from Real Madrid to Juventus.  But don't miss this match.
Napoli gave Juve everything they could handle in last season's title race.  And Lazio – who are really fun to watch with the ball in the opponent's third – finished 5th, losing out on a Champions League berth by tiebreaker.
RESULT:   Napoli   1-2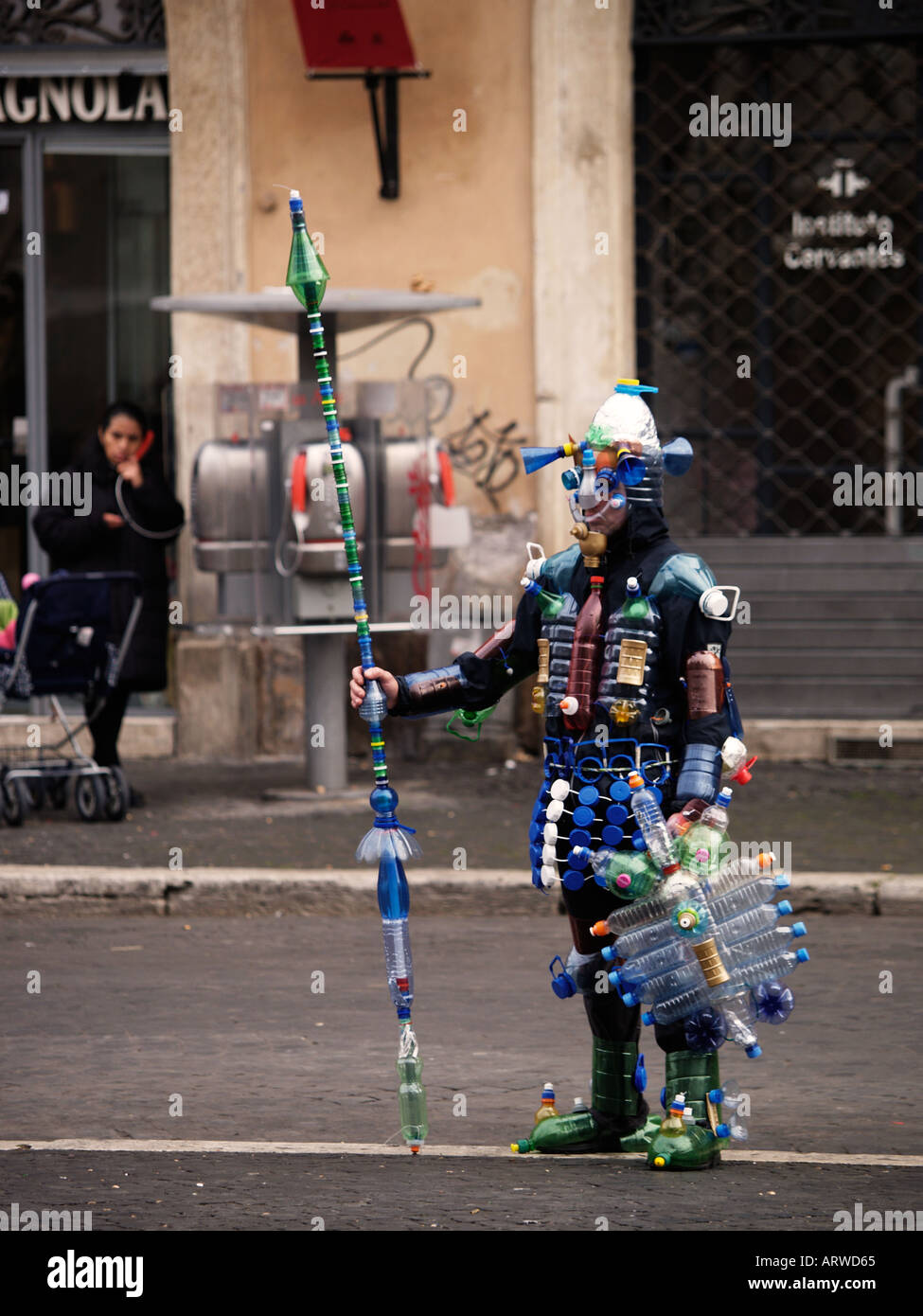 Plastic bottle-gladiator guy on the Lazio Plaza.
Hopefully he's selling those to hot, thirsty footyball fans.
Difaa al Jadida vs. MC Alger – CAF Champions League
And speaking of CL, let's head to Africa's.  A reminder of where we are:  Group Stage.  Four pods of four clubs each play double-round robins.  Top two from each will advance to the Knockout Stage.  Most everyone is four matches into their six.
In Group B, Congolese club TP Mazembe has already earned 1st place.  MC Alger is one of two Algerian clubs vying for runner-up, and they lead ES Setif by just a point.
DaJ aren't out of it entirely, but have to earn more than draws to have any shot.  They're actually the slightly more accomplished team internationally.  Between that, home pitch advantage, and plain old desperation, Noob looks for El Jadida to nab the W today.
RESULT:   El Jadida   2-0
Royal Pari vs. The Strongest – Bolivia Premier
Welcome to the Track, Royal Pari!  Congrats on getting Promoted to Premier after last season.
In the Apertura, they finished in the bottom half of their division, if just.  Not bad for newbs.  And now in the Clausura – when the league plays all one division – (Bolivia is strange that way), they're #B and have no losses!  Muy bueno.  But now, the real test.  The Strongest are 6-0-0.
These are the two highest goal-scoring offenses in the league.   To catch it, though, Noobites will likely have to try Googling up some internet streamage.  Maybe even pirated.  Yaaarrrgh.
RESULT:   R.P.   1-0
Yup.  Went there.
Corinthians vs. Gremio – Brazil Serie A
#7 versus #4.  Two teams that will probably move up the table before all is said and done.   (6:00 PM, Premiere Futebol Clube)
Noob recently took his daughter and a neighbor kid out for a day, and that included a downtown ice cream shop near the local University.  The new girl working the counter was Brazilian.  Wonderful!  Buuhhht turns out she doesn't care for football.  The footyball gods taunt Noob.
Noob learned a few interesting things though:
—  "Corinthians" might be pronounced with more of almost a "ch" than a "th" in Brazil.   Or our server might've had a speech impediment.  Noob didn't ask.  Never mess with people handling your food.
—  The neighbor kid I had in tow told me I have a new girlfriend now, since I chatted her up so much.
Look, child.  Noob's married and old enough to chat up an attractive, exotic, visiting postgrad intern without any nefarious intentions. What's more, I— I— Oh my.  It's true.   I am now my father.
—  One not need add much of any coconut to chocolate-almond to get the appropriate flavor effect.  Well-done, ice cream peoples.
RESULT:   Gremio   0-1
10.  FC Cincinatti vs. Charleston Battery – United Soccer League
Noob bookends today's Track by bringing our gaze back stateside, to the second division.  Since the top eight in each conference will make the Playoffs, these are in excellent shape.  Cinci – who will be joining MLS next year – lead the East by five.  Charleston is tied with Pittsburgh Riverhounds for #B.
Charleston haven't lost a league match since June 6.  And that's as long as Cinci's gone!  Primo matchup.  Noob wishes DII would get on the t00b.  Maybe the matches are carried locally and can be found on the interwebs.
RESULT:   Cinci   3-0
So long from The Mushroom House,  Hyde Park, Cinci!