Time for our last two matches of the Midweek Edition.  Fine, quality footyball to be found in both.   This, despite how bonkers Wednesday got in the writing.
Remember to scroll farther down for Tues. and Wed. results.  And to consider following SoccerNoobUSA on the tweeter.  And to patronize establishments which have replaced plastic straws with alternatives like bamboo.
Thursday
Zurich vs. Honka – UEFA women's Champions League
How little parity is there in the women's game?  There are six matches being played today in this event, all second legs.  Every home team today is ahead on aggregate, meaning they all won their away games.  No draws even.
This is the closest one.  More, both were champions of their domestic leagues last season.  Zurich won 0-1 in Finland.  They get a chance to wrap this up neatly at home in Switzerland today.
RESULT:   Zurich   5-1      Fabienne Humm with the first three scores
Olimpija Llubljana vs. Gorica – Slovenia Liga
It's a lighter day for league games – not uncommon.   There are tons of FA Cup matches form various countries Noobites can Google up.  But none of the "big" countries' events are far enough along to catch my eye today, while the ones who are a little deeper into their tournaments are "smaller" nations'.
So, welcome to the #30 league in Europe, nestled lovingly between Romania and Slovakia, just below average ordinally.  These clubs are #B and #3 about ten matches into their season.
O.J. trail historic and current #1 Maribor by four in the table.  Gorica have overachieved to this point.  They don't have nearly the offense of any other team in the top half of the league.  Nor do they play the defense to make up for that.  They've lost just one (four wins, four draws).  But today, that total gets doubled.
RESULT:   2-2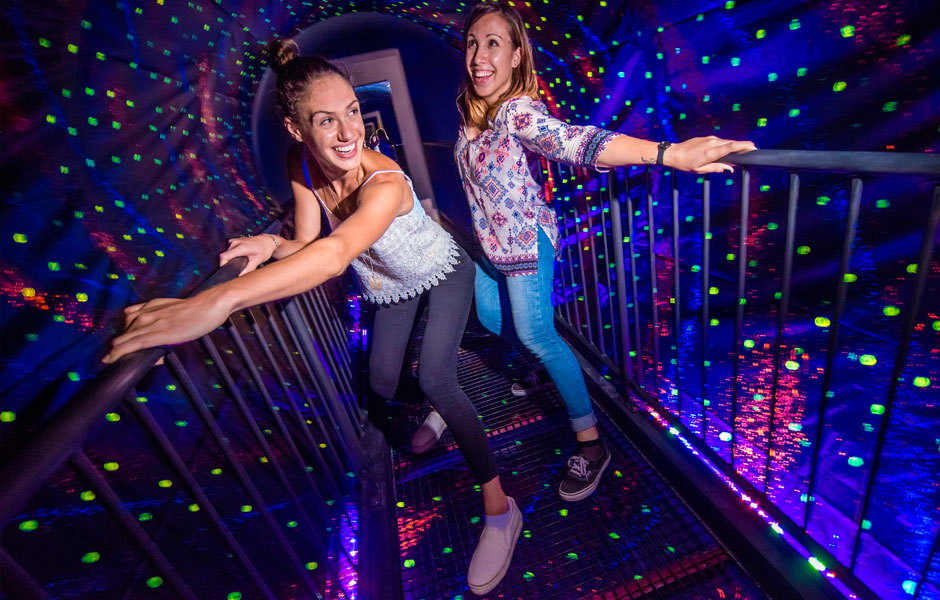 So long from Ljubljnana, home of Olimpija and the Museum of Illuisions!
(Noob assumes these patrons are actually real.)
Wednesday 
#B.  Houston Dynamo vs. Philadelphia Union – U.S. Open Cup
The final!  $300,000 cash prize on the line, plus an automatic berth into the next CONCACAF Champions League.  Bet there will be a spit-polished fancy trophy, too.
Not all the teams have been playing all their starters leading up to today.  Understandable, saving energies for league games.  Noob's not at all sure why Houston's bothered.  Their GD holds up, indicates they're a capable bunch.  But waaaay too many draws have them down in 10th in the West.  They won't catch a sniff of the league Playoffs.
Meanwhile, Philly is here for the third time in five years.  They're 5th in the much tougher-at-the-top Eastern Conference.  Goal differential is negative, but they're win-or-bust.  Just four draws all season.
New Jersey-born Bedoya attacking midfielder gets talked a lot about being the key to the Unioin's success.  Mayhaps.   But Noob thinks the key man for them will their Czech international Borek Dockal.  He leads the league in assists.  After a comparatively quiet September, Philly needs him controlling possession and servicing passes like a champ.
The Dynamo have been seemingly all over the map stylistically in league of late.   Will keeper Joe Wills have to make a barrage of saves because they'll be sending everyone forward?  Whether they do or not, look for Colombian international forward Mauro Monatas to get in the scoring early.  He doesn't convert a high percentage of his chances, yet ranks sixth in league goal-scoring.
Noob thinks this is very even matchup.  If you live where gambling is legal and can get straight-up odds, take Houston.  Philly didn't capture the title in either of their last two tries.  And the road is the road, woefully hard to win on it any given day.   (8:00 PM EST, ESPN2)
RESULT:   Houston   3-0       Monatas with a pair of first-half scores
Number B's design idea for the USOC trophy.
NYCYC vs. Chicago Fire – Major League Soccer
Your 'Muricuhn soccer undercard is this one, the only league match today.  And it's what Noob deems a "Hiccup Watch".  NYCFC should – on paper – beat them handily, especially at home.  Or will they have a hiccup.
In Match #B, Noob noted the East was the tougher conference, but at the top specifically.  The West is stronger when comparing teams in similar positions further down the standings.  Chicago are 10th in the East and not nearly as good as Houston, even independent of the latter's appearance in the Cup Final.
That said, the Fire are showing at least a little spunk of late.  They just earned a road draw against Playoffs-bound Philly.  Right before that, they kicked the tar out of Orlando City (worst club in the East) 4-0.
Couple that with NYCFC's current skid of late and one is forced to wonder if the Fire can't get a result tonight.  The Blues have faced six straight Postseason-caliber teams and beaten none of them.  Really, they haven't won against a "good" team since mid-July (Columbus Crew).  The trouble?  The offense has gone Houdini on them.
Without attacking midfielder Jesus Medina still likely out (hamstring), veteran Spanish scorer David Villa must find his early-season form.  Otherwise, Chicago is getting a scalp with which to salvage their non-Playoff wounds.   (7:00 PM, ESPN+)
RESULT:   NYCYC   2-0      David Villa with one of the goals
Queretaro vs. Dorados De Sinaloa – Copa MX
Just Match #1 of the Midweek for some details about where things are in this event.
Noob goes fishing for Minnow once again!   Sinaloa are in 12th in the Ascenso.  The consider scoring to be gauche, ungentlemanly, and eschew it nearly always.
Liga MX side Pachuca are in 13th.  They score a little more against the bigger boys, but also play better defense.  They're in 13th, but will climb.  Queretaro 2-0 today feels like an easy prediction.   (8:00 PM, Univision Deportes)
RESULT:   Queretaro   2-1      Camilo with both goals for the victors
A clear ball and a funky hat.   The prognostication business feels pretty easy.
Brondby vs. Juventus – UEFA women's Champions League
The Round of 16 wraps up this week as they play the second matches of two-legged ties.
Beyond the very best few teams in the world, Noob is still desperately unversed on the women's side of the game.  But life is long, so here's us learning!
This is the closest tie of those being played today.  Brondby earned a 2-2 draw at Juve in the first match.  I have a general sense that Nordic countries play and host a lot of quality women's soccer.  While that may not mean that they don't further south, Noob looks for the Danish club to topple the Italians today.
RESULT:   Brondby   1-0
Young Boys of Bern vs. St. Gallen – Switzerland Super League
Last year, St. Gallen finished midtable while sporting about the worst defense in the league.   They weren't even that good at offense.  Early this season, they're better on both side of the ball, sitting on 3rd as their reward.
RESULT:   YBB   2-0
Look who's back —  It's NOOBSTRADAMUS!   
He was right quick to get pissed off, point out to Noob that real prognostication isn't for amateurs.   
And he's had a vision.  God help us.
Yes.
I close my eyes, lose myself to space and time.  When I open my eyes, I know it is not in the true corporeal world.   I am having a Vision.  I am in the Vision.
I only have a vague sense of who I am, an attendant of some kind to the Duke of Zahringen, Berchtold V.  We're out hunting.  It's the late 12th C.  And it's cold.  This vision sucks.
Old Berchty, as those closer to him refer to him here and now, is bored of life in Zahringen after succeeding his late father just five years in.  What better way to cure that than to, oh, found a new city. 
"I'm going to name it Berchtyland!"   He gets no response from his entourage.  "Berchtycity?"
"Perhaps you could name it after something you see, find, sire."
Berchty's a crabby apple, must be feeling the cold as well.  He backhands the attendant, breaking his nose.  But to his credit, he considers the idea.
"That might be too much.  Everything in Swabia has our family name all over it.  I will name the city which I shall raise here after the first animal we find!"
Everyone agreed it was a good idea.  Probably because Berchty wasn't the sharpest knife in the kitchen and other ideas he might come up with would be more likely to be worse than better.  But a squirrel bolted across our path just then, stirring out horses.
"Squirreltyton!  Perfect!"
"Brilliant, um, but I think there is already a 'Squirreltyton' a few duchies west of Swabia.  You surely don't want to be found copying anyone."
It was total bunco.  But again, our liege is dim.  We rode on.  Stopping for a drink at a stream, the Duke saw a worm.  And he looked like he was trying to think extra hard.  
Sensing the need to avert disaster, another attendant whispered in my ear.  I nodded at his idea and sneaked off a little ways, cloak and fur hat in hand.
When the party started to remount, I started shoving branches and bushes around, making much din, from a distance.  Close enough to be seen, but just.  I had put my cloak over my head and the fur hat just so and thrashed around a bit more, growling all the while.
"My liege, look, a noble bear!  it would honor all his kind for its name to be taken for your city."  The attendant who'd whispered this idea to me was a sly one. 
"Quite right!   We'll name the city "Bern", since that's in our language.  I'll bet he's majestic!  Let's kill it.  Since we're hunting and stuff."
Not wanting his own nose broken and leaving Noobstradamus high and dry, my peer said nothing.  The Duke, though a dolt, was a good shot.  His arrow found its mark, piercing my leg and catching an artery.  I knew I was done for. 
The best I could do was limp frantically away upstream and then throw myself in the water.  If Berchtold tracked the blood trail, found my body and discovered the ruse, he'd perhaps kill everyone in a rage.  And name the town-to-be 'Wormyville'. 
As the cold water took me away – damn this cold again! – the lifeblood leaking out of me caught in a small eddy and formed the words 'Bern 3-0 over St. Gallen'.  
And THAT is how you prognosticate.  You're amateur hour, sir.  Good day.
— Noobstradamus, wait!  Noob as so many non-soccer questions for you.
I said 'Good day', sir!
Norrkoping vs. Malmo – Sweden Allsvenskanliga
Eight points behind 1st-place AIK.  If traditional co-behemoth Malmo are going to make a move with just 1/3 of the season remaining, they'd best hop to it.
They'll have to hope with much vigor to get a result today.  Malmo may have the better GD, but #B Norrkoping are very good, and especially so on defense.  That's tough to get past on someone else's pitch.
RESULT:   Norrkoping   3-1      Kalle Holmberg with two first-half scores
Maccabi Tel Aviv vs. Maccabi Haifa – Israel Toto Cup
This is not the country's FA Cup, which is considered more important.  This tournament is just for clubs from the top two divisions.  It's largely used to give reserves and young player a chance for minutes, plus testing out some foreign players.
Still, it's a Final today!   The site is Petach Tikva, neutral.  MTA finished runner-up last year in the Premier, while M. Haifa were 10th.  Things are much the same early in 2018-19, as they're #1 and #9 now.
RESULT:   MTA   2-1       They got the winning goal at 85′
A Toto Cup trophy.  
Sort of a walking taco-motif.
Tuesday
Pachuca vs. Cafetaleros de Tapachula – Copa MX
Midweek games tend to be centered around Cup tournaments.  They save the league matches for the weekends.  In Mexico, just as the yearly league season is divided into two separate halves (Apertura and Clausura), so they also concurrently play Apertura and Clausura Cups.   This is the Apertura underway, and they've moved on from the Group Stage and now begin the Knockout Stage with 16 teams.
One of Noob's great joys is looking for Minnow – lower-division underdogs – in the Cups.  Since this Copa only involves teams from the top two divisions, can't get any more Minnow-y than last place in the D2 Ascenso.  And guess what?   Tapachula is right there.   They're so lousy on defense, Noob wonders if they'd stand up for their own mothers.
Um, Noob?  Don't you think it's classier to leave the mothers out of most any contentious talk?
Thanks for chiming in, The Management.  You may be right.  But I will not be filtered!  They are awful in that half.  Probably going down to whatever hell the third tier is.  Will they even get paid?
Pachuca are in 13th in the top-tier Liga MX.  They're GD suggests they're better than that.   How the "Baristas" got this far is—
Noob.  "Cafetalero" is "coffee grower".
Be still, The Management!  Just because you're right doesn't mean you don't need to stow it.
How Tapachula got this far is beyond me.  On paper, Pachuca should manhandle them and their grown coffee.
Manhandle their grown coffee?   That doesn't even make sense.  But you know what?  Carry on.
Oh, I will.  But not today muahahahahaha.   (8:00 PM EST, ESPN Deportes)
This is why Noob does not listen to you, The Management.   
Well, not exactly why not.
RESULT:   Pachuca   3-0      Jose Leonardo Ulloa with all three goals