The Midweek Edition Track finishes with two more matches for Thursday.
There's not much in the way of preview for the matches proper.  But you'll learn about two brand spanking new tournaments themselves.  Enough to get you through high-end water cooler-level chat.
Thursday
Germany vs. France – UEFA Nations League
"Nations League.   Here I thought I was really starting to know club and national team football around the globe.   But I've never heard of this league!   You have failed all Noobites.  You are a scalawag, cretinous yahoo, ne'er-do-well.  You are declared outlaw!"
Outlaw as adjective originally meant living outside the law.  People could do anything to you with no consequences, including murdering you.  So why don't we hold up and give ol' Noober a chance to explain.
Perhaps I should've mentioned this tournament before, given you a heads up.  This is a new biennial tournament.  All 55 member teams of UEFA have been divided into four leagues, based on their UEFA rankings (as of pre-2018 World Cup Group Stage).  Those leagues, in turn, are subdivided into four smaller groups.  Within each Group, they'll play standard home-and-away double-round robin format.
Example:   League A is the top 12 teams in UEFA.  The four Groups within League A are relatively even cross-sections in terms of ranking.
The Group Stage games are now through November.  The winners of each Group in League A will play for the Nations League championship.  That bracketed stage will be in June of next year, location TBD.
Leagues B, C, and D will not have their own bracketed championships.  Their journeys end with the Group matches.  However, the Group winners get Promoted to the next highest League for the next incarnation of this tournament in two years.  The poorest Group performers are Relegated in turn.
The Perceived Good:   This event is largely replacing intra-European "friendlies", provide more competitive matches.  Also, this event will serve as another qualifying means for national teams to make the 2020 European Championships.  It's an extra chance for smaller/weaker teams to perhaps get in.
The Critique:  This is an extra chance for smaller/weaker teams to qualify for the 2020 European Championships.
Noob's not going to delve into the particulars of this event as qualifier for the Euros.  There are other sites for that.  The self-assigned job here is to make you aware of basics.  So go, be free!   Use your Google machine powers to learn finer details.  Noob will, too, in time.
Today's Track'ed Match: 
Germany and defending World Cup champions France are UEFA-ranked 4th and 5th, respectively, as of today.   Noob phrases is that way because UEFA used the rankings as of right before World Cup Group Stage began to seed all the teams for this event.  These two were 1st and 5th-ranked at that time.
Either way it's two of the best teams in the world.  Though yes, Germany struggled at WC.  Here stateside, we can watch it on Univision Deportes at 2:45 PM EST with great joy.
Hopefully this spares Noob a mob lynching, you rascally animals.
RESULT:   0-0
Dominica vs. Suriname – 2019-20 CONCACAF Nations League qualification
Yup!   This tournament is new, too.   It doesn't truly start until next year.  This is a qualifying tournament.  As such, Noob will keep things even simpler about the whole thing for now.
The top six-ranked national teams in CONCACAF have already automatically qualified for actual Nations League next year.
34 of the 35 other member nations' teams play in this qualification event (Guatemala are nawtee, suspended).  They are divided into four Pots, based on rankings.  Each team will play four matches, two home and two away.  Each team will play one match against a team from each Pot.
All the teams' results will be in just one aggregate table.  The top six finishers will qualify for Nations League A, joining the six teams that auto-qualified, as mentioned earlier.  The other teams will be divided in half, into League B and League C.
(The CONCACAF Nations League is a qualifying event of its own, putting teams into something called CONCACAF Gold Cup, which in turn qualifies teams for the FIFA Confederations Cup.  Interestingly, the top ten finishers from this qualification event being played now automatically qualify for Gold Cup regardless of how they do in Nations League.  Oy veh.)
Today's Track'ed Match:
These two are ranked 25th (Pot C) and 12th (Pot B) in CONCACAF.  They're #177 and #153 in all FIFA.  Should be a pretty even matchup since is in Dominca.
The match is actually being held in Guadeloupe, not Dominica.  Curious.
RESULT:   0-0
So long from Les Abymes, Point au Pitre, Guadeloupe!
Wednesday
NYCFC vs. New England – Major League Soccer
NYCYC have won just once their last six outings.  They're settling into the #3 seed in the East as the regular season approaches its final stretch.
New England now sit in 8th, five points out of the sixth and final playoff berth in their conference.  That they can still even smell the postseason as a mathematical possibility is a testament to how improved they'd appeared in the season's first half.  They just got a draw at home against a solid Portland side, but that's now nine straight matches and no victories.
NYCFC will be missing goal-scoring leader Ismael Tajouri-Shradi.   He's on international duty this week, as are several of his club teammates.  He is Libyan by birth, but Noob presumes is with the Austrian national team now, as he holds citizenship there.   (7:00 PM EST, ESPN+)
RESULT:   Revs   0-1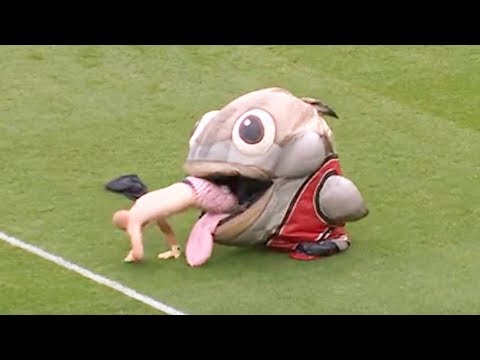 Speaking of international duty, did this mascot-guy just get vomited out after finally agreeing to go to Ninevah?
Oaxaca vs. Morelia – Copa MX
Noobites can find a bit about the format below in the Tuesday Copa match mini-preview.
Guadalajara has already advanced as this Group's winner, with ease.
Liga MX side Morelia lead the Ascenso's Oaxaca by two points in the table.  Morelia only need a draw to finish #B in the table, but only a draw almost certainly still leaves them out of the next Round.  Even a win for Oaxaca probably leaves them among the bottom two Group runners-up and out of this tournament.
Both sides have been scuffling in their respective league seasons, sitting midtable.  Morelia likely takes this one by a goal on the road.   (8:00 PM, ESPN Deportes)
RESULT:   1-1      And with that, both teams are eliminated.
Indy Eleven vs. NYRB II – United Soccer League
Former NASL-side Indy are tied for 5th in the East, two points up on NYRB.   The top eight from each conference make the Postseason.
Indy doesn't score much, have stayed afloat with a lot of draws.  Red Bulls' reserve squad have even more draws.  That's surprising, given that they play such a wide-open style, eschewing defense almost entirely.
RESULT:   Indy   3-0       Evgeni Starikov with two goals, and Indy climbs to 4th place.
Is it just Noob, or does this look like an entrance to kinda nowhere?
Internacional vs. Flamengo – Brazil Serie A
It's #B and #3 in South America's best domestic league!
Internacional trail only Gremio in defensive prowess, haven't allowed a goal in seven consecutive matches.  That said, they've only achieved draws in their last two games.
Flamengo are more balanced.  They're coming off a sleepy home loss to newly-promoted, weak Ceara.   (8:00 PM, GOL TV)
RESULT:   Internacional   2-1       The winners now lead the entire league, while Flamengo drops to 4th place.
Tuesday
U.S.A. vs. Chile – international friendly
Déjà vu all over again.  They played a few days ago, are now back to battle today.  Noob guesses Chile have been training in – perhaps even with – the USWNT.  The Americans won the first one 3-0 in Carson (L.A.).   Tonight, they play in San Jose.
Fun Fact:  The San Jose Earthquakes played a friendly last night against Chile's children's Special Olympic side and lost 0-14.   SJ were not sandbagging, by all accounts.
Pardon the interruption, this is The Management.  I apologize on behalf of Noob.  We're not even sure they have Special Olympics in Chile.  Said friendly did not occur. 
And if it had, a more likely score would be 1-14.  The 'Quakes wouldn't get shut out completely at home.
*gasp*    The Management, throwing shade on San Jose!  Is Noob dreaming?   (10:00 PM EST, ESPN2)
RESULT:   USA   4-0       Carli Lloyd with a pair in the second half
B.  Chicago Red Stars vs. Sky Blue FC – National Women's Soccer League
Three of the four Playoff teams are set.  Two regular season matches to go for #4 Chicago.   They're two points up on Utah and Houston.
One of Noob's primary sources indicates Houston is already eliminated though.  That feels unlikely, even given head-to-heads are the first tiebreaking criterion.
And since they're playing winless Sky Blue, a Chicago result and postseason berth seem likely.
Aaaaand then they'll get slaughtered by the world's best women's team, North Carolina Courage in the Playoffs.
RESULT:   Chicago   5-0       Alyssa Mautz with the first two goals
Number B, expressing the carnage that awaits Chicago or Utah in the postseason.
Zacatecas vs. Queretaro – Copa MX
They're also down to the last match in each of the three-team Groups in this opening stage of the Apertura (first half-season) Copa in Mexico.  All nine winners will advance, plus seven of the runners-up.
Second-division Clausura regular season champs Zacatecas trail Queretaro and Leon by three points.  So Los Mineros have to win today just to get tiebreakers into it.  Leon has played all their matches already, so three-way tie.  Go, Minnows!
Zacatecas are having trouble scoring, even as they win games so far this year in Ascenso MX.  Queretaro should be at least a one-goal favorite on the road today.  They're near the top of the Liga MX table themselves.
RESULT:   Queretaro   1-2
Netherlands vs. Norway – UEFA women's World Cup qualification
The Group Stage is down to its last matches here, too.  The winners of all seven qualify for 2019 WC.  The four best runners-up will have a Playoff for one more berth.
In Group 3, these are your top two and no one else can catch them.  They've outscored opponents 21-0 and 0-3 and are FIFA-ranked #9 and #14, respectively.  Nothing appears guaranteed for whichever team finishes #B in the group.
Now, check out this mockumentary done by Norwegian women's national team.  I'm sure is the current team, but regardless, this is priceless.
RESULT:   Norway   2-1     had the home/away mixed up