Monday's world league scheds are exceptionally light today.  So, before we dig into Matches of Suckitude – ones that feature teams about to get Relegated for their poor performances – we start with some match mini-previews of happier import.  Enjoy.
1. Manchester City vs. Wolverhampton Wanderers – English Premier League
UEFA league rank: #B
Table positions: #B, #11
Stakes: top 4 go to Champions League
Time of season: middle
The defending runaway champs can retake the league lead today with a win. They've reeled off four straight wins since a two-loss speed bump that allowed Liverpool to move into 1st. The last two of those were by a combined score of 16-0, though over non-Premier foes in Cup tournaments.
Wolves are in 11th, but would move into the top half of the 20-team table with a draw and jump to 8th or 7th with a win. How is a team that was just promoted doing so well? Money infusion from the Chinese conglomerate that bought them. (Thank you to the Bros Talking Soccer podcast guys for the answer to that one on their Slack.) They win with smallish ball – low scores for everyone. It's not likely to work today…but "defense travels" is an axiom for a reason!
RESULT:   City   3-0
B. U.A.E. vs. Thailand – Asian Cup
The Group Stage of Asia's national team championships is nearly done. The pods of four are playing just a single round robin, all matches in the host Emirates. The top two from each Group automatically advance to the next round. The four best third place finishers will also move on.
U.A.E. have already mathematically advanced. Thailand are tied with India for runners-up, but down to them on head-to-head tiebreaker. The AFC ranks homers U.A.E. #4 and Thailand #8 (FIFA ranks #79 and #118). But no matter – the Thais are so far the best of the third-place sides, are all but certain to advance as well.
RESULT:   1-1        The Thais advance as the Group runners-up!
Number B is back, and the quest to be rid of Number Two in lists is ON.
3. Newtown vs. St. Paul's – St. Kitts and Nevis Premier
CONCACAF league rank: they don't really do them
Table positions: #B, #3
Stakes: top 4 play for the title
Time of season: over 1/3 done
Two similar teams chasing Village Superstars for the trophy!
RESULT:   1-1
4 and 5.
Gotta be honest. It's late here on Sodor where Noob is wintering. Gotta save time for continuing to put together the coming Isle of Sodor Premier League page.
So. The Coppa Italia (FA Cup is in its Round of 16. Also, there's also a second division Portuguese league match you can Google up, should the Spirit move you.
And now, Matches of Suckitude!
6. Aris Thessaloniki vs. Lamia – Superleague Greece
UEFA league rank: #13
Table positions: #8, #14 (of 16)
Stakes: bottom 3 Relegated
Time of season: middle
Lamia are a fair bit better than the bottom two teams. They are one of three teams realistically trying to stay out of the last Relegation slot. That said, the fourth-to-last place team will play the 4th-place D2 team for the right to play Superleague next year. Lamia can't score worth a darn, are likely to stay right where they are.
Noob doesn't think they can even compete for a draw today. Thessaloniki score twice as much, are just as good on D.
RESULT:   Thess   1-0
Aaaaand stab yourself in the head.
7. Alki Oroklinis vs. AEL Limassol – Cyprus Premier
UEFA league rank: #18
Table positions: #9, #3 (of 12)
Stakes: bottom half do Relegation playoff
Time of season: middle
Worst offense and defense in the league. How A.O. are higher in the table than three clubs is beyond Noob. They'll be doing well to keep this to a one-goal loss against the #3 side.
Fun Fact:   The team owner re-named the club after a fave of his that had just gone bankrupt and dissolved.   What the cuss?
RESULT:   AEL L   1-3
8. Hapoel Tel Aviv vs. Maccabi Tel Aviv – Israel Premier
UEFA league ranking: #27
Table positions: #12, #1 (of 14)
Stakes: bottom 8 do Relegation playoffs
Time of season: middle
Side note: This league has dropped a tied-for-worst nine notches in the European rankings this last year.
HTA aren't likely to escape the Relegation playoffs at season's end. Their small-ball ways aren't working out. Ten draws in 17 matches have kept them from the table's very bottom. And MTA are going to put up with none of their nonsense. Undefeated, best offense and defense in the league.
RESULT:   1-1
We're not taking you seriously with those stretches, HTA.
Get a Peloton for warmups.   Something.
9. Glacis United vs. Boca Juniors – Gibraltar Premier
UEFA league ranking:          #51
Table positions:                     #7, #9 (of 10)
Stakes:                                        last place gets Relegated
Time of season:                      middle
#51 of 55 leagues? Hey, it's a rock with about the pop. of Ames, Iowa and they're not #55. Noob's actually more impressed that they even have a Second Division to which a team can be sent down.
The 9th-place finisher will have a playoff with the #B from the second tier. I'd say their offense is the worst thing ever, but last place-Lions only have two goals on the entire season to Juniors' six. Truth be told, Glacis aren't light years better, but at least they're not giving up buckets of goals.
Fun Fact:   Argentinian Boca Juniors called and they'd like their name back.  Like, now.
RESULT:   Glacis   6-1
10. Red Star vs. Lens – Ligue 2, France
UEFA league ranking: n/a, second-tier league
Table positions: last, #5
Stakes: bottom 3 get Relegated
Time of season: middle
Two other league clubs are as poor on defense as Red Star, but those play a little to a lot more offense. Red Star might climb to 19th over no-goals Nancy, but won't get higher.
Lens are well-enough balanced to stay in the top five and participate in the Promotion Playoffs later, if not so good as to be a threat to the top two and get automatically moved up.
RESULT:   1-0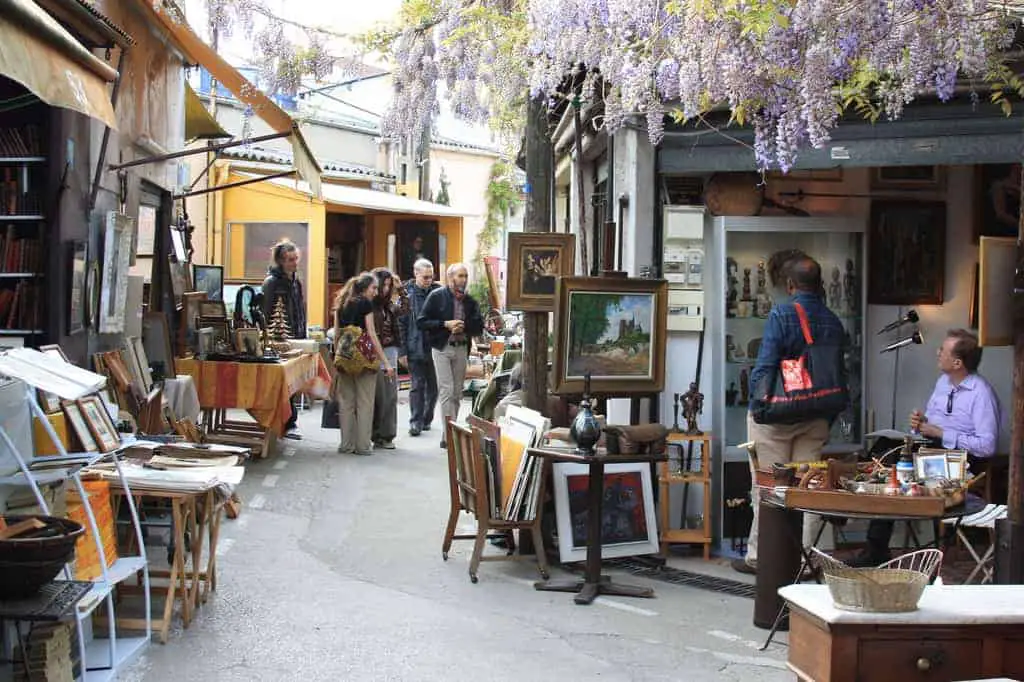 So long from Saint-Ouen (greater Paris), home of Red Star FC.
HUGE flea market, but is super-"professional".