Midweek time – that means ten matches over three days instead of ten each.
What can Noob say?   There are just so many hours in the day, and we're expanding, adding great new features soon!
We've already added "Noob Sandwich Reviewoobs".   Scroll back a couple of Tracks to see the first installment.
Also, Noob is slated to appear on the Bros Talking Soccer podcast Sunday.  We'll keep you posted on when it's available on the various platforms.   And no, despite being Twitter-familiar with one another, Noob's is not sure the Bros know what they're getting into.  It may go very "normally".  It may be very "Noob".   God help us either way.
Finally, Isle of Sodor Premier League coverage will begin this weekend!
Noob hasn't negotiated exclusive rights or anything.  But no one else is covering it, so we WILL.     Noob covered their inaugural FA Cup which ended a couple months ago.  Thought someone more mainstream would grab the baton and cover IoSPL.  Nope.
So Noob's packing his bags, ready to split some time between here and some of my fave B&B's and such on Sodor.  It's going to be….well, it's going to be content.  Yay!
(Tuesday and Wednesday matches and results follow further down.)
Thursday
No real preview work today.   Real Salt Lake plays for Playoff seeding against eliminated-New England.   Remember, Noobites:  Real Salt Lake means "royal" and we carry no truck with monarchy on our soil.  None!
Wednesday
D.C. United vs. Toronto FC – Major League Soccer
Not only did D.C. do it – climbing back from the Eastern Division basement, but they've climbed into a playoff spot (6th place) with three matches to go.  His massive price tag aside, anyone who thought it wouldn't be worthwhile to get former all-time European great Wayne Rooney was mistaken.
This all said, there are those three matches to go.  They could climb one more spot up the table, but they could get passed by Montreal (just one point back).
How does their schedule compare with Montreal's?  Defending champs Toronto FC and their last regular season opponents Chicago fire are bad and worse.  Sandwiched in between they'll host much tougher (#3) NYCFC.  Montreal play Toronto and newly-eliminated from contention New England.  So Noob thinks the difference may come down to can D.C. get at least a home draw against NYCFC.
I've only started learning all but the biggest stars' names here the second half of the season.  If you're a tenured Noobite, you'll know Rooney's right-hand man is Luciano Acosta.   But look for impact from Russell Canouse, a young midfielder who got the only goal their last outing – a massive win over the West's #1 FC Dallas.  He was rewarded with a slot on the MLS Team of the Week.  Which I hadn't known was a thing.  Learningess!   (7:00 PM EST, ESPN+)
RESULT:   1-0   D.C. Utd.          Who else by Mr. Worth-Every-Pound Wayne Rooney
A ball, for Noob?  Thanks, Russ!
(Now where are Rooney and Lucky Acosta… get some serious signatures up in here.)
Canadia vs. U.S.A. – CONCACAF Women's Championship / World Cup qualification
Actually, but virtue of making this Final, these two have now already qualified for next tear's WC.  Congrats, gals!   Not that they or anyone are surprised.  They're ranked #5 and #1 the world.  Only Canadia even allowed a single goal to be scored against them.
Tobin Heath, Megan Rapinoe, Drunk-Disney Alex Morgan — we know the USWNT team some.  So here's a shoutout to Canadia's Christine Sinclair.   She's a veteran, still a superstar, and trails retired U.S. player Abby Wambach by seven for all-time most international goals scored.  That's men's or women's side.
She won't get seven today.  Canadia may not score here in Frisco (greater Dallas) today.  But her presence gives them a real chance.  Noob still favors the Americans by two, but we could finally see both teams get their first competitive match in a while.   (8:00 PM, FS2)
RESULT:   U.S.A.   0-2         Hail to the victors!
Panama vs. Jamaica – CONCACAF Women's Championship / World Cup qualification
This match still matters in terms of WC entry.  The winner gets in, the loser gets absolutely none fruit cup.  None at all!  Friscoans (Friscites?) will deny them at all opportunities before the loser goes home.
They're tanked #62 and #64.  Whichever wins, it's that team's first ever time making World Cup.  High drama!   (5:00 PM, FS2)
RESULT:   Jamaica   2-2  /  2-4  PK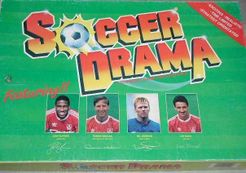 Real board game.   
Noob just up started the ol' Christmas list.
Canadia vs. Dominica – CONCACAF Nations League qualification
Double-dip Noob Canadiaian!
All the men's teams in CONCACAF playing actually "qualify" for Nations League next year.   But the top ten finishers will make the next Gold Cup.  Those are our region's championships.  There, they'll join the six teams that made the final six for World Cup qualifying last year.
Canadia should be there.  They're ranked #7 in all CONCACAF (if only 79th in the world), trailing only #6 Jamaica in terms of teams that have to play this event to make said Gold Cup.
Dominica are in the bottom half of CONCACAF, ranked #177 by FIFA.  In their first match, they got a draw against higher-ranked Suriname.
Noob is so torn!   Two workplaces ago, I worked with a guy both from Canadia and from Dominca.  Both were cool d00dz.  Funny, I've forgotten Canadiaian Ty'O's first name.   Not sure I ever knew Dominican Julie's last name.  But he was a laugh riot, even without my being able to understand half of what he said in his thick accent.
I remember one time having to help Julie decipher a speeding ticket, one he got for going so far over the speed limit that a court appearance was mandatory.   Ah, memories.
Wait, soccer, what?
Cruzeiro vs. Corinthians – Brazil Cup
It's the Final of the Copa do Brasil!   Second leg.  Cruziero took the first leg 1-0.
This is especially important compared to so many FA Cups the world over.  For example, in Europe, the winner is typically qualified for the second-tier Europa League.  Not Champions League.  Here, however, the winner gets into Copa Libertadores, S. America's version of Champions League.
It's extra super important this year because Brazil's top league sends only six teams from there into the CL.  And these two traditional powers are somehow down in 10th and 11th place currently.  And the season there is in its home stretch.   This could be both these clubs' only reasonable shot at CL.   (8:45 PM, Fox Soccer Plus)
RESULT:   Cruzeiro   1-2      Whoopsie!    Listed Cruzeiro as home team.  They were the visitors for today's second leg.  Congrats, hombres!
Noob's diggin'on the trophy, too.
CD Aguila vs. Santa Tecla – El Salvador Primera
Aguila are tied for #B with undefeated Alianza.  Santa Tecla lead them both by two points in the table, but have played one more match than Alianza (the best team in the league in reality).
The soccer year here is divided into Apertura and Clausura (first and second-half seasons). Of the two winners, the one with the better aggregate record will qualify for the 2020 CONCACAF Champions League.  The other champion and the runner-up with the better aggregate record will get into the CONCACAF League, a tournament through which teams can qualify for the Champions League.
The three teams listed are way ahead of everyone else here in the Apertura.
RESULT:   Aguila   1-0     Aguila and Alianza are now in a tie for 1st
La Equidad vs. Tolima – Colombia Primera A
In Colombia, the two stages of the season are Apertura and Finalizacion.  The winner of the postseason knockout tournament following each makes the Copa Libertadores.  So it's not nearly as strong a league as Brazil.  But hey – they're playing!
Tolima finished 3rd in the Apertura regular season before winning the postseason.  They're part of a three-way tie for #B.
Leaders La Equidad have been a surprise this Stage, as they were below average during the Apertura.  They still don't score like the biggest boys.  Noob thinks they're primed to get upset at home.
RESULT:   Tolima   0-1       There is now a four-way tie for 1st
A club nicknamed "The Insurance Team" just isn't destined to stay at the top.
Tuesday
U.S.A. vs. Peru – international men's friendly
USMNT lost last week to Colombia 4-2.  It was a match in which they came from behind, but lost in the end.  It's a very, very young roster, and in particular the backline was raw as could be.  Today, Coach Sarachan is switching back to a veteran, former Premier League goalkeeper – Sporting Kansas City's Brad Guzan.  Critics argue the team should push nothing but youth.
The inclusion of veteran Michael Bradley is drawing ire from this crowd.   That's not a defensible stance.  But Noob thinks that there are enough friendlies to go around.  If you want the players to learn, experience against great opponents, is, well, great.  But mixing in some seasoned folks to teach them from their own side, in their own locker room has to be valuable, too.
Today's match is being held at UCONN's soccer field, an oft-used venue for USMNT.  The two teams here are ranked #22 and #21 by FIFA.  Peru just finished pounding Chile 3-0 at the Hard Rock venue in Miami.  That team is ranked #12.    (7:30 PM EST, ESPN2)
RESULT:   1-1        U.S. looked decent when pressing forward.  When they could maintain possession at all.
Noob doesn't get it.
Get to the footyball matches any way you can, Amuricuh.
B.  Mexico vs. Chile – international men's friendly
And Mexico's is ranked 15th, so it's another quality matchup!  On paper.   That 0-3 loss was telling, and what it turns out it tells us is that Chile did not bring its top stars.    It's being held at Liga MX club FC Queretaro's home stadium in
But that's okay, we're here to support our CONCACAF neighbors.  Raul Jimenez scored the winning penalty kick-goal for Mexico in their last outing over Costa Rica.   This match will feature a lot of youth on both sides of the ball, so we're not expecting a ton of goals, but perhaps another dramatic finish just the same.   (9:45 PM, Unimas)
RESULT:   0-1   Chile          The visitors score at 90′ in what was a pretty even match
Noob's not going political on this site.  Just not in my ken.
But it seems a border wall might be susceptible to a Ned Flanders attack.
France vs. Germany – UEFA Nations League
Groups of three, top finisher only from each advance to the Playoffs.   This is a League A matchup, meaning these two are from one of the Groups that are ranked by UEFA in top dozen.
They've both played two of their four matches.  Germany have yet to score, though they still earned a draw in one of those games.  France lead the Netherlands by a point in the table.
These two teams are ranked as tied for #1 and #12, respectively, in the world by FIFA.   Noob's becoming less convinced those numbers matter in this tournament.
This is a new event, one designed to add some meaning to parts of the calendar that were previously filled with simply international friendlies.  It's a pathway to getting into the 2020 European Championships, but that may not be motivating teams of this caliber.  They're almost certainly going to be there no matter how they do here.   (2:45 PM, Univision Deportes)
RESULT:   France   2-1      Antoine Griezmann with both goals for the home side in the come-from-behind win