May 1, 2019 – Ballahoo, Sodor
This season, MLS' Minnesota United fans have adopted Oasis' "Wonderwall" as their victory song of choice after matches won.  [Here's the sportbible.com article ].
While that may be working in Loon-land, things went catastrophically awry Tuesday night when some supporters of the Isle of Sodor's Championship club Ballahoo A.F.C. tried singing it.   15 people ended up being treated after the ensuing brawl in the stands, with three still in intensive care at Vicarstown Memorial Hospital.
So what happened?  After Ballahoo's 4-2 win over Cross-ny-Cuirn FC, some home supporters started singing "Wonderwall".  A few catcalls aside, the crooners continued unimpeded until the beginning the chorus.
Sheela Boyd, president of the creatively-named Ballahoo Supporters, had this to say after hiding her brass knuckles:   "Many of us thought it was a joke and they'd stop.   But we no more than heard, 'Because maybeeeeeeey,' and knew they were for real and that chorus had to be stopped."
The offending fans were set upon by thrice as many others within seconds.   Beers were dumped on the offending culprits as they were punched, kicked, and carried to the back of the small stands.  There, they were each dropped about seven feet.
Noob spoke with Ballahoo A.F.C. club prez Martyn Stevenson by phone, who had this to remark:
"Ballahoo, like so much of east-central Sodor, have seen a lot of Mancunian's move here in recent years, despite historically only being a dormitory town.  The supporters who were attacked are believed to be mostly or entirely comprised of Manchester transplants.

We welcome them.   But they should've left their Oasis fanboyishness back in the Kingdom.  Look, we understand the band is considered iconic there.   The instrumentation is superb.   The production choices they made for studio albums were concrete and admirable.   But Liam Gallgher's singing is unbearable to anyone with an ear.

Ethel Merman.  Stevie Nicks.   Both Brooks and Dunn.  Liam Gallagher.  There's your top four list of most awful, nasally singers the Lord God saw fit to create.   We will never know why, as His ways are higher than ours."
Isle of Sodor FA Preident Abban Clague announced the FA's swift punitive decision of Ballahoo FC: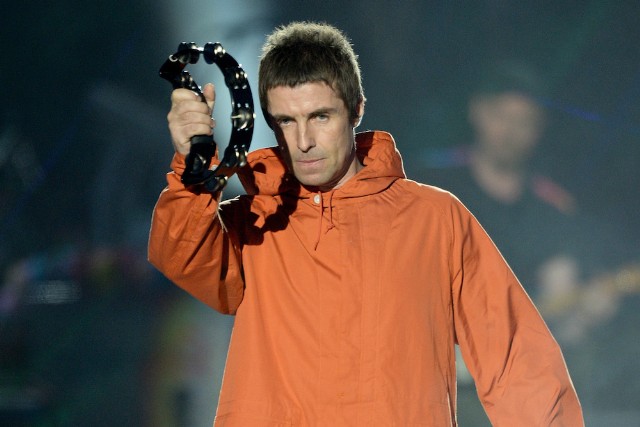 "Ballahoo FC will be docked one point in the table.   Dumping beer on anyone is wasteful, alcohol abuse.  Liam Gallagher's singing is terrible and his tambourine-playing is marginal at best."
Clague then dropped the mic, though whether by intention or accident is unconfirmed.