The Midweek Edition is back, bringing you ten hawt soccer match mini-previews.   Thursday's 10th match is now up, as well as a couple mini-bonuses.
Scroll down for Tuesday and Wednesday matches and results.  And look out!     Noob's Sandwich Reviewoobs makes a triumphant return for a second installment in there.
Thursday
Honorable Mention:
Arsenal and Chelsea of the English Premier League are both in action today in Europa League's group stage.  For the rawest of Noobites, that's Europe's second-most prestigious international club tournament.
Arsenal have a tough – but not insurmountable – away match against Portugal's Sporting CP that may well decide who wins that Group.  Chelsea will rout visiting Belarusian power BATE Borisov.
Also today is a solid matchup in Nicaragua's Premier League.   It's not one of Central America's strongest, but they – they're playing.  League leaders Managua host #3 Diriangen.
That regular season is down to being a two-horse race now, but the top four make the Playoffs there.  Managua only lead the #B team by a point in the table, and Diriangen are only three points clear of the 5th-place club.
Herediano vs. Motagua – CONCACAF League
The Final!   The first leg, anyway.  The champ will be decided with a home-and-away series.  But just what is this event.
That can be better answered to start by telling you who is (and isn't) in it.   This is 13 really good Central American teams and three top clubs from the Caribbean region.
Who this is not are the league champions from the five best Central American leagues' champs.  They qualified directly for the CONCACAF Champions League.  The winner of the event featured today gets the 16th and final spot into the CL.
Herediano qualified for this tournament by having the best aggregate record between the Costa Rican Apertura and Clausura (first and second half-tournaments) last season.  Motagua were the runners-up in both those stages In Honduras.
Herediano are the better team in paper, but wow are they struggling in their current league season.  They've lost four straight, only scoring in one of the matches and dropping to midtable.
This is a real opportunity for underdogs Motagua.  They've not lost in six matches.  The defense hasn't been absolutely lights out over that stretch (four goals allowed in six matches), but it's carried them to the top of their league table.
RESULT:   Herediano   2-0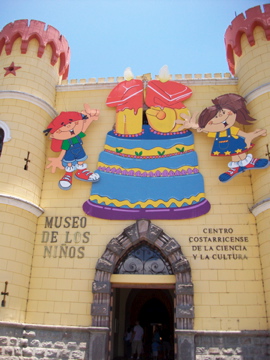 So long from Museo de los Niños, Heredia!
Wednesday
Borussia Dortmund vs. Atletico Madrid – UEFA Champions League
Welcome back to the Group Stage.   A little cut 'n' paste from Tuesday's Match 1:
Europe's best clubs return for more Group Stage action today.  Pods of four teams playing double round robin home and away series.  Best two from each Group advances to the Knockout Stage, and finishing #1 or #B will matter for seeding there.
Germany's top league (the Bundesliga) is one of the best in Europe, and as such gets four berths in this tournament.   Dortmund got the last of those, finishing in 4th place last year.  Atletico Madrid qualified by winning last year's Europe League tournament.  It's like the NIT of European football.   They also finished 2nd in La Liga, another of the continent's best leagues.
They both beat the other two clubs in Group A.  it would take a titanic turnaround for these two not to be finish in the top two.  But remember:  Finishing #1 or #B matters in terms of seeding for the next Round.
Dortmund are the lone undefeated team left in the young Bundesliga season, so that means they're peaking at a great time for this event.  The offense has been…I don't know what German idiom means "on fire".  Here's to hoping perhaps America's greatest player – young Christian Pulisic – can contribute even more to that than he has so far (1 league goal).
Atletico Madrid have struggled in league a little so far in Spain.   They succeeded last year with small-ball strategy – just keeping the scores low.  So far in 2018-19, that's led to a lot of draws.  Look for Dortmund to push the pace hard today.  Even two goals for the German's guarantee them victory.
RESULT:   Dortmund   4-0       No big game from Pulisic, but a big win for the German club
Boca Juniors vs. Athletic Club – Copa Libertadores
This is South America's version of Champions League in Europe.   They've reached the Semifinals there.  Only teams from the continent's top two leagues remain – two each from Argentina and Brazil.  This is the first match of the two-legged tie that will decide which team advances to the Finals.
Argentina qualified its six teams for a given Copa based on their 2016-17 season results.  Boca Juniors finished #B in the Premier league there.  Brazil gets in a whopping eight clubs.  Athletic Club finished runners-up last season in the Serie A there.
Athletic have been getting nothing but draws for a couple weeks.  They've been merely middling on both sides of the ball this season, struggling a touch more on offense than D.  And there's more bad news.
Palmeiras are now rated the top club in all Brazil.  They're 1st place in the league.  They haven't lost a match in any competition since mid-September.  On the year, they're incredibly balanced.  Of late, it's the defense that has carried them.  And as in all sports, defense travels.  Boca will be doing well to even get a draw today.
RESULT:   Juniors   2-0
NOOB SANDWICH REVIEWOOB!!
OK, that's a lot of Champions League stuff.  We need a break before the next one.  And that means it's time one of Noob's newest features!   Let's have at and reviewoob a sammich.  (Match previews continue after.  Promise.)
2 slices white bread

Red pepper

Olive slices

Cucumber

Radish slice

Chives

Orange nose (carrot, orange pepper or cheese)

Sandwich filling of choice (turkey, cheese, ham etc.)
Cut slices of bread into circles with a sharp knife. 

Fill sandwich with a combination of your favorite ingredients, such as ham and cheese, turkey and cheese, turkey and avocado slices. 

If it is for a child's party, try to choose ingredients that kids will be most likely to eat.

Now, cut a large red pepper slice to make the bandana of the pirate. 

Cut two little pieces to make the "ties".

Add eyes, nose, mouth and ears, as shown. 

Use olive slices without pimentos for earrings.
Where to begin…  Can we nickname this sandwich "Child Abuse".  As a kid, even if I asked for a pirate-themed bday party, I'd run away from home after my friends and I were served this.
First of all, let's just knock out of the way that the specificity of white bread seems historically less than accurate and best and downright racist-y at worst.
And for the love of Pete, save forcefeeding the kid those particular vegetables for a "home healthy night" meal.  
"sandwich filling of choice" — umm, isn't it a little late for that?  And then go on and suggest something like avacado slices??   Look, Noob will take one cold, but the sandwich audience of kid's bday party attendees are going to start kneeling at school at Pledge of Allegiance time to show disdain for the injustice of this sammich.
"If it is for a child's party, try to choose ingredients that kids will be most likely to eat."     Shut the front door!  We're considering serving this at a function for ADULTS??
The only saving grace for this disaster is that the pirate earring-olives have the pimentos removed.  Green olives are bad enough, but Noob thinks we can all agree that pimentos would escalate this is to an actual crime scene.  Draw a chalk line around this monstrosity.
So Noob rates this sandwich at Half a Sandwich out of five on the Noob Sandwich Reviewoob sandwich rating system.  God help us all if we ever find a worse one.  If that happens, I'd like my "filling of choice" to be rusty nails and pimento loaf, thank you.
Suwon Bluewings vs. Kashima Antlers – AFC Champions League
They've also reached the Semifinal stage in Asia's CL!   Kashima won the first match of this home-and-away series 3-2.
Suwon qualified by finishing third in South Korea's K-League last year.  K-League is one of only three in the federation that qualifies three.  Japan is another.  Kashima were runners-up last year in the J1 League.
Suwon have just a few matches left in K-League.  They're in 4th, seven points out of the third and final CL berth for next year.   They struggled alternatingly on O and D all season, eked through nearly every match and two-legged tie to get to this Semi.
Kashima are in a league dogfight late in their season to qualify for next year's CL.  They're tied for 3rd, playing defense maybe just a titch above average on the year.  They enter this Semi with a little momentum though.  Antlers pummeled their Chinese quarterfinal opponents 5-0 on aggregate.
Just like yesterday with the CAF CL matchup, the perspective compared to U.S. soccer is about the same.  Suwon would be a tiny favorite to win MLS.  Kashima should be able to beat America's best club 60-65% of the time on neutral pitches.
And so Kashima should also win today.   Whomever wins will face Iranian historic great Persepolis in the Finals.
RESULT:    3-3      And so the Finals will be Kashima and Persepolis
Cruz Azul vs. Leon – Copa MX
From yesterday's match preview from this tournament:
They play two Copas per year, just as their full soccer season is divided into two separate halves.  This is the Apertura, the first-half Copa.  Only teams from the top two leagues ever compete in these. They're done to the Semifinals, and it's all Liga MX (top-flite) clubs remaining. 
In Mexico, they don't play home-and-away series.  Liga MX current #B gets to host this deciding match.  They started the league season like they might run away with the title.  They've come back to earth a little of late, but the defense is still league-best.
Leon are shuffling along, a perfectly average club in a three-way league tie for 10th.  Their defense has to tighten up a bit if they're going to finish in the top eight and qualify for the Apertura postseason.  But they're certainly good enough to get hot on either end of the field and pull of a road upset today.
It looks like the winner will get league traditional powerhouse Monterrey in the final.  At time of this writing, they lead 2-3 at Pachuca.  But they're down to ten men after someone was naughty and got a straight red card, so who knows?
RESULT:   Cruz Azul   1-1  /  5-4  PK        Leon went down to ten men via a red card very early, yet still scored first.  
More shuffling in Mexico…
PSM Makassar vs. Persib Bandung – Indonesia Liga 1
We finish today's portion of the Midweek Edition with straight league match play.  The season's about 2/3 of the way complete in Indonesia's top flight.  It's ranked below average in Asia, but some of that has to do with the entire league having been suspended by FIFA a couple years back.  They're top-20 talent.
That said, they're not even guaranteed one entry into the AFC CL.  The winner here may get into a qualifying Round of that event.   Or they may be stuck playing in the Asia Cup, a secondary tournament for top teams from "developing soccer nations", as the AFC so diplomatically puts it.
This is a #1-#B matchup, though if momentum means much, it may not be a close one today.   Makassar have won five straight and scored multiple goals in them all.  Bandung haven't won in three straight and have struggled on defense.  Given that the match is also in Makassar, no reason to not treat the hosts today as a full-goal fave.
RESULT:   1-1
Manchester United vs. Juventus – UEFA Champions League
Europe's best clubs return for more Group Stage action today.  Pods of four teams playing double round robin home and away series.  Best two from each Group advances to the Knockout Stage, and finishing #1 or #B will matter for seeding there.
Going by Elo Rating, there's no finer club in the world right now than Juve.  And some of the data going into that precedes their acquisition of World's Greatest Player Cristiano Ronaldo for this year.  They won both their Group Stage matches so far, must be salivating for today's match, given Man Utd's struggles this season.
Man Utd. are 1-1-0, just two points behind Juve in the Group.  Neither Valencia or Young Boys of Bern (Switzerland) even scored a goal their first two matches.  those are the plusses.
But Man Utd. haven't won a league match that matters all year and their merely midtable to show for that.  Either the drama between star player Pogba and their coach Mourinho is weighing them down, the players are largely siding with Pogba and not playing their best for the coach, or both.
Everything points to Serie A-undefeated Juventus getting likely road result and perhaps even win on the road today.   But there's one teensy little fly in the ointment:  Juve just let mid-table Genoa get a draw with them.  In Turin.  Juve did dominate statistically.
But maybe, just maybe, Juve's feeling drained by the Ronaldo circus as well.  It's hard to think that rape allegations* against your new star player aren't having some kind of effect in the locker room.
* This topic, while incredibly important, isn't one I'm is going to address in detail.  Your Google-machine powers will lead you to all manner of in-depth articles that would outstrip anything I would bring to the table. 
RESULT:   Juve   0-1
B.  Shakhtar Donetsk vs. Manchester City – UEFA Champions League
Meanwhile, nearly everything is clicking for Man City.   They're undefeated, tied atop the Premier League table, and looking perhaps even better than last year during their record-breaking season.  The only meaningful blemish has been their home loss to Group leaders Lyon.
So Man City trail Lyon by a point, and Ukraine behemoths Shakhtar lurk just a point behind them in turn.  The Blues simply must get a road win today, put to bed any notion that anyone besides they and Lyon are advancing.
Noob's not predicting an upset in either match, but I think Shakhtar has a better chance of pulling wining today than Man Utd.
RESULT:    City   0-3
Noob can pick out as many as three possible Number B's in Ukraine's alphabet.
Pachuca vs. Monterrey – Copa MX
A reminder of what we have with Mexico:
They play two Copas per year, just as their full soccer season is divided into two separate halves.  This is the Apertura, the first-half Copa.  Only teams from the top two leagues ever compete in these. They're done to the Semifinals, and it's all Liga MX (top-flite) clubs remaining.
In Mexico, they play one-offs here, no home and away series.  Pachuca are the lesser team, if you look at league standings (merely 10th place), but get to host the league #5.
But hosting, Pachuca's got a real shot.  Both teams are playing average defense and having a little trouble scoring.  That gap between them in the table can't be seen as so wide and one is reminded that in each half-season they only play 17 matches.  Noob wouldn't bet on this match, but would go against the traditional powerhouse and take Pachuca at home today unless forced.
And who would force someone to gamble?  That sounds like a worse movie concept than Ben Affleck and Justin Timberlake's Runner Runner.  Woof.
RESULT:   Monterrey   3-3  /  3-4  PK           Pachuca outscored Monterrey 2-1 after the visitors lost a man to a straight red card, but it wasn't quite enough.    Rogelio Funes Mori with two goals for the winners.
Esperance vs. Primeiro de Agosto – CAF Champions League
This is the second match of a two-legged, home and away Semifinal series in Africa's CL.  1dA won the first match at their place 1-0.   And if they keep up, Noob may have to start actually paying attention to Angola's top league!
The Girabola used to be a top-10 league on the continent, back in the early aughts when the CAF first made official rankings.   They'd fallen to #17 recently, though will crack the top ten again when the next ones are released.  It would be a fairly big upset if they held on to beat the Tunisians today, even with a one-goal lead in hand from the first match.
For perspective, let's look at how they would likely fare in MLS.  Based on Elo ratings (think chess, or even competitive Scrabble), 1dA would actually be the favorite coming into a season.  But barely, just a few points ahead of U.S. Elo #1 New York Red Bulls.
Meanwhile, Esperance are 100 points ahead of 1dA.  They should hypothetically win, oh, about 2/3 of matches they'd play on neutral pitches against NYRB.  Tunisia's is the second-best league in Africa, behind Egypt's.
For a touch more perspective, any of the above teams mentioned would probably be Relegated if they played in England's Premier League, but at least compete to get Promoted to it from the second division.
RESULT:   Esperance   4-2              The Tunisians advance on aggregate, 4-3.  They will face Africa's #1 team, Al-Ahly of Egypt, in the Final.
Wow.   Noob thought that was pretty good, honestly.  I'll have to reevaluate.
And then I'll find some way to insult you!  As soon as I figure out what kind of animal you are.
Wesnesday and Thursday
coming soon!