Yesterday, Noob cheated.  I snuck in ~30 matches into the ten mini-previews.   It was gluttonous, and that's sinful.  Today, we'll stick with the ten.
Pretty varied for a Sunday, not just the usual suspects.
North Carolina Courage vs. Chicago Red Stars – National Women's Soccer League Playoffs
Tthoughts, heartfelt prayers to all affected by Hurricane Florence.  This match has been moved to Tuesday.
B.  D.C. United vs. New York Red Bulls – Major League Soccer
Conference matches are in progress as Noob composes, but at this moment, this will be #7 hosting #B.
The D.C. story has been remarkable.  Signing all-time great Wayne Rooney has turned there season around to a degree only the most hopeful could've, well, hoped for.  Last place to one slot out of the playoffs, with enough games to easily climb further.
Haven't talked about this, but the Rooney signing also plays into a discussion about league makeup.  Many think it's not a good thing for MLS to serve as a "retirement league" for European stars.  They may say it doesn't specifically improve the product, and/or might take away a spot from a developing American player.
Rooney's not the first to move stateside after his prime (though he's only in his early 30's), won't be the last.  Noob's in favor of such.  Let's have stars!    If the game is going to get really big here, it needs to be shiny, get people interested.  Perhaps American player growth can then follow.
Aaanywho.   NYRB just got drubbed by the suddenly and surprisingly feisty Montreal Impact.   That's their first loss since July.  It will be interesting to see how they react.   (1:00 PM EST, ESPN)
RESULT:   3-3      NYRB's Wright-Phillips will all three goals for his side
Number B – young, vibrant, not retiring anytime soon
Santos vs. Leon – Liga MX
Another for which the standings might've changed by match time.  Right now, Santos are in a four-way tie for 5th, Leon in a tie for 12th.  They're about equally-skilled defensively.  Leon short on offense, though, and that puts them in a bad way on the road today.   (5:00 PM, Univision Deportes)
RESULT:   Santos   3-0
Wolverhampton Wanderers vs. Burnley – English Premier League
The two EPL matches today each feature a winless team.   Noob's going with this one for two reasons.
#12 Wolverhampton were just Promoted this year, and it's fun to see how those clubs hold up.  WW are staying well above the cutline early, .500 record.   However, they're doing it with small ball.  They pack it in on defense in lieu of trying to score much themselves.   It might work to keep them in the PL another season, but no more than that.
Burnley finished 7th last season, getting the league's last qualify spot for Europa League.  And they did it playing small ball themselves.  So what does Noob know.
This season, they're still not scoring, but on favor of more than mediocre defense.   Noob's got a feeling we'll be seeing Burnley on some Relegation Monday editions of the Track.   (8:30 AM, NBCSN)
RESULT:   Wolverhampton   1-0
Perhaps Noob is being premature.
Diriangen vs. Managua – Nicaragua Primera
Noob's enhanced focus on CONCACAFfeination continues!   it's not a ton of info to start, but we're going to get some familiarity .
Last year's #B and #1.   it's very early in their new season, but Managua are at it again – undefeated.  Diriangen are in 4th, scuffling on the defensive side.
RESULT:   Diriangen   1-0
Derry City vs. Cobh Ramblers – League of Ireland Cup
Noob's impression is that this is a secondary tournament in prestige to the FAI Cup.  Still, when Noob sees a Final, it's on!
Derry City are a midtable team from the Irish Premier.  Cobh are actually below average in the second division.   Let's see that shiny trophy.
RESULT:   Derry   3-1    Hail to the victors!
Noob doesn't think so.
But here's to hoping!
Midtjylland vs. Copenhagen – Denmark Super Liga
Last season, Copenhagen finished 4th and had to win a playoff match for the league's last entry into the Europa League.  This season – 1st, so far.  Midtjylland are the defending champions, #B right now.
It's early, but GD is indicating these two might both create some real separation between them and the rest of the pack.
RESULT:   Midtj   3-1
Norrkoping vs. AIK – Sweden Allsvenskanliga
It's probably too late for #4 Norrkoping to make a run at the league title, 20 matches into the season.   But they're only a point out of 3rd, which would get them into the next Europa League at least.
Noob thinks they've overachieved, will fall badly to #1 and defending champs AIK.  The league leaders only give up a goal every other match on average.  Champions League-bound.
RESULT:   Norrk   2-0
1)  "Sweden" and "bound" as part of any search parameters.
Terrifying.
Once Caldas vs. Atletico Junior – Colombia Primera A
These two are #3 and #4, but things are very tight at the top in Colombia.   Statistically, both teams look like they belong.
Tolima and Equidad above them in the table are not club names that resonate with Noob.  Atletico Junior does, and they'll find the cracks in O.C.'s defense, get a W today.   (6:15 PM, RCN Nuestra Tele)
RESULT:   O.C.   1-0
Alianza Lima vs. Sporting Cristal – Peru Primera
Peru's season is divided into three parts, unlike so in much of South America.  Cristal won the first two stages.  Alianza were forgettable during the Verano, but rose to #B in the Apertura.  The third, Clausura stage is barely begun.
The winner of each Stage qualifies for both national championship Playoffs (and the next Copa Libertadores), so Cristal is already in.  Not only that, but by winning two Stages, Cristal will get a bye into the Championship Final.
Alianza will have to win the Clausura to qualify.   The fourth team that will get in is the best non-winning team from all three Stages combined.  Alianza's much too far down that aggregate table to get in that way.  Good luck to the, trying to even score on Cristal.  No one in Colombia ever does these days.
RESULT:      ppd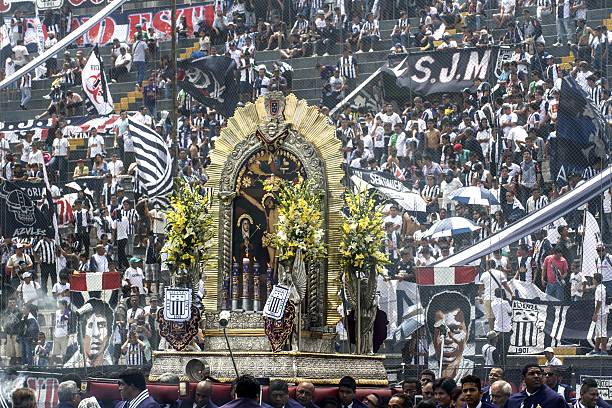 So long from La Victoria District, Lima, home of Alianza!
image of the Lord of the Miracles of La Victoria