Noob knows this is usually called "Globetrotting Friday".  AND that "jetsetting" may not really be a word.   But we're trying it on for size just the same.
With world scheds running a little lighter right before the weekend proper, Noob uses it as a chance for us to soccer-sightsee!  Let's check out some local matches of import, than hit the tarmac and head for soccer hinterlands.
LA Galaxy vs. LAFC – Major League Soccer
Rivalry Week!  "El Trafico".  Los Angeles.  The Holy Spirit.  Soft sheets.  Counting.  Science.  Foodstuffs.
Whoa.  Noob started just free-associating there.   No belief in the necessity for editing here.
Better believe that the Galaxy need to get it together though.  They've been in a softer stretch of schedule this month and are not getting it done.  No wins in four matches has them tied for 5th.  The Remember: Only the top six in each conference get into the Playoffs.
LAFC are in 3rd, having recovered from their own tailspin.  Home cooking against Colorado and Real Salt Lake was tasty.
If the Galaxy are going to pull it together to stay afloat for a postseason, perhaps they should find a consistent lineup and formation on defense.  They've started wholly different folks and moved some around every match of late.
Perhaps Noob shouldn't question Sigi Shmid – who has the most coaching wins in MLS history.  But he can come to me if he has an issue with it.   (10:30 PM EST, ESPN)
RESULT:   1-1       Zlatan got a goal in the first half, and should've been given a second yellow and sent off later.  Shenanigans!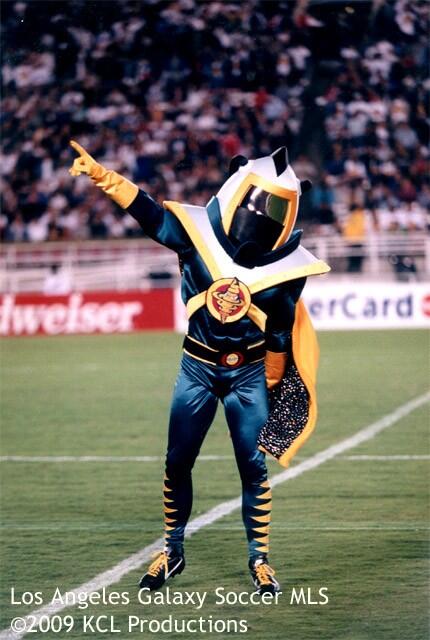 Fun Fact:   This is Twizzle, the original Galaxy mascot.
His replacement is a less humanoid-looking guy named Cozmo.
B.  Atlas vs. Guadalajara – Liga MX
Guadalajara was so bad last season, Mexico's football federation changed the rules concerning promotion and relegation just to make sure this big money club didn't get stuck down in the Ascenso league.  They're looking much better, average early this season.  9th place currently.
Atlas.  Noob would chastise you not winning a game yet.  But before we can even get to that stage, score a goal.  Their next will be their first of 2018-19.  And it's not like the defense is any good, either.  I waggle my finger at you, Atlas.   (10:00 PM, Unimas)
RESULT:   Guad Squad   0-1
Not bad, Number B!    Looking atlas page-y today.
Queretaro vs. Necaxa – Liga MX Femenil
Perhaps the gals of Necaxa could lend Atlas some advice.  After all, they've scored this season.  Once…
Now, Queretaro actually find the back of the net more than once per match on average.  But if they're going to be anything but low-end mediocre, they've got to stop giving up almost three game.  What's Spanish for "oof dah"?
Fun Fact:   One older translation of "Queretaro" is "island of blue salamanders".  Odd-seeming, for an area in the middle of the country.
RESULT:   0-0
Motagua vs. Portmore United – CONCACAF League
The winner of this tournament gets into the CONCACAF Champions League.  The participants are all from Central America and the Caribbean subregions.  The matchups are all two-legged ties, and they're in the Quarterfinals now.
Honduras' top entrant is Motagua.  Last Round, they put the kibosh hard on Costa Rica's Santos de Guapiles.  Portmore qualified by finishing third in the Jamaican Premier.  In the Round of 16, they squeaked by Belmopan Bandits out of Belize.
Even the rawest of Noobites will surely recognize Motagua is a heavy favorite, especially at home here in the first match of the tie.
RESULT:    Motagua   3-2       The hosts went up 2-0 in the first half, then had to get a second goal from Juan Pablo Montes at 90'+5 to win.
Frustrating Fact:   Darn birds are always stealing soccer balls!
Bayern Munich vs. TSG Hoffenheim – Bundesliga
The opening match of Germany's season!  And we get a shiny one.  Bayern ran away with the league title last season.  They scored half again as many goals are 3rd-place TSG and gave up only half as many goals.  But it's a new year, and if any club can make a contender's claim, it's the visitors today.   (2:30 PM, FS1)
Fun Fact:  In the 1990's. Bayern was given the nickname "FC Hollywood", as they were not playing well but the players were all over the tabloids.
RESULT:   Bayern   3-1
Middlesbrough vs. West Bromwich Albion – English Championship
To England!  No Premier League action today, but the lone ECL match includes a club that was just demoted from there last year.  West Brom didn't average even a goal per game in finishing last.
Middlesbrough made a run last year at getting Promoted up to Premier status.  They finished 5th in the league, got to play in a fo- team mini-tournament for the right to advance.  For second division, their offense was very good and their defense even a little better.  They'll be in the running for Promotion again in all likelihood.
RESULT:   Middlesbrough   1-0
Fun Fact:   Middlesbrough have one of the highest percentage female fan bases in all England.
CIE Ranch vs. University College Dublin FC – FAI Cup (Ireland)
Ireland's FA Cup is in its Second Round, and here we have a battle of 1st-place squads.  UCD lead the countries second division league by four points.   But these Cups are all about finding Minnows, underdogs to root for!
CIE Ranch play In the Leinster Senior League., which is all greater Dublin-clubs.  Noob thinks this puts them in the third tier in the country, if they play in the top division within that league.  Theirs is the Sunday Premier division, so it likely is.  And they lead it by seven points, on the backs of their leading defense.
Ultimately, we're talking about pros – even the collegiate UCD ones – versus amateurs.  Still, goooOOOO Fighting Inchicorians!  (Did Noob get the suburban demonym correct?)
Morbid Fact:   The jail in or near Inchicore is where the leaders of the historic Easter Rising were executed.
RESULT:   UCD   2-6       Weird match!   The Ranch actually went up 2-0 early!  UCD got one back still in the first half.    Then at 75′, a Ranch'er got a red card.  You can see what happened after that.
Kopetdag Asgabat vs. Energetik – Turkmenistan Yokary Liga
Turkmenistan's top league is halfway down the Asian rankings.  That's deep enough that they don't even get an automatic entry into the next AFC Champions League.
Not that these two would get it anyway.  They're 7th and 4th (of eight) halfway or so through the league season.  Good thing there's no Relegation in this league.  Asgabat can't score a lick.
RESULT:   Energetik   0-1
Fun Fact:  Ashgabat is the city name, while Kopet Dag are the mountains seen here.
Ventspils vs. Riga FC – Latvia Higher League
It's a tie for #B in table in UEFA's 41st-ranked league.  Hey – they're playing.   On Fridays, these are the fun ones for Noob.
RFS – the city of Riga's top team – is likely hoping these two will just draw.  They lead both by seven in the table.  FC play small ball, so if they can control the pace, a 0-0 tie is certainly a reasonable expectation.  Ventsplis relies a little more on their own D than goal-scoring as well.
Fun Fact:  Venstspils is the wealthiest city in the country, thanks to its ice-free port on the Baltic sea.
RESULT:   Riga FC   0-1
Floriana vs. Silema Wanderers – Malta Premier
Just a couple notches further down the European league rankings we find Malta.   This match doesn't carry quite the importance in the standings as Latvia's featured match, but it's no less fun to go exploring.
The Maltese league season is just starting anew.  Last year, these two were 6th and 7th place.  That said, there was a fair bit of a gap between them in points, and a larger one in GD.  If their relative strengths remain the same, Floriana should have more than enough firepower to get the W today.
RESULT:   Silema   0-1
So long from Noob and Jason Derulo!
Floriana the town has hosted MTV Europe's "Isle of MTV" festival 11 years running."  Derulo will headline this year.