Relegation Monday saw a sweet upset by Spanish former last-placers Alaves!  Now, moving into the midweek means hot.  Cup.  ACTION.
Noob's feeling very Champions League-y.  They're playing the final games of the Group Stage.  Top two finishers from each group of four are moving on to  the Knockout Round.  3rd place teams get dropped into Europa League.  4th place shall weep endlessly for what was lost!
Manchester United vs. CSKA Moscow – UEFA Champions League
Man Utd. hasn't mathematically guaranteed themselves advancement, but they're advancing.  3rd place CSKA Moscow would not only have to win, but make up an astounding nine in goal differential to jump to 1st.  More likely is that they could win or draw and get ahead of Basel for 2nd, good enough to get into the Knockout Round.  So CSKA Moscow is heading down to Europa League.   RESULT:  Man Utd   2-1
Problem though…
B.  Benfica vs. Basel – UEFA Champions League
…is that Basel finishes up against point-less Benfica.  Basel and CSKA Moscow are tied on points, but Basel has the better tie-breaking GD.  Win and they're in.   And Basel makes the Knockout Round!   RESULT:   Basel   0-2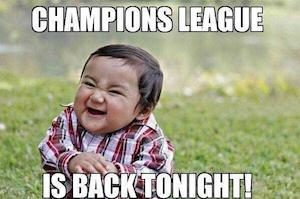 Chelsea vs. Atletico Madrid – UEFA Champions League
Chelsea is moving into the Knockout Round no matter what, just a question of as 1st or 2nd in this Group.  Atletico is in 3rd, two points behind AS Roma.  Atletico must win, and hope…
Chelsea finishes in a 1st place tie on points, but is 2nd on tiebreaker.   RESULT:   1-1
AS Roma vs. Qarabag – UEFA Champions League
…that Roma somehow craps the bed against 4th place Qarabag.  Qarabag hasn't been as woeful as Benfica, but their only Group points have come from two 1-1 draws.   While its Roma that won that tiebreaker!   RESULT:   Roma   1-0
The Roma supporters are under attack!!
Barcelona vs. Sporting CP – UEFA Champions League
Barcelona is advancing to the next Round as well.  Sporting CP is 3rd, a point behind Juventus.  The Portuguese club has actually shown a bit of offensive pop, but Barcelona's only given up one goal this whole Group Stage.
Sporting also faces a similar problem to what's been scene in the subentries above, in that…
Barcelona wins their Group!   RESULT:   Barcelona   2-0
Olympiacos vs. Juventus – UEFA Champions League
…Juventus gets to finish up against winless Olympiacos.  If Juve somehow lose (and the road is never a breeze), then a Sporting draw would be enough to move them on.  Sporting has the GD tiebreaker.   Juve takes 2nd and advances!   RESULT:   0-2
Greece – doing it wrong.  Tourist – doing it wronger.
Yeovil Town vs. AFC Wimbledon – EFL Trophy
A reminder of what this event is:  a Cup tournament for League One and League two (third and fourth-tier leagues), plus the youth teams affiliated with the top two leagues' clubs.
This is the Second Round, which is Knockout.  One game and done.   Neither of these clubs is having a good season in-league.  But Wimbledon is in League One compared to Two for the hosts, so even on the road it's hard to pick against them.   The Noob-fave is victorious!   RESULT   Yeovil   2-0
Port Vale vs. Shrewsbury Town – EFL Trophy
These two are also in the fourth and third tiers respectively.  But Port Vale's season has been steeped in suck, while Noob-fave Shrewsbury is cutting 'em down in League One!
Longer-tenured Noobites will know why I have such adoration for the Shrews.   They're town is where the vile traitor Henry "Hotspur" Percy met his much-deserved demise.  Hallowed ground!  (And so always remember to root against namesake Premier League club Tottenham Hotspur, friends.)   On, Shrews!   RESULT:   Shrewsbury   1-2
Die 1000 deaths, Hotspur!
Zanzibar vs. Rwanda – CECAFA Senior Challenge Cup
In case you missed the intro yesterday, this is a Cup tournament for teams from the central and eastern African association.  There are two Group, of five and four teams, and it's all just getting started.
Noob finds this match interesting just because, as little as I know about African soccer, I know zilch about Zanzibar footyball.   They're an island that's actually part of Tanzania; not recognized at the international play-level by FIFA.   Noob mislisted the home and away.  RESULT:   Zanzibar   1-0
Kenya vs. Libya – CECAFA Senior Challenge Cup
Libya's not a member of this organization, but they were invited in order to make this a nice, round nine-team event…
FIFA-ranked #111 vs. #77.  If you can pirate a stream somewhere of #9, then you have the interblag expertise to make it a double-feature two hours later and catch this one!   And if not, fear not.  Noob always updates the T2T's with results.   RESULT:   0-0
Interblag expert