Think your Mondays suck?  Trying being one of the featured teams here that may soon get kicked out of their countries' top leagues.
Most days of the week, Noob's all about the ten most important matches from the lens of the newish American fan.  Monday's run light on games pairing top-caliber sides.   So let's shake hands with, get to know some clubs that may not be in our purview much longer!
First, let's tackle a couple traditionally-worthy matches.
Slough Town vs. Rochdale – English FA Cup
The hosts are another of the Southern League Premier teams somehow still alive in this event.  The level-seveners see League One (tier three) Rochdale coming to call today.  This is the Second Round (Proper), and a one-off.
Slough is an exburb, about 20 miles west of central London.  Its name means "dirt" and it's particularly crime-ridden.  Guys, maybe changing the awful name would be a start in the right direction.  Rochdale, you don't get to weigh in.   Minnow down!   RESULT:   Rochdale   0-4
The English rip on Slough with Lion King memes?  Ummm…well-played?
B.  Uganda vs. Burundi – CECAFA Senior Challenge Cup
CECAFA is the Council for East and Central Africa Football Associations.  Noob's not sure why there's a subcontinental organization in addition to CAF (Confederation of African Football), but I'm down for more matches!
Nine teams are competing, including non-FIFA member Zanzibar.  This Group Stage match feature FIFA-ranked #74 versus #138.   RESULT:   0-0
And now, our Relegation Stars!
Girona vs. Alaves – Spanish Premier
Would someone please draw last-place Alaves directions to the opponent's net?  They've scored all of seven goals in 13 matches.  Girona is in 12th.
Alaves are the babazorros.  Zorro, means fox.  Noob's not sure what the baba's about.   It's a Relegation Monday upset!   Alaves scores the tiebreaker in the 94′.   RESULT:   Alaves   2-3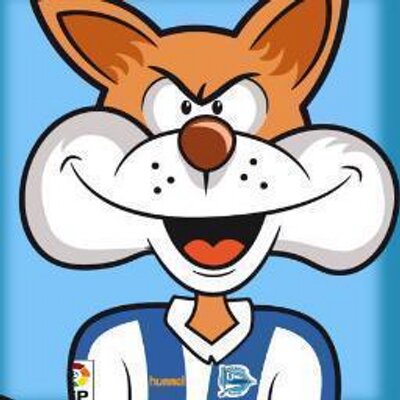 Babazorro Albiazul – team mascot
Hellas Verona vs. Genoa – Italy Serie A
Noob wants to watch a match in Italia/ Gonna make my way to Stadio Bentegod-a/ B-e—n—t—a-goaad-ah./
Visiting Genoa's in 16th place/ While the home side are stuck down in the  Relegation Zone-ah/ Hellas Verona.
Hellas Veroohh-nahhhh!  Duhn duhduh dah dunh duhnduhn…. *guitar riff*
RESULT:   Genoa   0-1
5.  Estoril vs. Portimonense – Portuguese Liga
Fellow Relegation candidate Moreirense has one lone win to Estoril's two, yet it's the latter in last place.   No draws.  The visitors here aren't even a .500 club, so perhaps this game is gettable for Estoril.
The town of Estoril lies with the town of Cascais.  Noob's uncertain how exactly that works, but Cascais is sooooper ritzy.   RESULT:   0-0
Platanias vs. Atromitos – Greece Super League
When last we Tracked Platanias, they were in 15th and lost 3-0 to league leader AEK Athens.  Things aren't looking up for the boys in red this time either.  Now in their last place and get the league #4.
Platanias is the name of a resort village, 10 miles from the city of Chania, on Crete.   RESULT:   Atromitos   1-3
Poli Timisoara vs. Gaz Metan – Romania Liga I
Romania's league is one of many that don't Relegate teams right away after the regular season.   More than half the league moves into the Relegation Round to determine which two will get the boot.
Gaz Metan is in 12th place, a fine example of eastern Euro suckitude.  Timisoara is only a couple notches better than them in the table.  "The Timisoara People" versus "The Black Wolves".  Noob will pull for Gaz Metan just for having a better nickname.   RESULT:   1-1
Birmingham City vs. Wolverhampton Wanderers – English Championship League
ECL drops three teams into third-tier League one at season's end.  Birmingham's in a tie for the last spot to get Relegated, but they've played one less game than Bolton.  Sadly for them, Wolverhampton's the league #1, so Noob doesn't look for them to improve their outlook even at home.
Fun fact!   Birmingham City was founded 142 years ago, as "Small Health Alliance".   RESULT:   Wolverhampton   0-1
Wait, shouldn't that be in black and white?
Perugia vs. Ascoli – Italy Serie B
Acoli's in last place in a league that Relegates a stunning four teams (of 22).  Still, hope is not lost.   They're only four points shy of being clear of The Drop.  Perugia is a mid-pack team.  Ascoli's nickname is "Woodpecker", and seems to be singular.   RESULT:   Perugia   1-0
Santiago Wanderers vs. Temuco – Chile Premier
Temuco is in 8th place.  So, Noob, that means you're stating Wanders are a possible Relegation team?   They just WON the country's FA Cup, so that's crazytown!
Excellent observation, fake commentator.  And nice use of that faux compound adjective.  This league determines who gets Dropped by cumulative results from their last three tournaments (partial seasons), and Wanderers have stunk up the joint.  BUT!  Should they stay there, they'll get to play a team from the division below them for the chance to remain Premier.