Monday blues?   Let's turn frowns upside down!  Don't punch Noob, it's just Relegation Monday!
Since it's hard this day of the week to find ten "important" games in the league we most often cover, we spend much of the space on matches involving teams that are in positions to be Relegated.  If they remain where they are in their standings, they will get booted down a league.  Together, we learn a little about the teams that may not be around for us to Track much longer.
First, some non-Relegation action:
Brighton & Hove Albion vs. Stoke City – English Premier
Are you ready for some footbaaaaaaal?   I wonder who the English version of Hank Williams, Jr. would be?
9th vs. 15th in the only EPL game today.   B&H only scores at a goal a game, so it's surprising even with good defense they're at .500 on the year.   Stoke City can't stop anybody.   RESULT:   2-2
   When asked who the Brit version of Hank WIlliams, Jr. might be, Staffer Dan-o came up with Robbie Williams.  Noob thinks before saying word one to this guy, Hank would punch his dumb face and forcefeed him a full fifth of straight Jack Daniels.  As favors.
B.  PAOK Salonika vs. Atromitos – Greek Super League
4th hosts 2nd in a match that's really even better, as they've played one less match than most other clubs.    Both clubs are defensive stalwarts, so anything but 0-0 or 1-0/0-1 would be surprising.   Surprise!   RESULT:   Salonika   2-1
Persepolis vs. Padideh – Persian Gulf Pro League
They're only about 1/3 of the way into the season, but 4th place Padideh is substantially out of the top three.  These are the only slots that will get 2018 AFC Champions League berths.   The visiting Khorasaniha – named for Noob believes a synagogue there in Mashhad, Iran – need to shore up the defense.   RESULT:   0-0
  Khorasan Synagogue
And now, Relegation Monday!
Hellas Verona vs. Bologna – Italian Serie A
Noob wants to watch a match in Italia/ Gonna make my way to Stadio Bentegod-a/ B-e—n—t—a-goaad-ah./
Home side Bologna's in 13th place/ While the visitors are stuck in Relegation Zone-ah/ Hellas Verona.
Hellas Veroohh-nahhhh!  Duhn duhduh dah dunh duhnduhn…. *guitar riff*   RESULT:   Bologna   2-3
SC Amiens vs. Lille – French Ligue
It's an almost unadulterated double feature!   Amiens is in second-to-last, in danger of being auto-dropped at season's end.   Lille is only one spot above them.  Whichever club finishes there plays a match with the 3rd place side from Ligue 2 to determine which plays top-flite the following year.
Amiens plays in a city of the same name, as they have for 116 years.  And this is their first time ever in Ligue 1!   The victors vault out of the Drop Zone, to 12th!   RESULT:   Amiens   3-0
Karabukspor vs. Kasimpasa – Turkey Super Lig
I don't have a Kinks or other classic rock song for this one.  Sorry.  Contain your grief!  16th hosts 14th here.
Karabukspor is "The Blue Flame".  This is especially cool if you lean towards teams that identify as "workers' clubs".  The nickname comes from a local metalworks factory with a blue flame coming out a chimney that's always burning.   RESULT:   Kasimpasa   0-2
Olimpo de Bahia Blanca vs. Godoy Cruz de Mendoza – Superliga Argentina
We've had Olimpo here before.   They still sit in the highest spot – most likely to climb out – in the Relegation portion of Argentina's multi-year standings used to compute who gets the boot.
Fun fact:   Bahia Blanca is home to at least two large-canvas oil paintings by premiere "port painter" and one of Argentina's all-time greats, Benito Quinquela Martin.   RESULT:   1-1
  Deep earth tones accented with those bright blues.  Eye-catching.
Avai vs. Palmeiras – Brazil Serie A
Avai is in 19th place out of 20.  The one small thing they have going for them today is that the two teams above them in the Relegation zone have played one more game.  That said, they only have three left themselves.  And 3rd place Palmeiras in town is anything but good news.
Avai is known as "The Lion of the Island".  Most of their home city of Floriopolis is on Santa Catarina Island.   Upset!!   RESULT:   Avai   2-1
Voluntari vs. Vitorul Constata – Romania Liga I
Two or three teams will be dropped down from this league.  Voluntari isn't as low as all that, but they are in the bottom half of the standings.  All those teams will be playing in a Relegation avoidance mini-tournament at season's end.  VC – the defending champ – is in 5th.
Pretty sure Voluntari is where the extra-evil vampire family from the "Twilight" saga is from.   RESULT:   0-0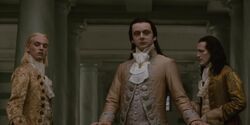 Those were the scariest documentaries Noob has ever heard tell of.
The Management interrupting here.   Where do I even begin?   1) Those are the Volturi.  2)  Documentaries?  Vampires??
Relax, The Management.  Noob just likes seeing you get worked up, showing off your tweener cinematic knowledge.
The Management:  You asshat.
Noob holds firm to the idea every live action movie ever made is based on real life.  It only makes sense!  Otherwise it would have to be animated.
Blooming vs. Universitario de Sucre – Bolivian Pro League
Universitario isn't crapping the bed here in the Clausura.  But they did so poorly the first part of the season that they're on last place on the league's aggregate table.  They probably won't get a goal against defensive-minded, 3rd-place Blooming.   Great defense and no-offense collide!
The U's nickname is "Los Doctos" – "The Learned".   High and mighty ivory tower such and suches!  Enjoy getting the boot next year, ya' snobs.   Turns out this one was played Sunday.   In any case, RESULT:   Blooming   4-0
   I spend more on hair and mustache gel then you can on food, plebes.