Friday's are light on "important" games.   Rather than put lipstick on pigs and pitch you mid-standings humdrum matches, Noob just goes all in and makes out with porkers!
All but the first game listed today involves at least one team that's in a Relegation slot in its league standings, meaning the bottom.  It will get dropped a league down if it finishes the season there.  Pucker up.
*squeeeeeeal*   Quit running away, you luscious baconaminals!
Chorley vs. Fleetwood Town – FA Cup
Chorley is from the Northern League, sixth tier.  They're the Magpies.  Big underdog ("minnow") likely to not get far.  Blah blah blah.   To the real issue:
Noob will NEVER have anything but bile and vitriol for Fleetwood Town!  I know they're not from the actual town of Fleetwood in western England and Fleetwood Mac is from London.  Noob does not care.   Stevie Nicks is the Ethyl Merman of bad British blues rock.  Take that old lady-vibrato and stow it, tuna lips!   Soccer gods, you flail Noob's soul!   RESULT:   Fleetwood   1-2
Want a better musical "Fleet".  Try this sweet cut from Fleet Foxes.

B.  Bali United vs. Makassar – Indonesia Super League
2nd hosts 3rd here.  There are just two games to go for the top four teams in this league, with almost no separation between them.
Why do we care about a league like this?   Noob cracks a lot.   Writes 'Muriuch' for fun occasionally.  But we are citizens of the world, and Noob and Noobites though we may be,  we will know global soccer!
Plus, this league is pretty interesting in that the 2015 season got abandoned halfway through because of FIFA sanctions.  They played last year, but FIFA didn't even officially recognize the league.  Noob embraces you upon your return like an un-lipstick-ed pig on a Relegation Monday.
C'mon, don't you squeal and run, too!   Had the home and away sides flipped here.   RESULT:   Bali   0-1
Juventus Bucharesti vs. Poli Timosoara – Romania Liga I
A mess of teams compete in a mini-tournament to avoid Relegation at regular season's end here.  That gives J.B. hope, if not lots.   They just can't score.  Timosoara is a mid-pack team that can't play defense.  Which team will stop sucking less first?   J.B still in last.   RESULT:   1-1
   Please suck less than these weirdos
Arsenal de Sarandi vs. Tigre – Superliga Argentina
We've visited The Arse (actual nickname) before.  The trouble for them is this league uses three seasons of suckitude to determine who they lose like bad habits.  So even if The Viaduct Men (other actual nickname) make a run and get out of last place this season, they're going away.   RESULT:   0-0
  Now THAT sucks less
Libertad vs. Trinidense – Paraguay Premier
Rinse and repeat with Trinidense.  They hail from Asuncion, from a barrio called Santisima Trinidad.  What's funny here is that two teams get dropped each year from this league.  The other likely to get the boot?  Their intra-barrio rivals, Rubio Nu.   Don't drink the water there, football hopefuls.   Suckcess!   RESULT:   Trinidense   0-1
Luverdense vs. Internacional – Brazil Serie B
Good news, Luverdense!   You're only in fourth-to-last place, the last Relegation slot in your leg.  There are three teams ahead of you by three points or less.   The bad news:  Your visitors today are #1 in the league.  Oh, and your nickname "Big Green of Central-West" sort of stinks.   They're clear of the Drop Line!   RESULT:   2-2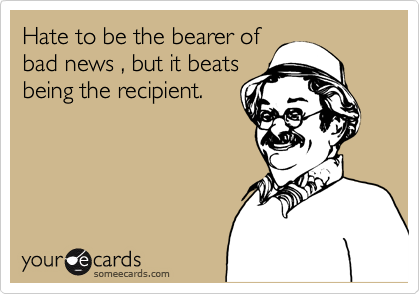 Deportivo Riestra vs. Villa Dalmine – Argentina National B
Now here's an interesting case.  The hosts here are in danger of The Drop, but not for their performance.   They'd be tied in the middle of the standings with bunch of other clubs if they hadn't been docked -20 points- for some sort of incident against current third-tier team Communicaciones.
Noob's interwebs skills didn't produce a quick explanation.  I'll get Staffer Dan-o on the case.   RESULT:   1-1
  Awww, he's sweepeeee.   Maybe later, Dan-o.
Ah-Ahli Atbara vs. Al Ahli Wad Medani – Sudan Premier
Sudan – don't you quit on it!   They play Mondays and Fridays and will forever hold a special place in Noob's heart for filling space on odd weekdays.   Atbara, you may be in last, but I'm down with your solid crest.   PPD, no make-up date announced
     Noob's just glad it's a black bird other than a magpie.  We see a LOT of those for some reason.
Juventud TL vs. Nacional – Aruba Division di Honor
The home side is in last place, but they've only played two games.  Most of the league has played four matches already.  The TL is for the village of Tanki Leendert.   RESULT:   1-1
Hapoel Marmorek vs. Ironi Nesher – Israeli Leumit League
14th hosts 15th.  Not good when your second-tier league is only 16 teams deep.  This is another league where about half the teams compete in a Relegation avoidance mini-tournament at season's end.
The hosts are known as "the yemenis".  Reeeeally weird to Noob, given that Israeli passport holders can't even enter Yemen by their own law.
Maybe the term means something other than the national identity?  More interblag research for Staffer Dan-o to do.   Marmorek climbs to 11th, but still in Relegation avoidance zone.  RESULT:   Marmorek   1-0
   You're not fooling Noob anymore, Staffer Dan-o!