It's by an large another fabulous Cup day!   We're minnow-seeking again.  Who doesn't love an underdog?  But first, league matches of import.
Barcelona S.C. vs. Gremio – Copa Libertadores
Noob was surprised to discover that on paper this looks like a pretty good matchup.  Ecuador isn't a sexy name like Argentina or Brazil.   This is the first leg of the semifinal.      Paper can be misleading.   RESULT:   Gremio   0-3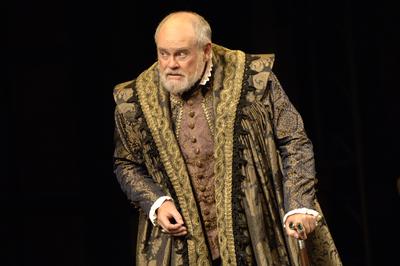 Look at those eyes.  He was a fullback before turning to Shakespearean acting after retiring from football.
B.  Aberdeen vs. Celtic – Scottish Premier
Celtic lost four league matches in the 2015-16 season.  They haven't lost one since.  It's no wonder people talk about Celtic going the route of some Welsh teams and joining the English soccer system.  But Noob understands this may mean having to start several levels down, not jumping right to Premiere League there, and that may not be appetizing to them.  Aberdeen is tied with them for 1st for now.   RESULT:   Celtic   0-3
Green Buffaloes vs. Lusaka Dynamos – Zambia Super League
The standings in this league are sooo tight at the top!   2nd hosts 4th place here, though it's worth noting the 3rd place team has played two fewer matches than most other clubs.  Five teams are within six points of 1st place, and half the league probably still consider themselves in the hunt.   Dynamos slip to 5th; G.B. fall to three points behind 1st.   RESULT:   0-0
    When Red Bull buys them, the transition will be hard to take for some.
Monterrey vs. Universidad de Guadalajara – Copa MX
Back to the Copa waters around the globe to find us some minnows!   UdeG has performed so poorly in Ascenso MX this year, they're unable to qualify for the next Copa.  Liga MX Monterrey at their place is an uphill swim and then some.   Well-fought though, UdG!   RESULT:   2-2 / 4-3 pk
Tottenham vs. West Ham United – EFL Cup
Mmmmm… rescheduled ham…   Ho ho!   The Traitors blew a 2-0 HT lead.  Joy!   RESULT:   West Ham   2-3
   Mm hm.
Chelsea vs. Everton – EFL Cup
Despite success so far in this tournament, Everton's head coach just got sacked.  Being a traditional semi-power in league and suddenly dropping to the bottom three will do things like that.   RESULT:   Chelsea   2-1
     Did Sean Penn make that mistake as well?
Yeovil Town vs. Chelsea U21 – EFL Trophy
A reminder of just what this is:  a tournament for the 3rd and fourth tier leagues, plus the B/youth sides for teams higher up.  This is still early in the Group Stage, so one game is much more critical then another.  But Noob feels an ancestorly connection to England, and likes the pronunciation (YOH-vil), so Track them we shall.   Yeovil True!   RESULT:   Yeovil   1-1 / 5-3 pk
Formentera vs. Bilbao – Spanish Copa del Rey
Noob needs to find the ocean-equivalent of a minnow here.  Formentera is from one of the Baelric Islands.  The town the club is from is the largest on the island, yet may not have quite 3,000 people even.  They play in the third tier of Spain's football pyramid, but get a tough Primera Division side here in the Fourth Round.   The dream remains alive!   But this is a two-legged tie.   RESULT:   1-1
  Taking up sailing.  Adopting this team!
VfL Osnabruck vs. 1. FC Nurnberg – German DFB Pokal
VfL Osnaburck is a third-tier mainstay in German soccer.  Though they're doing poorly enough they could wind up in a regionalized fourth-level league by next season if they don't step it up.  But they got a Bundesliga team (Hamburg) at home in the First Round and took them out, so it's not unthinkable they could dismiss a very good 2. Bundesliga side here as well.   RESULT:   Nurnberg   2-3
Huachipato vs. Santiago Wanderers – Copa Chile
Second leg of the Semifinal here.  Huach (Noob's on that level of formality with them) earned a draw on the road in the first leg (1-1).  Advantage:  Huachy.  My little Huachimama.   Apparently they don't use away-goals as a tiebreaker in this event.  Wanderers advance.   RESULT:   0-0 / 3-5 pk
   Noob wasn't soliciting opinions, harlot!