It's back and better(?) than ever!   Relegation Monday, where Noob has to live with the fact that there just aren't many big games from big soccer leagues around the world.  To supplement, we make use of the time and look at games involving teams that at season's end might get the boot to a league one level down in their nations.
Two games of some import, and then it's "Drop" time.
Israel vs. Spain – UEFA women's WCQ
The Group stage is really just getting started.  Israel is ranked in the 50's worldwide, Spain in the teens.   Good golly, senorita Molly.   RESULT:   Spain   0-6
B.  France vs. Ghana – international friendly
#4 ranked France hosts the second-most highly ranked African team (#46).   Good goll-ier!   RESULT:   France   8-0
Olimpo de Bahia Blanca vs. Deportivo Moron – Copa Argentina
Double feature!   OBB is on the possible Relegation chopping block based on poor league performance, yet is still alive in their national FA Cup!  We've Tracked Moron before; it's nice to see the third tier minnow still swimming here in the Quarterfinals.   Moron has done it!!   Upset, and on to the semis.   RESULT:   0-1
That was O-BB-!   Still, Noob wishes to be armed with harmony.
Moreirense vs. Portimonense – Portuguese Liga
Moreirense is in second to last place.  This is perhaps surprising, given that they won the last League Cup in January.  Portimonense is only a couple notches higher, yet Noob senses a road win.  We'll be seeing more of you in weeks to come, Green-and-Whites.   Whoops.  Somehow found the game mislisted.   Moreirense played Braga, lost 0-1.
Randers FC vs. AaB – Danish SAS-Ligaen
Randers FC is in last place.  Fortunately for them, the bottom eight (of 14) league teams will play a Relegation avoidance tournament at regular season's end.  It might be seeded though, or use modified standings from the regular season, so they have incentive beyond just pride to stop sucking.   AaB is in 9th.   Randers remains in last, but only by one points.  AaB climbs into a tie for 8th.   RESULT:   1-1
  Randers- city famous for centuries for glove-making.  And reeeeally creepy chicks…
Jonkopings Sodra vs. Kalmar – Sweden Allsvenskanliga
J.S. is right on the brink of ueber-stink.  They're in third-to-last-place, which is not quite an auto-Relegation spot.  If they they remain there, at regular season's end they will play the 3rd place team from Sweden's second tier league for the right to play top flight next year.
Elmia is an exhibition center in Jonkoping, and hosts the world's largest LAN party (DreamHack) annually.  To Sweden, eSports fanatics!   They're clear!   For the moment.  Jonkopings climbs into fourth-to-last by virtue of goal differential.  RESULT:   J.S.   3-0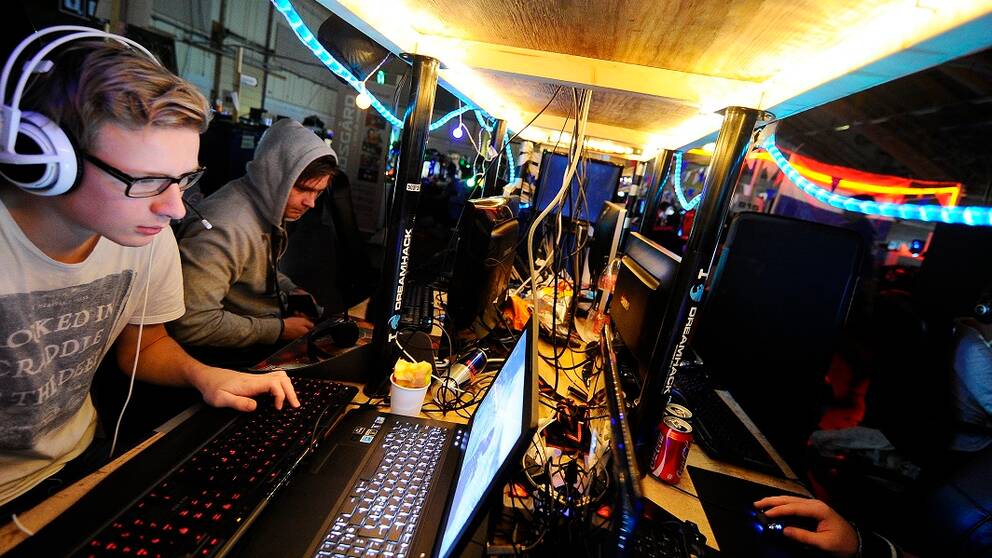 Is that a Swedish Rami Malek I see?
Kolkheti Poti vs. Shukura – Georgian Erovnuli League
Welcome to Noob, country-Georgia!  This national top-tier league has ten teams.  The last place finisher will get the boot.  The next two from the bottom will take part in some sort of Relegation avoidance tournament, presumably with the 2nd and 3rd place teams from the second-tier league.  This is where K.P. come in; they're in 9th place right now.
Poti is so far in back of the rest of the pack, they cannot climb out of the Relegation playoff zone.  But at least they can't get anywhere near the putridness of 10th place Shukura.   It's another Relegation double feature!  RESULT:   ppd
   A bit busy, but at least a solid crest, Shukura.
Dinamo Batumi vs. Samtredia – Georgian Erovnuli League
D.B. is the 8th place league team.   They could climb to 7th before season's end though.  Even at home, playing the current 3rd place and defending league champion isn't promising.
Batumi is the capital of the once-autonomous region of Adjara.  It's mainly a seaside resort city and gambling destination, especially for Turks.   Turns out this match was played 10/18.   World soccer calendars are not an exact science it seems.
   No.   I said no…
Zimbru vs. Edinet – Moldova A Division
Who else but Noob dares to bring you the high drama of Moldovan second tier football?!  Is that a rhetorical question?!  Have I taken my head meds today?!
Interrobangs aside, let's tell some truth.  Edinet is a town of maybe 20,000 in the northwest of the nation.  And Noob doesn't usually run blue, but their football club sucks more than a whore on quarter night.  They're in distant last place in the Relegation avoidance playoff this year.  Here they travel to the league's best team (7th) to get caught in this quagmire.   Mea culpa, Edinet!   Upset!!   RESULT:   Edinet   0-2
   Boots and cuts and boots and cuts and boots and cuts.
Rot-Weiss Essen vs. Bonner SC – German Regionalliga West
Congratulations, Noobites!   By keeping your eyelids up right now, you already know more about regionalized fourth-tier German soccer than anyone you know.  Use the knowledge wisely.
Bonner SC is in 15th place, the highest of four slots that will face possible relegation to the fifth-tier Oberliga at season's end.  Heaven forbid!  Then again, since the turn of the millennium, this club from Bonn has already gone insolvent once, had to re-enter the football pyramid at the 7th level on the German Soccer pyramid.   RESULT:   Rot-Weiss   4-0
   Yes,. we had to dig deep there.  And know, that's not Noob's butt.  It isn't nearly so flat, but rather like so much ripe melon.
And finally, congratulations to Swedish Allsvenskansliga 2017 champions Malmo!  You led from pillar to post, fella.
   Noob is springing for an Eco Trance party for y'all.   No baby seals allowed.