Welcome to another exciting edition of Relegation Monday! For the rawest Noob recruits, Monday is a light day around the world. So rather than lower standards and Track games not as important to the top of leagues' standings, we do a 180!
Nearly every league in the world has Relegation. The worst teams are going to get demoted to a lower league. All but one of today's games has at least one team currently "below the line" – in a standings position that would get them dropped if the season ended today.
Noob pokes no fun at them. Well, not much. Instead, this our opportunity for soccer education! Let's get to know some of these clubs just a little before they potentially get booted into oblivion at seasons' ends.
1. Leicester City vs. West Bromwich Albion – English Premiere
When Noob scouted this match a few days ago, it was not Relegation-related. But Leicester has slipped into 18th place, the last of the three slots that will get a team kicked down a league at season's end. And to think, they won the league just two years ago. West Brom is 12th.   West Brom to 19th, Leicester still wears the sad pants.   RESULT:   1-1
B. Hellas Verona vs. Benevento – Italian Serie A
It's a Relegation double feature! Both sides were promoted from Serie B this year, and both are in early position to be kicked right back down – 19th and 20th places. HV won the A title in 1984-85, and they are proudly The Mastiffs.   Benevento remains point-less.  But HV climbs to 16th, out of the Relegation zone!   RESULT:   Hellas Verona   1-0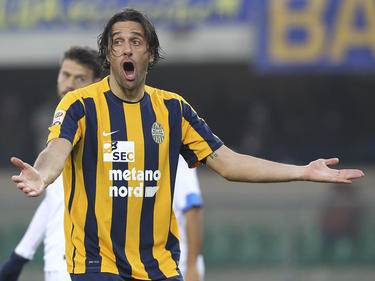 What do you mean I won't get cast in the Italian version of "Mad Men"?
3. Amkar Perm vs. Tosno – Russian Premier
Tosno is in 14th of 16 teams. Only the bottom to club will be dropped automatically at season's end. The next two will compete in a mini-tournament with the 3rd and 4th place clubs from Russia's second-tier league to determine which to clubs get to play the Premier next year.
FC Tosno is in just its fourth year of existence, and this is it's first year playing Premier. They will or were going to build their own new stadium, but for now have moved into Zenit St. Petersburg's old Petrovsky Stadium.   RESULT:   0-0
4. Bursaspor vs. Osmanlispor – Turkey Super Lig
Osmanlispor was just a ho-hum bottom half club last year. But with only one win, they now get Noob coverage! Three of the 18 teams in this league get the boot later, and the big O is in dead last.
They are based in Ankara, and named for Osman I, the founder of the Ottoman Empire.   RESULT:   Bursaspor   3-1
   Someone get Louis C.K.'s agent on the phone.
5. Olimpo de Bahia Blanca vs. Huracan – Superliga Argentina
Relegation in this league is based on how clubs have done for the past four seasons combined. Olimpo's in last place this season, but only in the last of four actual Relegation slots based on 2014 on. El suck-o either way.
Bahia blanca translates to "white bay", even though the water upon which the city is built is actually an estuary.   RESULT:   Huracan   0-2
6. Arsenal de Sarandi vs. San Martin de San Juan – Superliga Argentina
Arsenal de Sarandi is in the second Relegation slot. They're doing a little bit better this season specifically, but compared to the last few years one could starve a mouse on the difference. The two nicknames I find for them are "The Viaduct Men" and "The Arse". The latter is, of course, short for arsenal. But maybe someone should explain to them.   RESULT:   de San Juan   0-1
  Sorry to go a little blue, but that's the Argentinian arse, Sarandi.
7. Panathinaikos vs. Larissa – Greek Super League
Noob's sources appear in conflict about how many teams will be Relegated after this season. It's clear at least two will. Larissa's in last place. -If- there are more than two – whether automatically Relegated or possibly after a playoff with second tier teams trying to climb up – Panathinaikos is in danger at fourth-to-last-place.  Surprising, given that they finished 3rd in last year's regular season.
Larissa is the capital city of the Thessaly region. They are the only club based outside of the country's two major cities to ever win the top league title, back in 1988.   It's early, so this moves Panat all the way up to 8th!   RESULT:   Panathinaikos   2-1
8. Beitar Jerusalem vs. Macabbi Netanya – Israel Premier
Our one "good" match!  It's the only one I found that matches my usual criteria for competitive matches to Track. 3rd place hosts 2nd here.  Netanya was promoted from the second-tier Liga Leumit this season.  B.J. to 2nd, M.N. to 4th.   RESULT:   Beitar Jerusalem   4-1
   That…doesn't seem relevant…
9. Dinamo Bucaresti vs. Juventus Bucarest – Romania Liga I
Juventus has yet to win a match, and so are in distant last place. Perhaps there is hope for them though. Eight of the league's 14 teams will play a Relegation mini-tournament at regular season's end.
One of their nicknames is "The Old Lady from Colentina". That's a neighborhood in Bucharest. Who this old broad is lies beyond Noob and his current interwebs powers.   RESULT   Dinamo   3-0
10. Persiba Balikpapan vs. Bali United Pusam – Indonesia Super League
Three teams are getting Relegated for this league. Balikpapan is far enough behind in second-to-last that there's about no real hope they can avoid "the drop". Bali U.P. Is in 2nd place, so the home team is really up against it.
Their mascot is beduang madu – a honey bear!   That's how you start fighting against Relegation.  Monday success!   Upset!   RESULT:   Persiba Balikpapan   3-2
   So cute!  But…
   …can it defeat the long-tenured Sugar Bear?   Fiiiiight!!