TGIGF!    Globetrotting Friday is in our lives once again.   No lame the 13th-jokes here.   We look at the handful of good games our regular areas of football interest take us.   Then we grab out suitcases and head out into the world.  Less heralded soccer countries, here we come!
1. Jacksonville Armada vs. North Carolina – NASL
Just three or four games remain for each of this league's teams. Jacksonville is tied for 4th – the last spot in the playoffs – with New York Cosmos. They are only behind on the GD tiebreaker by a single goal. NC is in 3rd with no one close to them in the standings on either side.  RESULT:   1-1
B. Tijuana vs. Veracruz – Liga MX
9th hosts 13th place in the better of the two matches from Mexico today. Tijuana won the last half-season, so this has been a surprising fall for them. They've lost more games this half-season than all of the last one.   Veracruz climbs to 11th, Tijuana remains in 9th.   RESULT:   0-0
   Would it be weirder or the same if this fellow had no noggin?
3. Cimarrones de Sonora vs. Oaxaca – Ascenso MX
Is this the first game Noob has Tracked from Mexico's second-tier league? If so, I have been lax in my duties. Welcome to today's Mexican undercard. Just one team will get promoted out of the eight teams that make the league playoffs. 2nd hosts 7th place here.   Oaxaca jumps into a tie for 1st!  Sonora falls to 4th.   RESULT:   Oaxaca   1-2
4. St. Johnstone vs. Rangers – Scottish Premier
It's relatively early in the season, but the top two teams in Scotland have put some real distance between themselves and everyone else. These two are the best of that "everyone else" – 4th hosts 3rd.   They swap places in the standings.   RESULT:   Rangers   0-3
   Shoosh!  Before these Scottish also-rans re-exinct you.
5. Kawasaki Frontale vs. Vegalta Sendai – J1 League
Maybe six games to go and Kawasaki trails 1st place by five points. They need to hold serve against the best of the bad teams of the league at home to have hope of catching Kashima.   Kawasaki still five points behind 1st though.   RESULT:   KF   3-2
   Does Noob need a reason?  No.
6. CR Belouizdad vs. JS Saoura – Algierian Pro League
They're only a few games into the current campaign, but these two are 1st and 3rd place. Noob hasn't had much luck early in his interwebs looking about to discover what the home team's nickname "Laakiba" means. Need to bulk up the staff around here.   CRB slips to 2nd, Saoura to 4th.   RESULT:   1-1
7. Jagiellaonia Bialystok vs. Lech Poznan – Poland Ekstraklasa
4th hosts 2nd in one of the sneaky-good leagues in Europe. Noob thinks Pozanan will get the road win, appearing to be the best-balanced team in the league on offense and defense.
Bialystok is the Polish City. The team is named for the 14th-16th C. dynasty that ruled in Poland as well as Lithuania, Hungary, and what was Bohemia.   Each climbs one spot in standings by virtue of having played one more game than others.   RESULT:   1-1
   You may have been a Queen of Poland, Anna Jagiellon, but did you ever make it with an ultra?
8. Rudar Valenje vs. Maribor – Slovenia Prva Liga
More tenured Noobites will recall (3rd place) Maribor is the greatest team in the league's history. But Globetrotting Fridays we arbitrarily take looksies at the home team.
Valenje is the city, and it is 25,000 strong – one of the most modern in the country. The team is The Miners, and no surprise given it's in a valley between the Alps and Pohorje Mountains.   RESULT:   1-2   Maribor
   Noob's been to the Swiss Alps before.   Every bit as lovely a panorama here.
9. Shakhtar Donetsk vs. Vorskla Poltava – Ukraine Premier
We've also seen Donetsk before, and they are a UEFA Champions League regular. Their success continues this year, despite the political unrest in the Donbas region from which they hail.  They've had to play matches far from home, and are currently headquartering in Kiev. VP is in 3rd, but isn't one of the powers of this league.   RESULT:   2-2
10. Al Wasl vs. Al Wahda – Persian Gulf League (UAE)
Most days of the week a league just three games into its season wouldn't have Noob's attention. But that's what makes Globetrotting Fridays so gosh darn fun! These are 2016's 2nd and 5th place clubs. Al Wasl are "The Cheetahs", and famed Diego Maradona was once their manager there in Dubai.   RESULT:   2-1   Al Wasl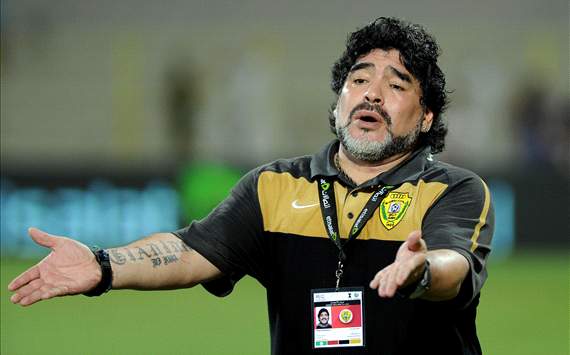 Why does Globetrotting Friday have to end?