It's been sort of happening already, so let's make it official! Mondays are now Relegation Mondays!!
For the newest Noobites, relegation is when a team gets kicked down a league on their nation's soccer pyramid at the end of a season in which they finish low enough.
Mondays tend to be lighter on high-end, important matchups between teams in bigger leagues. The same is true for Fridays, a day on which we tend to "globetrot" – check out games from far less heralded soccer countries. Mondays we will spend some (though not all) T2T slots on games involving teams which currently st at or near the bottom of their leagues' standings.
Let's get to know some clubs struggling to stay "above the line" before they disappear at season's end.
1. AA Ponte Preta vs. Flamengo – Brazil Serie A (Futebol Brasileiro)
Noob thinks Team Macaca (she-monkey) can stay stay above the relegation line, but they're running out of time to catch Avai for 16th.
AAPP's mascot is a result of what's linguistically known as "seizure".  Here, a racially derogatory term formerly used against the club they turn to a positive.  They were one of the first clubs in Brazil to accept black people.   To 15th!   RESULT:   Ponte Preta   1-0
B. Carmelita vs. Saprissa – Costa Rica Premier
Carmelita sits in second to last place, and so is just above this league's relegation line. Saprissa is one of North America's finest clubs, so this is a toughie even at home.
Carmelita actually has one one league championship (1961). but they were one of only three tems in it at the time. Most of the other clubs had broken off that year to try forming their own league. When they came quickly back, their champions – Herediano – was officially recognized as that year's champions. It wasn't until 2001 that Costa Rica re-recognized Carmelita as title-holders.   RESULT:   Saprissa   0-2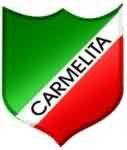 Even Ryan Gosling couldn't mind if you spruced up that boring crest with a papyrus font.  Something.  Anything.
3. Mladost Doboj Kakanj vs. Celik Zenica – Bosnia and Herzegovina Premier
The bottom six teams of the 12 in this league take part in a relegation playoff-avoidance tournament at season's end. Both these clubs currently reside in that range. Celik Zenic appears much worse than nearly all the other clubs.
Fun Fact: Celik is Bosnia for "steel", the production of which is a big part of the economy there.  RESULT:   MDK   4-0
4. Partizani vs. Lushnja – Albania Superliga
This league's season is just getting started really, so much can of course change. But right now these two occupy the bottom two slot in the standings, both of which are relegation spots.
Partizani actually finished 2nd in the league last season, so this may well be their only Monday appearance here. KF Tirana is their in-town rival. Partizani is more of a suburban team.   RESULT:   0-0
   The Ocho was invented for Albanian football.
5. Kukeski vs. Skenderbau – Albania Superliga
These two are part of a four-way tie for first, though they've each played one fewer match than the other two clubs in that glob. Kukeski is the reigning league champion. In the current Champions League, they narrowly lost to Moldovan side Sheriff Tiraspol, which advanced on a tiebreaker.    RESULT:   Skenderbau   1-2
6. Atlantas Klaipeda vs. Suduva – Lithuania A Lyga
Meanwhile, this league's regular season is nearly completed. The top six of the eight here play a championship tournament. 4th hosts 3rd here, but seeding won't change. There's a serious gulf between the top three and all the rest.    RESULT:   Suduva  1-2
  For 55 years, Seahorses kickin' butt.
7. Muktijoddah vs. Farashganj – Bangladesh Premier
Back to Relegation fuhn! Farashganj sits in last place place, the league's only relegation slot. Muktijoddah isn't much better early on.   Appropriate.   RESULT:   0-0
8. Chittagong Abhani vs. Sheik Jamal – Bangladesh Premier
1st hosts 2nd at the other end of the league's spectrum, and Noob loves him the Chittagong! The Blue Pirates will win 3-1. Noobstradmus sees all.   Noob fail!   RESULT:   1-1
   Even with Forest Whitaker-eye.
9. Rahmatganj vs. Team BMJC – Bangladesh Premier
Don't you quit on it, Noobites! They play on weekdays, so we're gonna know 'em. 6th hosts 9th.
Fun Fact: The hosts primary corporate sponsor is a cement company.   RESULT:   BJMC   1-2
    Back off, Patankin, this is Noob's house.
10. Hay Al Wadi vs. Ahli Atbara – Sudan Premier
Like a persnickety housewife sneaking kale into the family stew, Noob slips you the ol' Sudani. 9th hosts 10th place.    RESULT   1-1
   The ol' Sudani?    Noob's gonna leave you the mystery.