1. Sporting Kansas City vs. Vancouver Whitecaps – MLS
The West is an absolute stew! Vancouver is in first, but after getting stomped at Seattle earlier this week, they lead -three- teams by just a single point. KC plays ugly, efficient football, and has ridden that formula to the biggest positive goal differential in the division.   Stow it, KC.  On, Canadia!   RESULT:   Vancouver  0-1
B. Chelsea vs. Manchester City – English Premiere
Chelsea's in 3rd, hasn't lost on the road. 1st place Man City hasn't lost anywhere, has a cartoonish 21-2 goal differential on the season. This should be an easy game to find on the t00b.    RESULT:   Man Utd   0-1
   Only cartoon sports in heaven?   Noob is going Zen.
3. Portland Thorns vs. Chicago Red Stars – NWSL
The Playoffs are about to begin. These two are in, but both playing for something. Portland still has an outside chance at the #1 seed. Chicago is in 3rd and trying to stay there with nasty swamp city Orlando right on their heels.    N.C., Portland, Orlando, Chicago – your #1-4 playoff seeds are set.   RESULT:   Portland   3-1
4. Toluca vs. America – Liga MX
2nd place hosts 3rd in a battle to try and catch undefeated Monterrey.   They switch places in the standings.   RESULT:   America  1-2
5. Paris Saint-Germain vs. Bordeaux – Ligue 1
The last two undefeated teams in France face off in a humdinger of a match.    Maybe wasn't so humdinger-y.   RESULT:   PSG   6-2
6. Reno 1868 vs. Real Monarchs SLC – USL
With apologies to Eastern Division Louisville, this match pits the best two teams in all USL. Reno's #2 and just set the all-time league goal-scoring record this week. Noob is joining the Battle Born Brigade for this match, want to see those "royal" SLC posers taken down.   RMSLC was unimpressed.   RESULT:   SLC  0-3
7. Palmeiras vs. Santos FC – Futebol Brasileiro
This game may be a bit of a slog, as two premier defensive teams go at it. But they are 4th and 2nd respectively, so this game as significant implications in the league.   Santos remains the one team that can maybe catch Corinthians.   RESULT:   Santos FC   0-1
8. Cerezo Osaka vs. Kawasaki Frontale – J1 League
Seven games remain for each team in the league. There are no playoffs, so tension is high. The top two teams get into next year's AFC Champions League. Cerezo is in 4th, but five points behind 2nd and 3rd. Kawasaki is that 2nd place.   Turns out this was at Kawasaki.   RESULT:   KF   5-1
9. Xelaju vs. Municipal – Guatemala National League
These two are part of a three-way tie for 5th place. It's early, but worth knowing that the top six in this league will head to playoffs.
But that pales in comparison to the need to understand that Xelaju's nickame is "Superchivos".    Superdraw.   RESULT:   2-2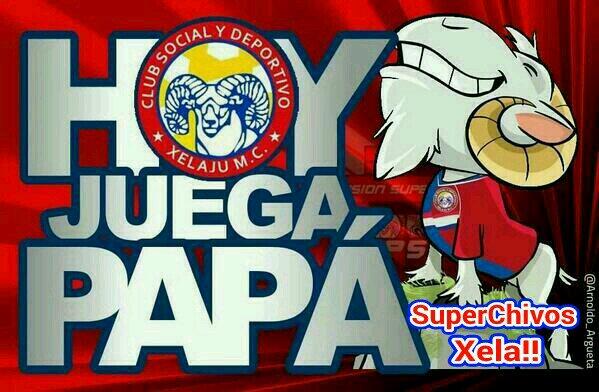 "SuperGoats".  No joke.
10. Baroka vs. Kaiser Chiefs – South African Premier
2nd place hosts 4th in the league's young season. Noob is just glad to see the visitors again, as it gives an excuse to give us some tune-age. Perhaps consideration for a Noob house band is in order.  Never miss a beat, Noobites.   Turns out this was at KC.   RESULT:  Baroka   1-2