1. Spartak Moscow vs. Liverpool – UEFA Champions League
The Group Stage picks up momentum with mess of games today. Noob has chosen several that involve the biggest names in the tournament.   RESULT:   1-1
B. Manchester City vs. Shakhtar Donetsk – UEFA Champions League
Fun Fact: Man City was founded in 1880 as St. Mark's (West Gorton). The local rectors daughter started is at a means to try and combat "scuttling", the armed but non-lethal fighting between gangs. Their goal was typically to disfigure and maim with knives and very heavy belt buckles.  RESULT:   Man City  2-0
  Noob tries to run a clean house.  But MF is about the least disturbing thing here.
3. AS Monaco vs. FC Porto – UEFA Champions League
Were this boxing, this match between powers from Ligue 1 and the Portuguese Liga would be an awesome undercard.   Upset!   RESULT:   Porto   0-3
4. Borussia Dortmund vs. Real Madrid – UEFA Champions League
And here would be the Main Event. This could be the most important and exciting match of the day. That is, if Madrid doesn't just sit on the ball, play for a draw– a common tactic by the visitors when two great teams meat early in a Group Stage.   RESULT:   Real Madrid   1-3
5. Apoel Nicosia vs. Tottenham Hotspur – UEFA Champions League
Tottenham Hotspur, Noob's rage for you never wanes! Named for a traitor. May the Cypriots rise up and their home pitch and humble you!   Unhumbled.   RESULT:   Tottenham   0-3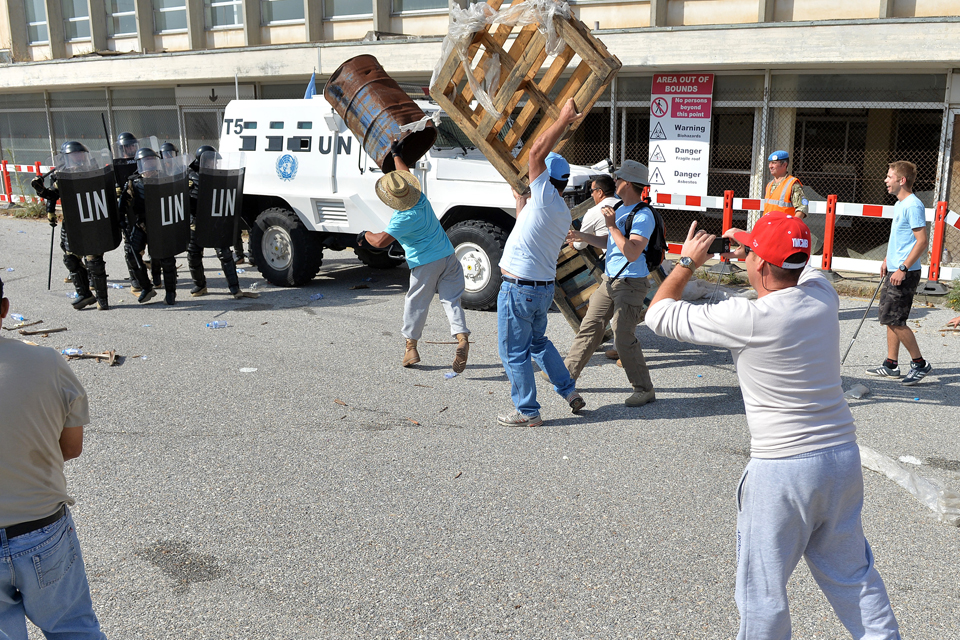 And that's just what they do to peacekeeping forces.
6. Leon vs. America – Liga MX
8th place hosts 2nd in the most competitive slated match from this league today.
Fun Fact: Leon is ranked by IFFHS as the best club in North and Central America of the 20th century.   Not played.
7. Al Hilal vs. Persepolis – AFC Champions League
Things are getting serious in Asia. This is the first leg of a semifinal tie between powers from Saudi Arabia and Iran. The winner will get either Shanghai SIPG or our own beloved, Adopted Urawa Red Diamonds.    RESULT:   Al Hilal  4-0
8. River Plate vs. Defensa y Justicia – Copa Argentina
An unfortunate draw for DyJ. There aren't two-legged ties in this knockout tournament. River Plate is a big, big bully. Noob predicts a 3-0 drumming of the visitors.    Now slated for next Saturday
   Cruel and unusual.  And awesome!
9. Cardiff City vs. Leeds United – English Championship League
The second-tier league of the UK is actually ranked as high as 14th in leagues across Europe. All leagues. And this matchup is a doozie. Cardiff and Leeds are 3rd and 1st respectively. The top two get automatically promoted to the Premiere League at season's end. The next four down will have a playoff for the same privilege.    RESULT:   Cardiff   3-1
10. Bad Gleichenberg vs. Admira Wacker Modling – Austrian Cup
It's only the second round of Austria's FA Cup, and regional league-third tier BG doesn't have much hope against a top flight squad even at home. But Noob is easily distracted by shiny things in his soccer infancy. I love these names.   Monster upset!    Bad Gleichenberg  3-1
   Now, let this random soccer image remain in your mind and distract you from whatever you go to do next.