1. England vs. Slovakia – UEFA WCQ
England leads their Group. No surprise. But Slovakia is lurking just two points back might be one. No upset alert blaring here, but wouldn't it be interesting.
B. Armenia vs. Denmark – UEFA WCQ
One 2nd place team from the nine groups isn't going to get to advance to the next round. This Group's may just be that one. These two are tied for 2nd, three points behind what Noob thinks is very catchable Poland.
3. Northern Ireland vs. Czech Republic – UEFA WCQ
To be honest, this match looked more compelling a few days ago when Noob was scouting for this date. Germany's running away from the Group. Northern Ireland is firmly entrenched in 2nd. The Czechs are in 3rd, but they need a win to stay perhaps even mathematically alive to possibly advance.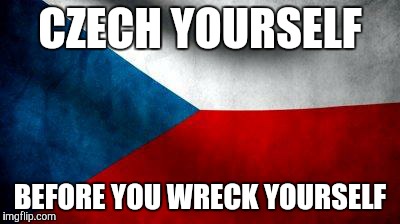 Czechedy Czechedy
4. Montenegro vs. Poland – UEFA WCQ
Remember, this is the Group out of which only one team might advance, per B. Montenegro's goal differential is much, much better than Poland's. If the former hold serve here they will be in first on GD.
5. Slovenia vs. Lithuania – UEFA WCQ
When Slovenia failed to get a result on the road a few days ago at 2nd place Slovakia, this took a little luster off of this match. They're in a dead heat at 3rd place with Scotland, yet anything but a win against already-eliminated Lithuania would be disastrous to their hopes.
6. Cameroon vs. Nigeria – CAF WCQ
Cameroon got housed in Nigeria a few days ago. They fell to 3rd and must get a win to have any real shot for the WC.
7. Soloman Islands vs. New Zealand – OFC WCQ
NZ took the first leg 6-1. Soloman Islands are done. But it's a WCQ, so here we are. On a Monday, WCQ is what there is.
  No lame punchline.  Just learningness.
8. Newell's Old Boys vs. Godoy Cruz – Copa Argentina
Noob adores this Copa. One game and done., no two-legged ties. Newell's should overwhelm the "wine-producer" visitors. Quite the nickname, hombres.
9. Aldosivi vs. Velez Sarsfield – Copa Argentina
Aldosivi finished dead last in the league last season (30th). Still, Noob thinks at home they can give the middling A-League visitors all the can handle. Upset alert.
10. Kenya vs. Togo – friendly
A former coworker from Kenya once made Noob an excellent cup of hot tea with milk.  I don't miss that job a lick, but I miss that gal's friendship.
  Screw you, lactose intolerance.  This is worth it.