TGIGF!
Passport?  Check.  Miniature toothpaste and shaving cream?  Check.  Match day tickets for around the planet!  You BETCHA.
As always on Fridays, we take advantage of a lighter day in the worlds' schedules and Trot the Globe!  We start close to home, then jetset off to footyball hinterlands of wonder.  Strap in, Noobites.
Houston Dynamo vs. NYCFC – MLS
Jesus Medina – assist leader NYCFC, Paraguay, 19 y/o
Two really good offensive teams face off in the best of the three league matches slated for tonight.  The West's #6 hosts Eastern Conference #B NYCFC.
The visitors have actually run a touch hot and cold their last few games.   Noob thinks the key player to watch will be team assist-leader Jesus Medina.  He's only 19, a Paraguayan national.  If The Blues can't control the game from the middle of the field, they're going home without a result.    (8:55 PM Eastern, Univision Deportes)
RESULT:   Houston   3-1
Noob found so many photos like this.  Medina yells a lot.
B.  Ottawa Fury vs. Bethlehem Steel – USL
Ottawa is one of the clubs that came over from the now-almost-defunct NASL.  They've struggled, though in truth they hadn't been very good previously, either.
Bethlehem just sneaked into the playoffs last year as the #8 seed.  They're were and are very balanced.  They've one their last two matches, and an easier stretch of their season continues tonight in Canadia.
RESULT:   Ottawa   1-0    The Fury scores in the 1st minute, and that ended that.
Number B, is that very polite?
Copenhagen vs. Aarhus – Danish Superliga
it's a Final!  Of sorts.  The winner of this match – a home one for Copenhagen – is awarded entry into  Europa League.
This league divided into championship and Relegation subdivisions.   Copenhagen finished 4th place of six on the former, and so lands here.  Aarhus finished best of those clubs in the Relegation group.
RESULT:   Copenhagen   4-1
Kuwait vs. Egypt – international friendly
The World Cup starts soon, so this is a tuneup for Africa's #1 national team.  Kuwait is FIFA-ranked #160 in the world, and down around the bottom third mark in Asia.
RESULT:   1-1
Smile, Kuwaitis!   You're about to get unceremoniously drubbed.
Kenya vs. Swaziland – international friendly
Neither of these two is headed to World Cup.  Kenya is the better side, being in the CAF published top-18 rankings.  Swaziland didn't make this year's, but are on that list for 2019.
RESULT:   Swayzeland (it should be!)   0-1
Pakhtakor vs. Bunyodkor – Uzbekistan Super League
Anywhere in the world, #1 versus #B is always a treasure!  And this is even in a Noob-surprising top ten league in Asia.   They finished #3 and #4 last season, respectively. They're about a third of the way through the 2018 season now.  Pakhtakor are a bit better on both sides of the ball.
Fun Fact:   Pakhtakor are one of three clubs based in the nation's capital of Tashkent.  The city name translate to "cotton-grower".
RESULT:   P'town   1-0
Over 40 countries have come to this.
Police vs. KCCA – Uganda Premier
KCCA are tied for #B with the league season in its final stretch.  Vipers are just five points ahead of them in the table.  If the two points KCCA were deducted earlier this year for some sort of naughtiness or other, they're going to be displeased.
KCCA have the league's best offense, while midtable-Police have one of the worst defenses.  If KCCA wants to make a move on the top spot, this road win is gettable and necessary.
Fun Fact:   Police play out of national capital Kampala, which means "hills of the impala" (antelope).
RESULT:   2-2
Kopetdag vs. Sagadam – Turkmenistan Yokary Liga
The Yokary is a perfectly average Asian league.  Kopetdag are just 7th place of the eight teams.  Sagadam, are #B, just a point out of the league lead with two thirds of the season remaining.  Great chance for Sagadam to get three road points, as they score like crazy and Kopetdag don't succeed in stopping much of anyone.
Fun Fact:   Kopetdag are from the country's capital – Ashgabat, which can mean "city of love", or perhaps "city of devotion".
RESULT:   Kopetdag   3-0     upset!
Kopetdag Stadium – shiny!
Da Nang vs. Binh Duong – Vietnam V.League 1
They're just eight games into the season here, but Ha Noi is already starting to run away with things.  #3 Binh Duong will have to shore up their defense if they want to have a chance at closing the game with the frontrunners.  Mid-table Da Nang isn't impressive in that regard, either, so this match could turn into a shootout.
Fun Fact:   The city of Da Nang has had many names over the years.  Nearly all have been a reference to the Han River.  The current name means "opening of a large river".
RESULT:   0-0
Welwalo Adigrat University vs. Mekelle Kenema – Ethiopia Premier
Ethiopia's top flight is the last league in the CAF top-18 continental ranking.  They just expanded from 16 to 22 teams this season.  This is likely the only reason W.A.U. is in it.  Currently, they're in position to be one of three teams to get Relegated back to the country's second-tier Super League.
Kenema have played one fewer match then the two teams ahead of them in the table, and trail by just a point.  With about two third of the season gone, this should be a dramatic finish for the league's only berth into the CAF Champions League.   Welwalo won't score on them.  Most teams don't much.
RESULT:   WAU   1-0    more upsetness!
Fun Fact:   Agridat is an alternate name of Agrabah.  You may recall the city from the Aladdin movie that starred the late Robin Williams as the voice of the genie.
The Management here.  Pardon my interruption, but Noob is full of it once again.  Agrabah was and is not a real place.  If it was modeled after any particular locale, it would be one in the Middle East, not Africa in all likelihood.
So it's coincidence that the league #1 is "Jimma Aba Jifar"?
Yes, you asshat, it's —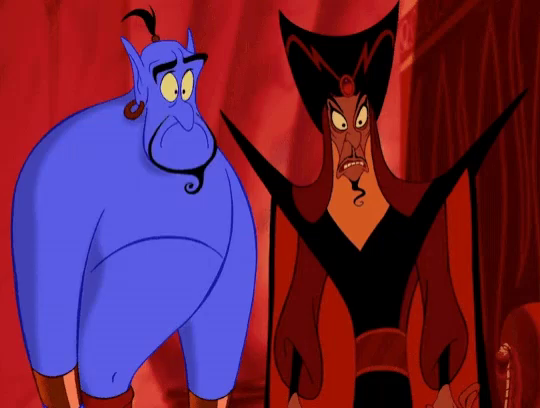 So long from Agrabah!