Real Madrid vs. Liverpool – UEFA Champions League – The Final!   Kiev will rock for one of the great spectacles of sport.  Let's do in-depth preview stuff!
Real Madrid have won it a bunch in recent years.  Had a tough start to their league season, but have rounded into form.  Liverpool surprised perhaps ever so slightly by making the final, but they did finish top four in Premier League.
Real Madrid attack really well.  Ronaldo and Messi are primo.  Liverpool are likely the greatest counterattacking team in the world.  Mohammed Salah set the Premier League record for goal-scoring,
That's it.
This is Noob, as am I.  If you want comprehensive coverage/guessing, it's easy to find a million places.  This is enough to get a raw Noobite through light pregame convo should you find yourself in such.
For Noob, there's only one way to determine in advance which team to root for/who will win.   You must examine the traditional stew of each club's home city!
Liverpudlians love their scouse.  As one might imagine for stews, there are many variants, and what is traditional in this one has changed a lot over time as well.  Today, it is made with lamb (or beef), vegetables (usu. potatoes), carrots and onions.  Side dishes traditionally include pickled beetroot (or red cabbage) and bread.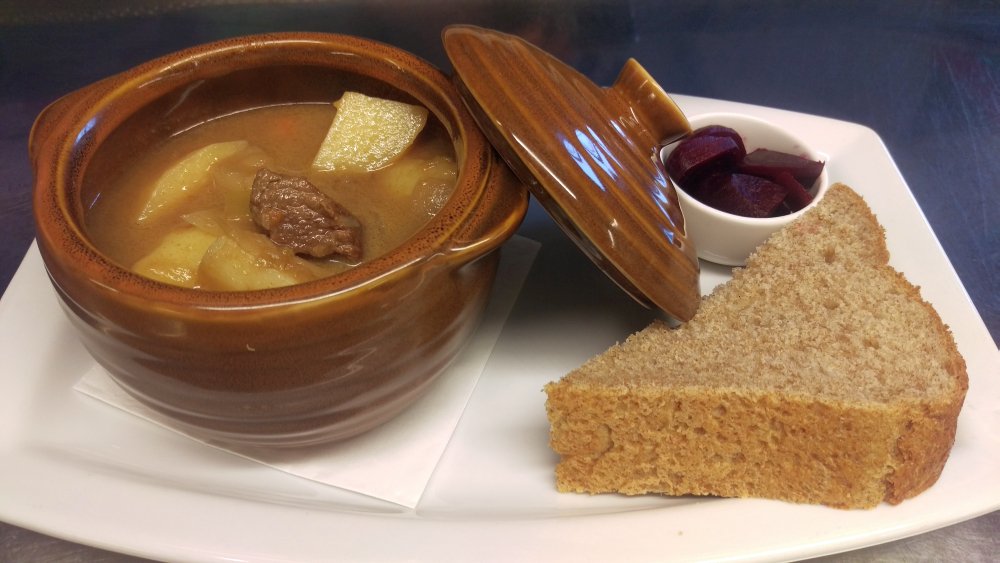 Review:  Looks like a straightforward boiled stew.  Noob's going to look askance at much that is pickled beyond cucumbers, but as side dishes, these are not dealbreakers.  If soda bread were the specific sort, would be big in scouse's favor.   Noob does love lamb.  Potatoes are hearty.  Scouse scores solidly.
In Madrid, most especially on Tuesdays, the dish to be had is cocido madrileño.  The main in gradient is not the meat, but rather, chickpeas!  Potatoes are the most common other vegetable, though cabbage, carrots and turnips are hardly uncommon additions.
There is meat involved, usually pork, and more often pork belly specifically.  Onion morcillo, too.  That's blood sausage.  More, you get jamon seranno, which is dried or cured ham of the black Iberian pig.  When cooking, one tosses in a hambone and beef spine bone to enrich the broth.
Review:  Noob enjoys falafel, but that's where chickpeas belong.  Noob's an adventurous eater, and pork belly is fine.  In knowing black Iberian pig is a thing already exhausts Noob's knowledge of that.  Blood sausage – sorry, but we're getting into an aesthetics issue.  The vegetables are a wash against scouse.
Wait, what's this?  The broth, vegetables, and meat are served separately?  This may be a stew when it's cooked, but it's not a served-stew, not as far as Noob is concerned.   And good LAWD!  The truly traditional way to prepare the pork is to not only cure it, but to the point of nearly being rancid??
Is pig stomach whetting your apptetite, Noobites?  Now let it spoil…
Folks, scouse wins by default, and yet by a landslide.  Liverpool will win the day on the football pitch.  And if we're going for a score based on the stew review, they win 0-6 today.