March 12, 2019, Cross-ny-Cuirn, Sodor
Football fan-bozo Paul Mitchell has been sentenced to 14 weeks in jail.   He stormed the pitch at Aston Villa and socked visiting Birmingham City player Jack Grealish in the jaw during the match.  Here  is a link the BBC news article.
Things from elsewhere in the football world have a funny way of being reflected on the Isle of Sodor.    During the second-tier Champions League on Sunday, 3/10,  there was a pitch invasion as well.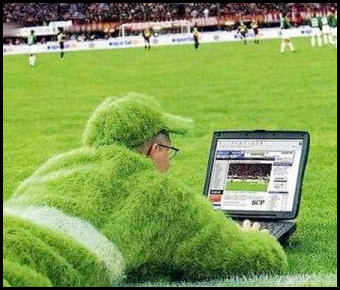 Cross-ny-Cuirn FC fan Adrien Queripel made it onto the edge of the pitch early in the second half of the match against Cabalnoo AFC.   He remained there, undetected by players, managers and referees alike for nearly nine minutes.  This, despite the unadorned laptop.  Eventually, an errant kick knocked his turf-cap off and the jig was up.
Said Mr. Queripel, "I wasn't planning on coming onto the pitch.  That I was dressed as grass and chalk lines was a total coincidence, just a bit of fun in coming to the match."

"I'd brought my laptop to keep up-to-date on the Premier League Suddery-Dryaw match.   But wifi reception in the stands was dodgy.  Walking around halftime, it was clear the best signal was on the sideline."
Mr. Queripel has been banned from wearing the camo-pitch outfit at all FA-sponsored matches indefinitely.     He complained profusely about where else he could possibly wear it.   (Where  wouldn't you wear something like that, this journo asks.)
In related news, a couple have been has been masquerading as a basketball hoop and referee at the local park.   Officials have been unable to confirm if this is Adrien and his wife.   Their get-ups are just too damn convincing to identify the culprits.