Monday, Noob lays quick hits on a couple matches of happier import.  Then, we head into the Matches of Suckitude!   Each match will feature at least one club on the edge of getting kicked out of its league for crappy performance.
Let's get to know some of them before the evaporate like farts in the wind, so to speak.
Tottenham

Sir Topham Hatt Hotspur vs. Manchester City – English Premier League
Dear rawest Noobites:
Thank you for coming, by design or accident, to catch some mini-preview and off-kilter comic writing.  Here's the short explanation on why you see the strikethrough –
That club is named for English historic figure Harry "Haatspore" Percy.  He stabbed not one but two kings in the back.    Noob carries no truck with such!   A Benedict Arnold on a- or immoral steroids, he will only receive scorn here.  Why a people have decided to name a football club for such a nefarious ne'er-do-well is beyond me.
This all said, this should be one whale of a match!   Haatspore (the or a historic spelling of Hotspur, not being weird and making that up) are in 5th place.  The top four will qualify for next year's Champions League.  They need a win to jump over anyone in the table, but the season isn't even a quarter done yet.  Harry Kane & Co. will be in the thick of things at or near the top pf the table all year.
Manchester City were record-setting in their running roughshod over the league last season.  And they may be better this year.  They sit in 3rd, but have a game in hand over the other two undefeated clubs.  A win today.
Haatspore are playing things a little closer to the vest, keeping scoring down for themselves and opponents alike.  For Man City to get the W and three points today, Noob thinks midfielder David Silva will have to be key.  Possession, accurate pass percentage, and an assist – I'm calling for Silva to star today and take down the traitorous miscreants.
RESULT:   City   0-1
Noob knows art history – but only paintings of the death of Harry Percy.
B.  Lazio vs. Inter – Serie A
Italy's is another league that qualifies the maximum four clubs into Champions League.  Serie A is currently ranked the third-best in all Europe.
Inter Milan lead third-place Lazio.  And it's also worth nothing Lazio hasn't beaten them in their last five tries.   Streaks come to an end, but not likely today.  Internazionale play the league's best D and have won five straight league matches.
RESULT:   Inter   0-3
Ok, now to get why tenured Noobites come on Mondays – time for the matches of Suckitooooood!
Slavia Prague vs. Dukla Prague – Czech First League
It seems appropriate to Czech-edy Czech ourselves before we risk wrecking ourselves.  Safety first, gentle reader.
OK, Actually Noob just likes listing the most likely lopsided matches first.  This adds a sense of fun randomness.  Most days it's roughly America, North America, Europe, South America, the rest of CONCACAF, Asia and Africa.
Cant' get more lopsided-looking than this!   Defending champs Slavia Prague are #B now, but will retake the #1 position after a certain win today.  They have the league's best D by a little and O by a lot.
Dukla are in second to last place.   If they even manage to score, Noob's making Czech kolaches for everyone.  Cherry.   Don't thank me.   S.P. could go down a man or two and Dukla still wouldn't manage it.
RESULT:   Slavia Prague   4-1
Olympiacos vs. Apollon Smirnis – Superleague Greece
Olympiacos are in a tie for 4th.  They'll break free of Panathinaikos today.   They're hosting the last-place club.
Smirnis:  0-0-7.  GD of 1-12.   How did they ever get the one.  Yet if they can pull of a Monday Miracle, they'll climb a spot!  Aaaaaand still be in a position of Relegation.
RESULT:   Olympiacos   1-0
They're s restless vibe with the Smirnis supporters…
Akhisarspor vs. Goztepe – Turkey Super Lig
Goztepe are part of a four-way tie for 6th (and behind them all on tiebreaking GD).  But if they drub their hapless last-place hosts by enough today, they could jump all the way to Bth.
This is the most likely match so far that could go the underdogs' way.  Not only are Akhisarpor at home, but they can actually score, have a pretty average offense.  That means they're weakness is a dreadful defense.  But Goztepe don't butter their bread on that end of the field typically.  Could a 1-0 Miracle be in store?
RESULT:   Akhisarspor   1-0         Ding!!
Krylya Sovetov Samara vs. Zenit St. Petersburg – Russia Premier
Welcome back, K.S.S.!   A second-straight Relegation Monday appearance.
Only the bottom two finishers will be automatically Relegated.  The next two will play single elimination matches with two teams from the second division.  So, as many as four could be sent down.
K.S.S. are tied for 13th place of sixteen, so just below danger line.  That won't change for the better today.  Zenit are #1.   If they have any slight weakness, it's defense.  But not nearly enough for K.S.S. to take advantage of.
RESULT:   Zenit   0-1
K.S.S. are "The Rats" (and "The Wings")
Wisla Krakow vs. Zagleibe Sosnowiec – Poland Ekstraklasa
Z.S. have the goal-scoring capability of a midtable team, but a defense that is going to keep them in or near the bottom two – positioned to get The Boot – all year.
W.K. are "only" in 5th.   But they are still Noob's pick to win the league.  They'll win by a couple today.
RESULT:   2-2       Guess this balances out the Turkish pick     😛
Hapoel Tel Aviv vs. Maccabi Haifa – Israel Premier
The possible Miracle here isn't so much about who might win or lose, but rather will anyone score?
Haifa are in second-to-last, having scored only five times in their eight games.  That's not goodly.  HTA are higher – 10th place – but have a GD of 3-3.   THAT is insane Small Ball.
This whole match is going to be bilious Suckitude spewed all over everyone.
RESULT:   Haifa   1-2       This is so many goals for these two that it's practically a double-miss for Noober.
Hapoel sports club also has a ballet department.
(OK, that might not be factual.)
Concordia Chiajna vs. Dinamo Bucaresti – Romania Liga I
Bottom two in Romania will get Kicked Out.  Next team up from the bottom will have to face off against a second-division team for the right to stay in top flite.
D.B. play the better offense of these two, so Noob looks for them to win today in a shootout.  Neither can defend no matter whom they're playing.  Plus, C.C. have lost three straight to them.
RESULT:   0-0        The Turkish prediction is seeming like a fluke now…
Sriwijaya vs. Perseru Serui – Indonesia Liga I
We finish our track in Asia.  They can suck as much as the Euros.  No bias here!
Noob's been on the road this past weekend, so at time of posting, this match is already complete.  The hosts climbed clear of the bottom three-Drop Zone with a resounding 4-0 win.  Serui plays Small Ball, but lost a man to a red card fairly early.  After that, the rout was on.
The season is down to its last few matches now.  This loss doesn't cement Serui's fate, but they're now six points away from daylight and would have to jump two teams to stay in the top tier.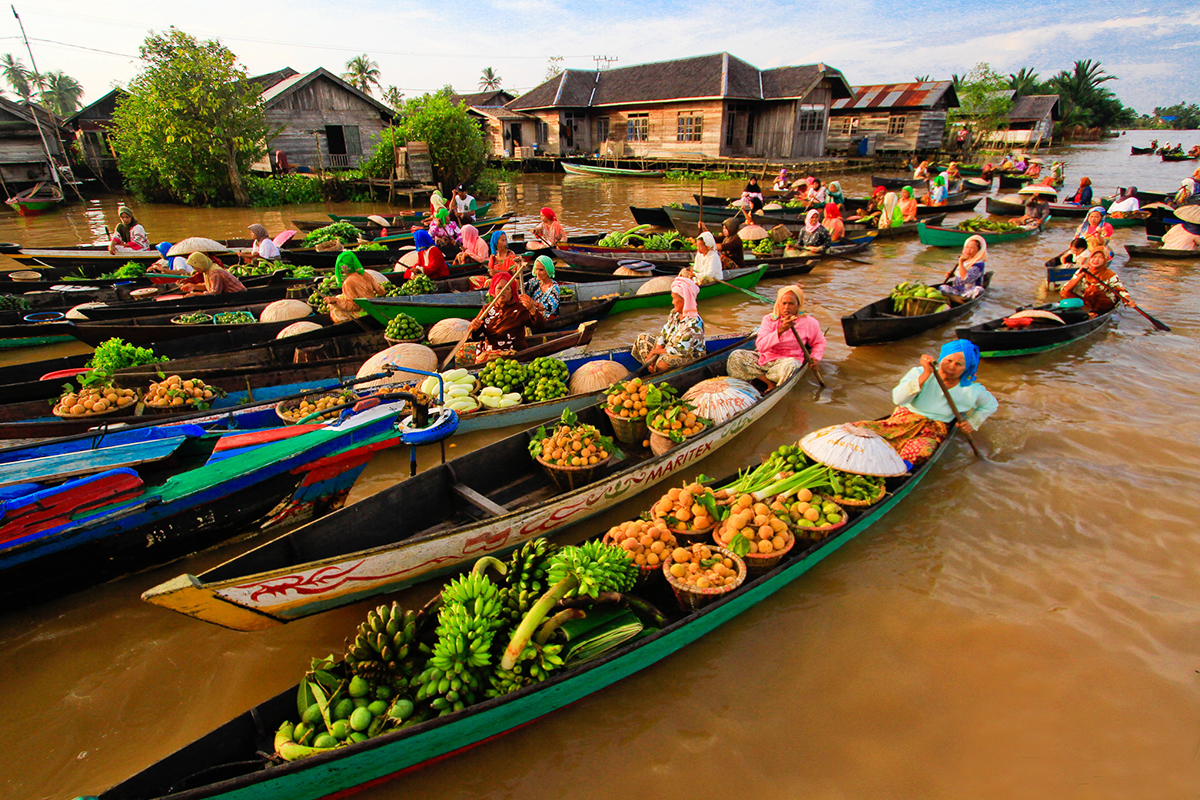 So long from Palembang, South Sumatra — home of Sriwijaya!
floating market