Time for Noob to drop the cherry on this delicious Midweek Edition football cake.   Bring us, Numbah Teyn!!
(Results from Tue. and Wed. are further down.)
* *Clarion ring of silver trumpets* *
We have a Noob c**k up alert!
Match #10, PAOK vs. Arsenal, was not real.     PAOK hosted English Premier League club Chelsea, losing to them 0-1.  Arsenal hosted Ukrainian club Vorskla, winning in a 4-2 rout.
Thursday
PAOK vs. Arsenal – Europa League
Wednesday
Seattle Sounders vs. Philadelphia Union – Major League Soccer
Nine in a row.
Ooooh, how it riles Noob to type that!   Would someone please beat Seattle?   That haven't even lost in twelve matches.  This is supposed to end with Sounders having peaked to soon, fade late and lose early in or miss the Playoffs.
For less-tenured Noobites, the first hardcore soccer fan I ever met was a university T.A. who was a bandwagon-jumping Seattle fan.  He was neither from nor were we at the time anywhere remotely near Washington state.  It sickened Noob then and now.
The Union had been a nice little streak of their own.  Five wins in a row.  A road draw to crappy Orlando City was understandable perhaps.  The road is the road.  But getting your butt spanked monkey-red 1-4 in your own house to admittedly, surprisingly, and suddenly frisky Montreal is far less so.  In tandem, giving up six goals in those two matches is disconcerting.
The teams are both in 5th place in their respective conferences, though Seattle has a team tied with them on points.  Top six make the Playoffs.
RESULT:   Philly   0-1      Noob's Sounders nightmare is finally over!
Philly scored at 90′, right after getting a man sent off by red card.   Let there be joy!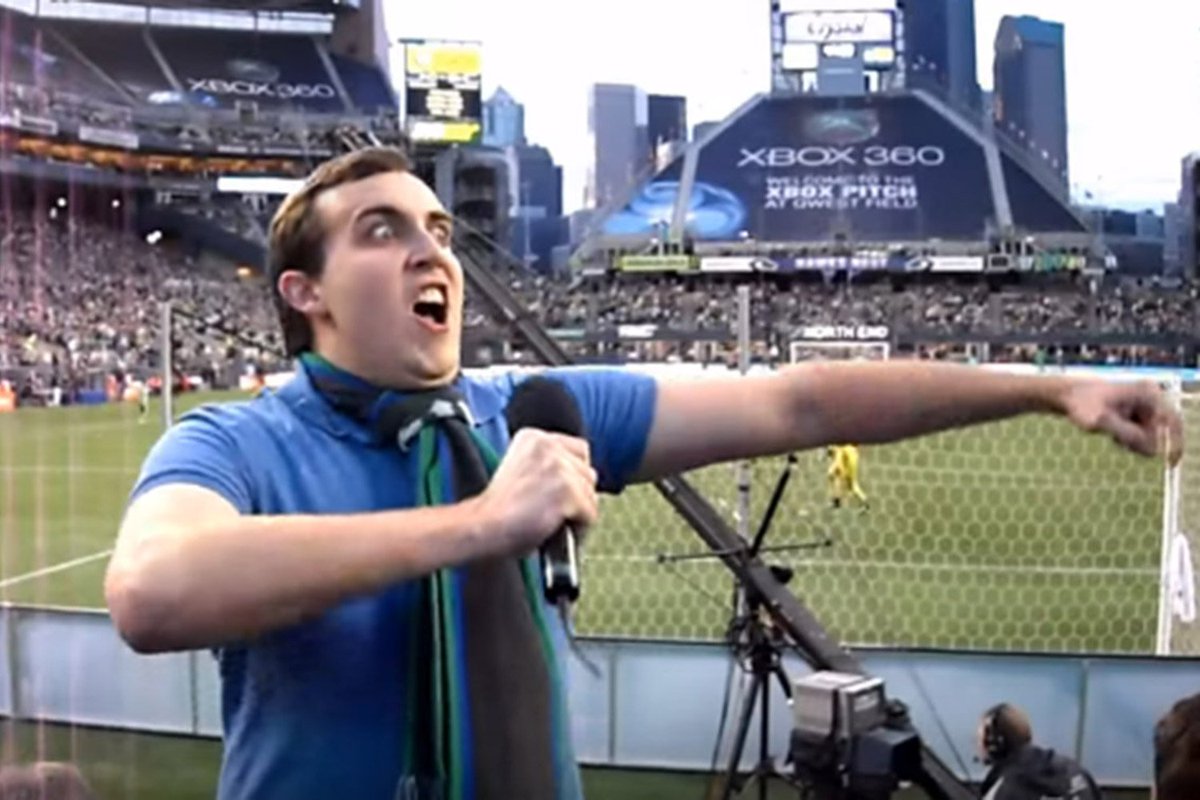 He's an even bigger d-bag than this "Fight and win"- screaming Sounders ultra.
Young Boys of Bern vs. Manchester United – UEFA Champions League
The most competitive CL match today with an English team may be the other one – Manchester City vs. Lyon.  But Noob did England versus France yesterday, so I'm taking some liberty and switching things up.
Based on their football database.com ELO ratings, Man Utd should hypothetically win this match on a neutral site about 75% of the time.  Converting that in Noob's and the match being in Switzerland, I figure them to be a goal and a half fave today.
But, as stated above, the road is the road.  Never as easy as it should be.  And while they seem to have recovered from bad losses at bad B&H Albion and then whipped at home 0-3 by Hotspur, the two wins since have been against meh teams at best.
Meanwhile, YBB have started their league season 6-0-0.  Plus, they had to earn their way into the Group Stage here via some qualifying matches.   The whole stew has Noob wishing very much this game were being broadcast stateside.  If Bern were to pull an upset, and with Valencia and Italian champs Juventus lurking here in Group H…
RESULT:   Man Utd   0-3        So much for that Noob-theory
Toronto FC vs. Tigres UANL – Campeones Cup
Never heard of it?   Neither had Noob.   This isn't a tournament, just a one-off match.  But it's got American and Mexican clubs playing and there's a shiny trophy to be presented at the end.  That means I'm in like Flynn!
So let's get into a few particulars.  This features the reigning MLS champion and the winner of the Campeon de Campeones.  That thing was a match between last season's winners of the Apertura and Clausura (first and second half-season).
So how have they been doing in their respective leagues seasons this year?  Tigres are in the top half, in the postseason picture.  Not bad.   Toronto, OTOH, is in 9th in the Western conference, nine points out of the playoffs.  Their record is actually above .500, but that's all they've got going for them.   They're easily a goal underdog, even at home in Canadia.
For all that, they're still airing it on ESPN2 (8:15 PM).   Yay, footsieball!
RESULT:   Tigres   1-3      UANL in a rout.  Jesus Alberto Duenas with a pair of goals.   
Champions are in Noob's house?
Tigers are in my house?
Suwon Bluewings vs. Jeonbuk – AFC Champions League
This is the second leg of a Quarterfinal match in Asia.  The winner gets Kashima Antlers in Semis.
Jeonbuk ran away and hid from the rest of the pack this now-completed South Korean K League 1 season.  They won half again as many games as the runners-up.
Defending titleholders don't auto-qualify, so even if Suwon win this whole shebang, they're out in 2019.  And they only finished 4th in K League 1 – not high enough.
Sooooo you can imagine how the first match of this two-legged tie went.   Suwon won 0-3.  Yup!  Completely against logic.  Again Noob says, yay footsieball!
RESULT:   Jeonbuk   0-3     And so the scrip got flipped.   But then Suwon won the penalty shootout to advance.   Victory!
Orange County F.C. vs. Real Monarchs SLC – United Soccer League
OK, there's an argument to be made that the Portland Timbers-Columbus Crew match in MLS is more important.   Make yer own darn footsieball site, Noob's sticking with the scouted second division match!  It was a Western Conference #1 vs. #B matchup when I scouted it a few days ago.
RM SLC have slipped to 3rd since then.  That suits Noober fine.  You must know by know how I feel about Amuricuhn clubs with "monarchs" or anything "royal/real" in their names.  Down with them!  No kings and queens here.  We fought and won a war up New England way a long while back, and that result still holds!
The Monarchs have treated of late as is good, right and appropriate – 0-1-3 in their last four matches.   They may not fall all the way out of the top eight and miss the Playoffs, but a couple more notches and at least they won't have any home pitch-advantage.
The O.C. are 2-1-1 over the same stretch.  The competition has been soft, but it's more winning than not.
RESULT:   O.C.   5-2        Aodhan Quinn with two for the home team
Maybe not as soft as a toddler seemingly in a fat suit.
But soft.
Real Esteli vs. Diriangen – Nicaragua Premier
While I don't think CONCACAF ranks domestic leagues themselves, Noob did find a webpage related to both SBNation and perhaps the Philapdelphia Union (via thebrotherlygame.com) which does.  It uses historical international play results, much the same as other federations so.   Eggzalent.
So Nicaragua's appears to be the #12 league in our world region.  While that's not very strong compared to the Central American leagues, it bests all but a couple of the Caribbean ones.
These are the current #1 and #3 clubs in their young season.  Esteli's position is particularly impressive since they've played 1-2 fewer matches than the other top teams.  They're also the only undefeated team remaining.
Diriangen's been getting featured in the Track recently based on a top-three finish last season.  They're #B now, just a point off the pacesetters.
Goal differential:   Diriangen 9:7;  Real Estili 9:2.   Tale told.
RESULT:   Esteli   1-0
Thursday
coming soon!
Tuesday
North Carolina Courage vs. Chicago Red Stars – National Women's Soccer League Playoffs
After being postponed Tuesday because of Hurricane Florence, the Semifinal is back on.   The winner will get Portland, which beat visiting Seattle in the other one-off Semi.
Courage are the best women's club team on the planet.  They destroyed the NWSL throughout the regular season.   There are a ton of names you could/should know.   But this is Noob, so we take smaller bites.  Lynn Williams, while not being the very biggest star, has been on a scoring streak.  Impress friends with her name.
Chicago have two things going for them.  Sam Kerr leads the league in scoring, has nabbed six goals in the last four matches.   The other is that this game will not be a true home one for NC.   It's been moved to Portland.   (9:00 PM EST, ESPNEWS)
RESULT:   NC   2-0      On to the Final!
B.  Liverpool vs. Paris Saint-Germain – UEFA Champions League
It's back!   And now it's time for the "competition proper" to begin.  On and off in previous months, Noob's featured games from the pre-Group Stage rounds.
Now we're in it.  Eight Groups of four each playing a double-round robin, home-and-away series.  Top two finishers in each advance to the Knockout Round.  3rd-place finishers get dropped into advance rounds of the Europa League.
This is one of eight matches today, and it's hard to call one more "important" than another.  But that's Noob's self-assigned task.  We lean England here, since the American soccer fan naturally does when it comes to European soccer.
These two should be the ones to come out of Group C.  Napoli is solid, here as last season's Italian runners-up.  Red Star Belgrade out of Serbia is sneaky-good, but not that good.  Citing footballdatabase.com and the ELO formula usage there to rate and rank teams,
It's a quirky call to handicap this one.  If you're a gambler and can get PSG and a goal, take that.  But don't bet the farm.  Or more than a chicken or three even.
Actually, if you've found a betting house that accepts rural property or domestic fowl as currencies, just leave the whole thing be.   (3:00 PM, TNT)
RESULT:   Liverpool   3-2      Liverpool blew a 2-0 lead before getting the winner at 90'+3
Gambling with chickens will not go your way, any which way you try.
Atletico Tucuman vs. Gremio – Copa Libertadores
Quarterfinals time in South America's version of Champions League.  Here, they play two-legged ties, home and away.   This is the first leg.
Tucuman are here by virtue of a runner-up finish in Argentina's last FA Cup.  They're only the 8th-best team in the country.   Gremio are the defending Copa champions, yet actually not an absolutely overwhelming favorite today.  They should get a draw today, advance on a 1-2 goal win on the return leg.   (8:45 PM, Fox Deportes)
RESULT:   Gremio   0-2