Schedules tend to run a bit lighter on Fridays.   So instead of laboring to find matches of grandest importance, we jet set off to find football the planet over!
We'll start locally, but then get ready to have your passport stamped.  Lift off.
New York Red Bulls II vs. Richmond Kickers – United Soccer League
A couple Tracks ago, Noob described still-14th place Richmond as sadness-makers.   They promptly went out and got a 1-2 win on the road against Penn FC.  Gentleman, well done.
And who knows?   Maybe they can make it two in a row.  NYRB2 are tied for 8th, hanging onto a playoff berth in the East by their fingernails.  They've lost five matches in a row.
The Management:  They won their last one against Atlanta II.  6-1.
Yeah.  And ATL2  haven't won a match yet this year.  They have all of three points in the table for the season.  They wouldn't beat Des Moines Wanderers in a home match.  Beating ATL The Second doesn't count.
The Management:  Under protest, I begrudgingly admit you have a fair point there.  I will now light myself on fire.
Easy there, chief.  You'll be needed when the European domestic leagues all kick off again.  I won't be backing down off my stance that Romanian club Voluntari are vampires and that the Twilight was a documentary series and the vampire villain family is based on them.
The Management:  *moves to light self on fire even more quickly* 
RESULT:    NYRB2   5-1        And one The Management, medium well.
B.  Arlesburgh FC vs. East Coast Diesel – Isle of Sodor Cup
The second Semifinal!  Who's moving on to the Grand Match in capital Suddery on Monday night?
It's been thought based on the new FA's group stage seedings that Arlesburgh would be one of the title contenders in the coming inaugural football season in Second Division.  But they've been very open with the idea that how clubs fare in this first Cup can affect placement.  Noob thinks Arelsburgh will end up in the Premier.
Arlesburgh, as noted in a previous track, is one of the oldest settlements on Sodor.  it's an important harbor town, especially for goods staging.  It's an area of Sodor that is crowded, comparatively, to others.  Since they draw from a smaller geographic area, it's been thought they can't necessarily compete at the highest level here.
But The Pirates bring the offense!   Now, defense isn't a prized virtue on Sodor.  But where Arlesburgh has set themselves apart is being able to tough out close wins when other teams find they can't keep up with, close ranks in their own third and try scoring on counters.
East Coast Diesel's top priority was to outlast more highly-thought of Vicarstown FC.  Both have been penciled in for Premier League when it starts, but Diesel have been thought to be a team that would struggle to win much there.  So they have their bragging rights pocketed now, get to gun for the Isle's first hardware.
E.C.D. have yet to lose during the Cup.  They only allowed one goal during the Group Stage.  Being on the east coast and just a rolling bridge across the Walney channel from England, there's been some style influence.  Heck, they've been known to even employ slide tackle now and again!  NOT the traditional Suddric way.  But effective.
This should be a rare-ish low-scoring affair.  Noob thinks someone wins 3-2.
RESULT:   Arlesburgh   5-4       What a thriller!  Arlesburgh scores one in extra time to storm the Final!   
So it'll be the minnows Arlesburgh versus mighty Brendam Harbor on Monday night from the capital city of Suddery.
It's Arlesburgh Pirates' bobblehead doll night, mateys.
Kilmarnock vs. St. Mirren – Scottish League Cup
This tournament is comprised mostly of teams from the top four leagues in Scotland.  This is the first match of the event's Group Stage.  There are eight pods of four.  The winners advance, as well as some of the runners-up.
Kilmarnock finished 5th in last year's Premier.  St. Mirren are back to Premier after winning the second-division Championship last season.  Noob doesn't have a lot for you this early in the event.  The point is to know that it's happening.
RESULT:   St. Mirren   0-0  /  2-3  pens    And interesting side note.  In this tournament, you get two points in the Group Stage table for winning in a shootout, not three.
Fun Fact:   This is the least-intimidating crest Noob's has seen yet.
Barnechea vs. Valdivia – Copa Chile
We Tracked the first match of this two-legged Quarterfinal tie between these two second-division squads.  Barnechea won 0-1, so it's advantage them as they try to wrap up a spot in the Semis at home today.
RESULT:   Valdivia   1-2       But in this event, they're not using away-goals as a tiebreaker.  Penalty shootout went to Barnechea, 2-3, so they advance.
Barnechea are named for the Huaicoche indigenous people of the area.  
Their name means "people of the flash flood".
Kedah vs. Johor Darul Ta'zim – Malaysia Super Liga
Feel like we see JDT here a lot in the Track?  They're in a "tough" part of their schedule, keep playing all the next-bests.  Kedah are in 3rd place, and are no better than an even match at home against the champions-in-waiting.  Only one will possibly get a Champions League berth from this league.
Fun Fact:   Kedah FA are "The Red Eagle", and have one on their club crest.  For some reason, they are also known as "Canary".
RESULT:   1-2   JDT
Defence Force vs. Morvant Caledonia United – Trinidad and Tobago League Cup
CONCACAF me.   Slowly, SLOWLY!!
This tournament is only for the ten top-flight league teams.  The champion is likely to come from this Semifinal, at least based on league standings.  They are 3rd and 6th in the table there, higher than the both teams in the other semi.  The match is on the home pitch for both these clubs.
Fun Fact:   Unlike many teams around the world named for state sponsor organizations, Defence Force is actually made of mostly or entirely policeman, soldiers and military sailors.
RESULT:   Defence Force   4-0
Al Shorta vs. Al Quwa Al Jawiya – Iraq Premier
Even being the 11th-strongest league in Asia, they only get one Champions League berth.  With two matches to go, Al-Zawra'a has it nearly wrapped up with a six-point lead in the table.  AQAJ are #B, the only ones that can possibly catch them.  They've a tough task as they travel to #4 Al Shorta today.
RESULT:   Al Shorta   1-0       And that wraps up the title for Al-Zawra'!
Fun Fact:  Al Shorta's nickname is "The Harp".  Noob has yet to figure out why.
Lokomotiv vs. Navbahor – Uzbekistan Super League
#4 hosts #3 in Asia's 10th-ranked league.  No one's running away with this one, and these two should easily finish the first part of the regular season in the league's top half, qualify for the Championship Round.
Noob looks for an upset here today, if a mild one.  Defense travels, and Navbahor have only allowed nine goals in 15 matches.
RESULT:   Lokomotiv   3-1     Defense decidedly did -not- travel
Fun Fact:  Lokomotiv Tashkent are "The Railroaders", named for their state sponsor.
Al Merrikh vs. Al Hilal Omdurman – Sudan Premier
Sudan's is the #7 league in Africa.  As such, they qualify two teams for the continental Champions league.  The season is just starting here.  These are last season's CL qualifiers, runner-up and champ, respectively.
Fun Fact:    Both clubs are from Omdurman, and they are only separated geographically by Ardha Street.
RESULT:      now slated for tomorrow
Pelauw Putra vs. Perseka Kaimana – Piala Indonesia (FA Cup)
Noob can't tell you much of anything about this one – kinda makes it fun in a weird way!  teams from all five levels of football participate in this tournament.  This is the first round, and these two are from the lowest level (Liga III).  But they, they're playing!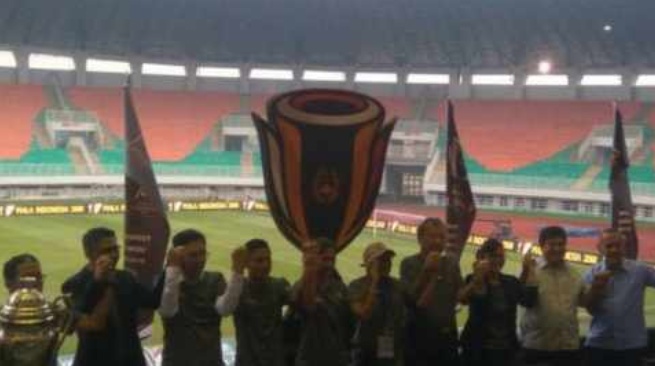 Doubt your fave club can win the tournament?
Make a cardboard trophy cutout.