TGIGF!   Remember when it was proper and cool to dress up to fly?   Let's get dolled up for today's soccer matches, trot the globe in style!
Since Friday's are more lightly-scheduled around the world , we break from the 'ten most important' matches mission and turn our gaze far and wide for new, interesting footyball.  We start with locales more familiar, then venture onward.
Puebla vs. Necaxa – Liga MX
At 4th and 6th place at the halfway mark in the Clausura (second half-season), both these clubs are positioned to make the Liguilla (postseason playoffs).
Noob's calling this one for the road "Thunderbolts".  They play about the league's best defense, while Puebla hasn't been scoring a ton.
RESULT:   1-1
Los Rayos, not Los Gatos de Trueno
Noob blames Dan the Intern-o Inferno.
B.  Shamrock Rovers vs. Dundalk – Irish Premier
This summer professional league is just beginning its season.  Dundalk might've challenged Cork City for the league title last season if they could've won a couple close games, earned a couple more draws.  Goodness knows they scored like gangbusters (league-leading 72 goals in 22 games).
Shamrock finished just behind Rovers, in 3rd, but this league was really just a two-horse race.
RESULT:   0-0
Top o' the mornin' to ya'!
from Number B
Flora Tallinn vs. FCI Levadia – Estonia SuperCup
This is the annual match between the winners of the Meistrliiga and FA Cup that precedes the start of the new league season.  I'm 95% sure this is a one-off match, only, oh, 67% sure it's being played in Tallinn, as opposed to a neutral site.
Flora is the defending Meistrliiga champions, while Levadia finished #B.  Fine, whatever.  Noob's just happy to have reason to type those sweet, sweet double I's!
RESULT:   Levadia   2-2 / 3-4 pk
Noob adores double-i's!
Amen.
Livingston vs. Dundee United – Scottish Championship
Welcome to the Track, Scotland second division!  This league is starting its final stretch.  St. Mirren will win, get the autopromotion to Premier.  The 3rd and 4th place teams will face off for the chance to play the #B team.  Then that match's winner will also be promoted.
Dundee is gritty and tough, but doesn't score enough to keep up with the #B club today probably.  They'd be fortunate just to remain in 3rd.  Greenock Morton will pass them, INHO.
RESULT:   Livingston   2-1
Fun Fact:  Livingston was founded under this name.
Nijmegen vs. Fortuna Sittard – Dutch Eerste Divisie
League winner gets promoted to top flight.  Next eight get into a Promotion Playoff.  (This doesn't include top flight clubs' reserves teams.)
Nijmegen (or NEC) is #B, in line for the auto-promotion right now (#1 is a reserve club).  Sittard is in 3rd, but with three teams breathing down their neck, they're far from guaranteed one of the top four spots (and a bye) in the Promotion Playoffs.
Fun Fact:  Unlike most clubs in the Netherlands, NEC was formed in the very poorest part of its city.
RESULT:   1-1
Al-Wehdat vs. Rantha – Jordan Premier
Jordan's top league is #18 in Asia.  Not bad!  But still only good for getting one club invite to the next AFC Champions League.  And right now these two are tied for the honor.  These two haven't lost a league match since October and September respectively.
RESULT:   Wehdat   1-0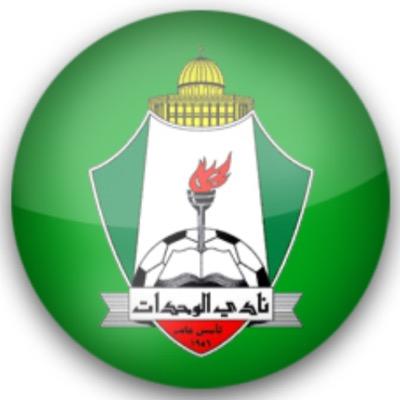 Noob tries not to go overboard on crest-critique, good or bad.
But Al-Wehdat's is top notch in my book.
Emelec vs. Macará – Ecuador Serie A
They're only a game into the 2018 season here.  In last year's Second Stage (second half-season), Emelec won the title and today's visitors finished 3rd.  If their league-leading defense carries over, we could see the boys from Ambato snag a big early road win here.
Fun Fact:  Emelec was founded by an American, the head of the Electric Company of Ecuador.
RESULT:   Emelec   2-0
Umm Salal vs. Al-Sailiya – Qatar Stars League
This league ranks 6th in Asia, earning three spots in the next continental Champions League.  These two are tied for 4th, but distant fourths to Al-Rayyan.
Fun Fact:  Umm Salal are "Barzan's Falcons", named for a Ramadan-enforcing tower.
RESULT:   Umm Salal   1-0
Yangon United vs. Shan United – Myanmar National League
Of the 47 FIFA leagues in Asia, this one ranks 25th.  It's early in their season, but these two are #1 and #B.   Not sure how Shan is pulling it off and barely over one goal per game.
RESULT:   YU   1-0
Is that Yangon Utd. lion looking to its left or straight ahead?
What a hot mess.
Tigers vs. Young Africans – Namibia Premier
The important thing is not that these two are 10th and 4th.  What matters is that they're playing at all.  This league didn't even compete last year.
RESULT:   Tigers   1-0