T2T, where our Cups runneth over for the Tuesday-Thursday edition.  Noob did sneak in one World Cup tuneup, but other than that its all Knockout action, baybeeee.
At bottom, also check out how The Management, Dan the Intern-0 Inferno, and Noob fared in week one of our Prognostication Challenge.
Tuesday, 1/9
Quick refresher on the three major Cup tournaments in England:
FA Cup – most prestigious, open to teams down to league pyramid level 20.  EFL Cup – second-most prestigious, open to top four leagues.  EFL Trophy – open to the third and fourth-tier leagues, plus youth teams affiliated with the top two leagues' clubs
Manchester City vs. Bristol City – EFL Cup
This event has reached its Semifinal Round.  This is the only round in which the teams will play two-legged ties.
Bristol City are in 4th in the second-tier Championship League.  Groovy Minnow Watch time!  But Man City lead the mighty Premier League and could put this away very early.
RESULT:   Man City   2-1      Bristol had a 1-0 lead, but Man City got the winning goal at 90′.
Groovy, baby.
B.  Yeovil Town vs. Forest Green Rovers – EFL Trophy
This tournament is in its Third Round (Round of 16).
Neither of these sides is having at all a good season in League Two.   Advantage here to the Noob-Adopted Yeovillians!   They have the better offense and, of course, get to play it at their place.
RESULT:   Yeovil Town   2-0
Splendid number B's in forest green
Nice vs. AS Monaco – French League Cup
The Coupe de la Ligue has reached its Quarterfinals.  This is the French equivalent of England's EFL Cup.
Nice is in 6th in Ligue 1, AS Monaco 2nd.  It's a very top-heavy league.  Record and goal differential would indicate Nice aren't even an average club really.  Still, when you get to host, all things are possible.
RESULT:   Monaco   1-2
Leon vs. Venados – Copa MX (Clausura)
Mexico divides its 2017-18 season into two halves – Apertura and Clausura.  The latter is just beginning, for both league and Copa play.   Liga MX and second-tier Ascenso MX teams play the Copas.
Leon was a top-half team in Liga MX.  Venados, which were until recently FC Méridas, had a middling Clausura in the Ascenso League.
RESULT:   Leon 1-0
Wednesday, 1/10
Chelsea vs. Arsenal – EFL Cup
No Minnow action here.  Premier League #3 hosts #6 in a monster matchup.  Statistically, Arsenal don't score or defend as well as any team above them in the table.  This was an unlucky draw for them, having to go on the road.
Shrewsbury Town vs. Blackpool – EFL Trophy
Oh, Blackpool.  Noob loves loves LOVES your tangerine kits.
But this is Shrewsbury, fellas.   They are Adopted by Noob!   If ever an inglorious traitor like Harry "Hotspur" Percy is ever killed in your town, you will be treated in kind.
Shrewsbury is forever hallowed ground.
Juarez vs. Lobos de la BUAP – Copa MX (Clausura)
Juarez won the Apertura title, and BUAP didn't make much noise in Liga MX that session.  At home, the Ascenso hosts have a real shot at three points here.
Caldas vs. Farense – Portugal FA Cup
The Taça de Portugal is in its Quarterfinal, and here we get double Minnow action!  Both sides are from the third- tier of Portuguese football.  Farense lead their division while Caldas are just having a "meh" kind of year.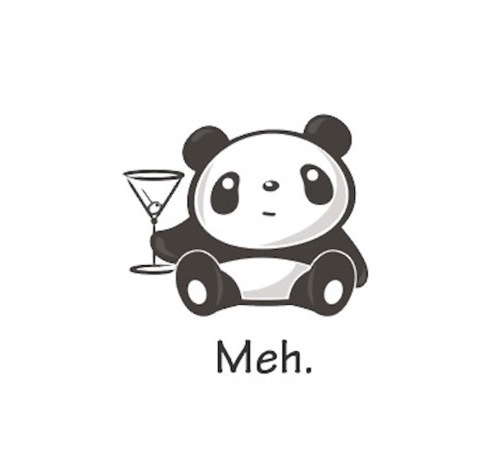 "Meh" since can't tell if Panda's martini is full or she's down to the olive.
Thursday, 1/11
Sweden vs. Denmark – international friendly
These two are FIFA-rated 18th and 12th respectively.  They're likely both working out roster spots and keeping tuned up for next year's World Cup.
Fun Fact:   This will be the first World Cup in which three Nordic teams have qualified for Group Stage.  (Iceland is in as well.)
Sevilla vs. Cadiz – Copa del Rey
Sevilla won the first leg of this Round of 16 matchup 0-2.  Really not much hope for 2nd place, second-tier Cadiz.  Still, this match does represent the best chance for a non-La Liga team to break through.
PROGNOSTICATION CHALLENGE
The Management, Dan the Intern-o Inferno, and Noob started this last week.  We will make picks for all T2T Midweek Edition matches, straight up.
Scoring:  One point for a correct pick, two if someone correctly pickes a designated big Underdog.  No points for incorrect picks or drawn games.
Week 1:  The Management and Dan -4.  Noob – 3
Noob's lulling them into a false sense of security
Week 2 picks:
Noob:  Man City, Yeovil, AS Monaco, Leon, Chelsea, Shrewsbury, Juarez, Farense, Cadiz, Sweden
Dan:   Bristol, Forest Green (citing "cool factor"), Nice, Leon, Chelsea, Shrewsbury, Juarez, Caldas, Sweden (high taxes, beautiful women, and Nordic cold!  what more could you ask for?), Cadiz
The Management:  Man City, Yeovil, Nice, Leon, Arsenal, Blackpool, BUAP, Farense, Cadiz, Denmark