It's a Cup kind of day for the 10 most important games to follow, fellow newish American soccer fans!  We lead off with, footyball- Amuricuhn style.
Seattle Sounders vs. Houston Dynamo – MLS playoffs
It's the Semifinal Noob loves to hate!  Second leg.
To recap:  The first hardcore soccer fan I ever met was a T.A. at my school.  He was a vainglorious douchebag.   And he is all about Sounders, and a bandwagon asshat to boot, not being from there.  Then we have Houston, a city hated on the The Management's principle that Cities built on Swamps are worthy of our scorn.  Noob concurs.
Even as the higher seed and at home, Noob doesn't think Seattle is much better than the Dynamo.  But Seattle has a 2-0 lead from the first match, and that changes everything.   Houston's defense isn't spectacular.  Noob sees Seattle scoring multiple counterattack goals even as they try to take the air out of the ball.   Houston controlled the ball a shade more of the time, yet Sounders win!   This sets up a rematch of last years MLS Cup Final between them and Toronto.   RESULT:   Seattle   3-0
B.  Atletico Junior vs. Flamengo – Copa Sudamericana
Your Semifinal undercard comes from South America's version of Europa League.  The winner of this two-legged tie gets Argentinian Independiente in the Final.  Unsurprisingly, it's likely to be a Brazilian club.  Junior won 1-2 at the Ecuadorian's place.  Given just the one-goal margin, Noob's instinct is that Brazil won't sit on that lead, will pound the Ecuadorian's with shots.   Noob for mixed up.   it was Flamengo who had been up 2-1 from the first match.   They advance.   RESULT:   Flamengo   0-2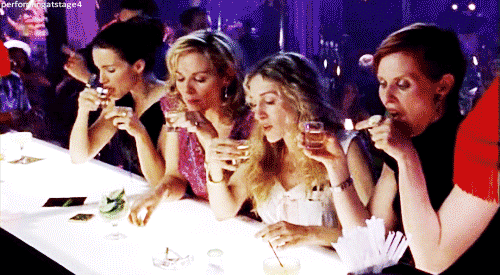 Noob would've had to imbibe this hard to likely get through one ep.
Villareal vs. Ponferradina – Spanish Copa del Rey (FA Cup)
Welcome back to Spain's FA Cup Round of 32.  Two-legged ties get played here, and lowly tier-three Ponferradina leads Primera side Villeareal 1-0 on aggregate.  How, Noob asks?  They're having a bad league season even in that league!
Before they get bushwhacked on the road, let's get to know them.   Their town – Ponferrada – translates to "iron bridge".   It is completely surrounded by mountains.  Despite this, and confusingly to Noob, it is gaining popularity as a tourism site by being along the Way of St. James pilgrimage path.   RESULT:   Villareal   3-0
Udinese vs. Perugia – Coppa Italia (FA Cup)
They play mostly one-offs in this event.  Udinese is a so-so Premier team, and Perugia is a middling tier-two team.  Perugia does have some history though.  In 1978-79, they finished 2nd in the top league.  They didn't lose a single match!   Must have had a lot of draws to not win the title.   Not a typo.   RESULT:   Udinese   8-3
Oh I know my name is Simon!  And I like to do drawr-rings .
Zulte-Waregem vs. Club Brugge – Belgian Cup (FA Cup)
No Minnow Watch for this FA Cup.  All 16 top league teams won their previous rounds' matches.  This one pits the league 10th place side against #1.   RESULT:   Brugge   2-3
Rudes vs. Lokomotiva – Croatian Cup (FA Cup)
This is the first leg of a two-legged Quarterfinal.  Rudes stands 10th in the league table to Lokomotiva's 6th.  The visitors play in Zagreb, where powerhouse Dinamo Zagreb also is.  They serve unofficially as a feeder team for them, even now that they are in the same league, and the relationship is not a popular one.   Lokomotiva   1-2
Young Boys of Bern vs. St. Gallen – Swiss Cup (FA Cup)
This is a Quarterfinal one-odd.  Noob doesn't Track St. Gallen much, but we may seem more of them soon.  They've risen to 4th place in the Superleague there.  But as far as this event, well, YBB is #1.   RESULT:   YBB   2-1
Kars 36 Spor vs. Genclebirligi – Turkey Cup (FA Cup)
HERE is your Minnow Watch, Noobites!   Gencle is a Super Lig team, but should probably outgun the home side in both this and the away leg.   After all, Karsspor is from the -7th– level of the soccer pyramid there, a regional amateur team!   May your stay be long, fellas.  Though it won't.   RESULT:   Gencle   1-2
Karsspor, Noob simply must know who you're wearing- that crest is sensational!
Santa Fe vs. jaguars – Colombian Premier
It's the First Round of the postseason for this league, with #2 seed hosting #8, first leg.   RESULT:   Santa Fe   4-1
Juticalpa vs. Real Espana – Honduras Premier
It's the postseason for the Apertura – the first half-season.  This is a Quarterfinal between the #5 and #4 seeds.   RESULT:   Real Espana   2-3

It feels to Noob like a picture of your    own country would be less strange on there.