Noob promises you he has manners and couth, sometimes.  But in today's 10 most important games to Track for the fellow new-ish American soccer fan, we're going to start with the gents.   World Cup qualifying trumps all!
Australia vs. Honduras – Interconfederation WCQ
The first match went scoreless, so now to Oz!  It's important to remember that any draw, except for 0-0, and Honduras goes to World Cup on away-goals tiebreaker.   Congrats on heading to World Cup, Socceroos!   RESULT:   Australia   3-1
B.  Peru vs. New Zealand – Interconfederation WCQ
Leg 1 always went scoreless in this matchup, stunningly.  Noob expected it to be shooting fish in a barrel for Peru.   Noob still expects it now.   Congrats to Peru on advancing to the World Cup!   RESULT:   Peru   2-0
  All is fair in love and war
Tranmere Rovers vs. Peterborough United – English FA Cup
They played to a scoreless draw in the first go-round, so now third tier Peterborough has to try and break through on the road.   Tranmere, like Liverpool and Everton of the EPL, plays in Merseyside.   Broke through is an understatement.   RESULT:   Peterborough   0-5
Pachuca vs. Atlante – Copa MX
Ascenso side Atlante surprised again last round by advancing, winning 1-1 / 3-5 pk for the second straight time.   Liga-Pachuca has whupped their foes wholesale, advancing to the Semifinal by combined score of 7-0.   now slated for 11/21
Vasco de Gama vs. Atletico Minero – Brazil Serie A
With four games to go, VdG is in 8th and just one point out of a Copa Libertadores berth for next season.  A.M. certainly isn't eliminated at just two more points back.  But it's hard to leapfrog multiple teams this late in the season.   RESULT:   1-1
   Leapgiraffe is even harder
Linkoping vs. Sparta Prague – UEFA Women's Champions League
And then there were 16!   These games are all the second matches of two-legged ties.
What a week for Sweden – their men's national team holds Italy scoreless for two matches to qualify for World Cup!   Can their best women's club make the Quarterfinals?    Chances seem at least fair.  They played S.P to a 1-1 draw in Prague in the first leg.   Sweeeeeeedes!   RESULT:   Linkoping   3-0
Montpelier vs. Brescia – UEFA Women's Champions League
The French side won 3-2 in Italy, and looks to take care of business at home.
Noob assumed "home" was the same stadium in which the men's team play, 32000+ seater Stade de la Mosson.  Nope.  Stade Jules Rimet only has a capacity of 1000.  Surprising, given how popular I thought women's soccer is in France.   'Twas a bull market.   RESULT:   Montpelier   6-0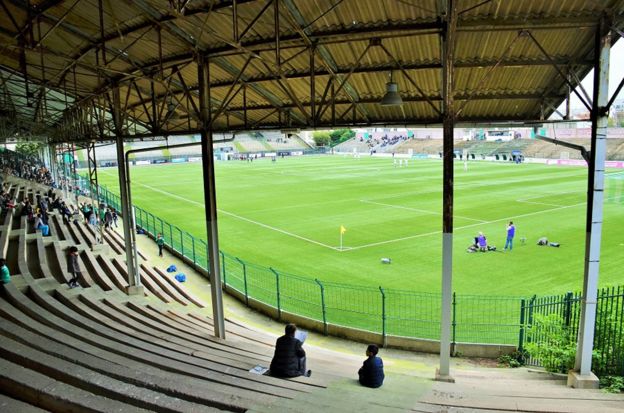 Cozy anyway
Rosengard vs. Chelsea – UEFA Women's Champions League
Not so surprising is Rosengard's success.  They're based out of the same sports club in Malmo as the reigning league men's champion.   But they have a mighty deficit to overcome, having gotten smoked 3-0 at Chelsea in their first match.   RESULT:   Chelsea   0-1
  Staffer Daaaan-ooo!   Noob knows his fish.   That's gravadlax, Swedish CURED salmon.  Not smoked.
Wolfsburg vs. Fiorentina – UEFA Women's Champions League
German Wolfsburg won the whole kit and caboodle in 2012-2013.   They're already up 3-0 on the Italian side, steamrolling towards the Quarterfinals.   RESULT:   3-3
Barcelona vs. Gintra Universitetas – UEFA Women's Champions League
Gintra is a college team from Lithuania.  And if they can come back from the 6-0 thrashing they took at home to Barcelona, Noob will be a hat-eating man.   RESULT:   Barcelona   3-0
  That's hat-eating man, not man-eating hat!  Staffer Dan-o, where are you??
    Jiminy, you're not even trying to hide well.