For all that Noob loves the quirkiness of scouting teams and games for Relegation Monday and Globetrotting Friday, there's nothing like the big boys games on weekends!  There are so many more games than just 10 that could make the cut.
So let's remember our daily purpose here:  Which games look like the most important, from the bigger leagues when available, from the new-ish American fan's perspective?
Swope Park Rangers vs. Oklahoma City Energy – USL playoffs
It's down to the final four, the Conference Finals!  The #4 seed and The Management-favorite Rangers are in for a struggle.  OKC beat Reno – best offense in league history – in the first round, and then promptly bested the top defensive team in the league in San Antonio.  And both wins were on the road.   Oh, the Management, your D-2 team is a feisty one!   RESULT   0-0 / 7-6 pk
B.  Louisville City vs. New York Red Bulls II – USL playoffs
It's not fair of Noob to think of this as the undercard.  By seeding, #1 should handle business against #7 at home.  And they may.  But Red Bulls, Junior here has taken out the #2 and #3 seeds on their own pitches already.   Down, over-caffeinated feline of darkness!   RESULT:   1-1 / 4-3 pk
  Never mind, demon-kitty.  As you were…
Southampton vs. Burnley – English Premiere
In so many leagues, there seem to always be a handful of teams at most which dominate most years.  That's why it was so magical to see Leicester City win it all two years ago.  Right now, Burnley appears the best hope to snare a postseason berth, play in a European event (C.L., Europa) next year.  10th hosts 7th place here.   Burnley holds at 7th. Southampton drops three spots.   RESULT   Burnley   0-1
Leatherhead vs. Billericay Town – FA Cup
Our British undercard today is a guaranteed minnow-advancement!  They're both from the Isthmian Premier Division, the 7th level in England's football pyramid.
Going by league results, Billericay should beat The Tanners on their own pitch.  Going by history – still Billericay.  They've won the FA Vase more than any other team in history.  (That's a tournament for teams below the 4th tier.)   Now slated for 11/5
   Wassail!
Barcelona vs. Sevilla – Spanish Premier
Sevilla's currently in line standings-wise for a Europa League berth next season.  Going to 9-1-0 Barcelona today and losing by two isn't going to help that cause though.   No change for either in standings.   RESULT:   Barcelona   2-1
Borussia Dortmond vs. Bayern Munich – German Bundesliga
Schnitzel for everyone!  A big league #2 vs. #1!  Dortmond started so damn hot this year.   They've slipped of late, but only as far as 2nd place.  To no one's surprise, it's Bayern who overtook them.
Noobstradamus loves watching American superstar Christian Pulisic and Dortmond.  He's fought all the bias in his soul, so his vision is pure.  2-1 Dortmond, which Wonderboy Pulisic scoring the decisive goal!   Noob fail.  Dortmond to 3rd.  RB Leipzig to 2nd after beating 4th place Hannover.   RESULT:   Bayern   3-1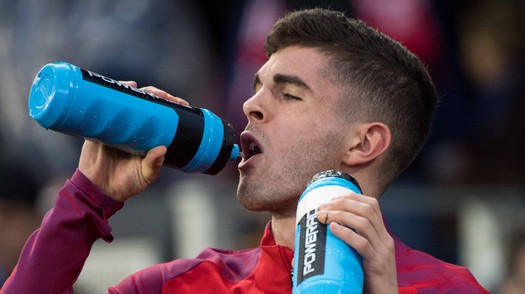 A double-fisting hydration Wonder!
U.A.N.L. vs. Necaxa – Liga MX
Last game for these two before the Liguilla – the postseason tournament following this Apertura.   Top eight teams all make it, and these two are safe at 2nd and 7th.  Even with a loss, U.A.N.L. isn't likely to be overtaken because of their big goal differential.  With a win, Necaxa could possibly pass up to three teams.   Now slated for 11/5
Wydad Casablanca vs. Al Ahly – CAF Champions League
The Final, leg two!  Al Ahly is the dominating force in Africa.  But Wydad earned a draw in Egypt and get home field for the deciding match here.  Noob doesn't have a camel in the fight, yet I find myself pulling for the slight underdog in the Moroccans.   Hail to the victors!   2018 Africa Champions League winners are Wydad Casablanca!   RESULT   1-0,  2-1 on aggregate.
  Good LAWD!  Camel-fighting appears to be a real (and illegal) thing!
Coleraine vs. Glenavon – Northern Irish Premier
They're only a dozen or so matches into league play, but Coleraine has already opened up an eight point-lead over #2 Glenevon.  Unmovable object, meet irresistible force!  Coleraine doesn't give up goals.  Glenavon scores them in spades.   RESULT:   2-2
Sturm Graz vs. Rapid Vienna – Austrian Bundesliga
Everyone knows when "Bundesliga" is uttered, it means German.  But Noob has taken to using "German" because of this league.  It's been long wondered why this league isn't stronger, given they're in the heart of Soccerland.
Well, here are two of the mainstay powers that are most likely to ever make real waves in Europe, occupying the #1 and #3 slots currently.  The hosts play the best defense in the league at home.  R.V. is balanced, but may not have the firepower to overcome.   RESULT:   0-0
  Srsly?  Staff, did we fact check this?
And finally, congratulations to Estonian Meistrliiga 2017 champions Flora Tallinn!   They're headed to the 2019 Champions League.  Sorry, Noob can't think straight to ask how you'll celebrate or anything else, fellas.  The strange double-i in your league's name will ever always mesmerize me.
Meisterl
ga.   Captivating.