1. Toronto FC vs. Montreal Impact – MLS
Right now, Montreal is in a dogfight with expansion Atlanta for the sixth and final playoff spot in the Eastern Division. A road trip to class-of-the-league Toronto may not help their cause.
  Canadiaian puns are best!
B. Seattle Sounders vs. Portland Timbers – MLS
#1 hosts #2 in the desperately tight Western Division.
It's 'Rivalry Week' as advertised by (I think) ESPN. This sounds very collegiate to me for some reason. But television ratings for MLS are. Not. Good. Can't blame them for trying.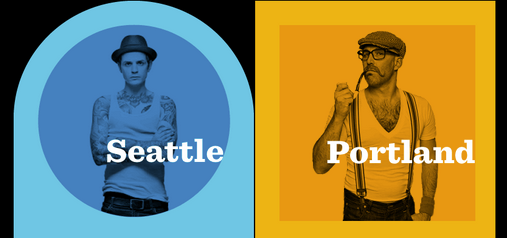 Rivalry Week gone wrong
3. Liverpool vs. Arsenal – English Premiere
Last season's #4 vs. #5 in a battle of two traditional powerhouses.
I've looked back over all the EPL final season standings of the 21st C., and Liverpool defines 'close but no cigar' for title contention.
4. Chelsea vs. Everton – English Premiere
Everton just finished downing Croatian side Hajduk Split in the final qualifying round of the Europa League. Noob wonders if they'll have much in the tank for a road trip against last season's EPL winner.
5. Napoli vs. Atalanta – Serie A
Atalanta crashed the top four-party last season in Italy. Noob is American, and so enjoys underdogs. Atalanta is easily the best Italian team to not be based in a truly major metro area.
  Translation:  We look like villainous henchmen casting rejects from the original Die Hard movie.
6. Veracruz vs. Pumas UNAM – Liga MX
OK, it's not a smexy matchup, but it should at least be more competitive than Toluca-Puebla. Both teams are toiling early this Clausura (half season) in the lower half of the league standings.
7. Shimizu S-Pulse vs. Urawa Red Diamonds – J1 League
Not a match that will help determine and postseason play, qualification into larger competitions here. But Urawa is Noob's team, here our cry – "Gym – Tan – Sushi!"
  Yes.  Where the sushi goes.  Thanks yet again, The Situation.  You know Urawa doesn't pay you, right?
8. Zenit St. Petersburg vs. Rostov – Russian Premier
Confession: Noob thought 3rd place-Rostov might be a newly-promoted team to this top league. They actually finished 6th last year, just off my radar. Zenit is undefeated with just one draw.
9. Sturm Graz vs. Salzburg – Austrian Bundesliga
In the heart of the soccer breadbasket of the world, it is to be wondered why Austria's top flite league isn't stronger than it is. Here, last season's top two clubs clash.
  Shoosh.  Go watch the Total Recall remake that looks like it was randomly generated.
10. Colo Colo vs. Universidad de Chile – Chilean Seabass Premier
Colo Colo is the only non-university sponsored team in the top four. They are the defending champs and arguably the greatest team historically. Chile U. is their biggest rival.