1. KR Reykjavik vs. Valur – Iceland Urvalsdeild
Before we dive in here, Noob must profess mea culpa. In the previous T2T, I wrote IBV stunk like yesterday's fish. They promptly went out and defeated FH – the historically best FA Cup team in Icelandic history- for the FA Cup title! It turns out IBV is a perennial power that happened to have a subpar 2016 league season and does not suck.
So how can Noob say he's sorry, oh mighty Westmen? I'll figure it out by and answer at post's end.
B. VPS vs. FC Lahti – Finland Veikausliiga
Not sure I'll ever get used to some of these double-I's from northern Europe. Red Bull gives Laplanders wiings.
3. Nimes vs. Nancy Lorraine  – French Ligue 2
Hey, it's Monday. The Noob has to dig a little deeper for prime matchups. Nimes was one of the best squads that didn't get promoted. Nancy Lorraine was demoted from Ligue 1.
4. Nagaworld FC vs. Hougang United FC – Singapore Cup
Nagaworld FC is actually a Cambodian team.
I only just learned that "naugahyde" is the correct spelling of the very dated fabric. The company that produced it invented this fake animal for a marketing campaign.  And relax, PETA.  not only is it not a real animal, but the company indicates that the animal is not slaughtered for its hide, but rather that it molts.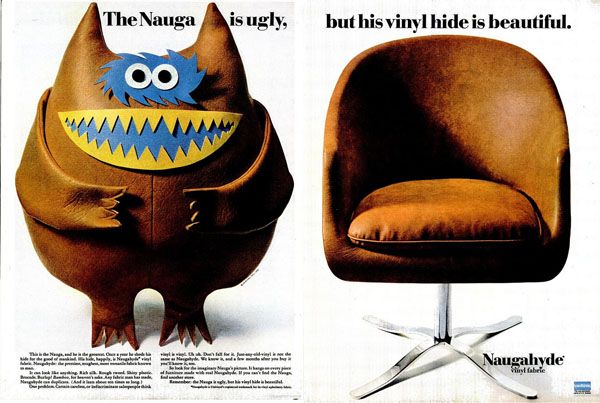 No.  That chair is ugly.  Judge not the Nauga lest YE be judged.
5. MSV Duisburg vs. Nurnberg – German FA Cup
It's really called the DFB-Pokal. Whatever. Give me some Muricuhn cognates, Germany!
6. Hansa Rostock vs. Hertha Berlin – German FA Cup
HR is one of the better teams to have come out of former East Germany, but is third tier today. They should get handled by the Bundesliga side
7. Dynamo Berlin vs. Schalke 04 – German FA Cup
Dynamo is the best from former East Germany I've read, yet now only plays fourth tier football. Another easy win in store for a Bundesliga squad.
Speaking of East Germany, I was mildly disappointed with the movie "Atomic Blonde". Engaging fight scenes to be sure. But if you're making a thirty million dollar film, spend an extra 30k and get a good script editor. Not a single character save the minor supporting role of a French government agent has any sort of emotional arc whatsoever.
 At least John Goodman's beard scored an 87% on Rotten Tomatoes.
And…soccer!!
8. Boca Juniors vs. Gimnasia y Tiro (Oran)-  Copa Argentina
Round of 64. Boca is a powerhouse and is going to play Whac-A-Mole on  division three GYT.
  Whac-A-Banker was a real thing.
[Noob!   It's me, The Management.  Focus.]
Dammit, man!   I work the kolhoz all day, drink vodka all night.  I am strong like bull!  Smart like tractor.
9. Myanmar U23 vs. Singapore U23 – Southeast Asian Games
I've no idea why the only football competition in this event involves youth squads.
10. Malaysia U23 vs. Brunei U23 – Southeast Asian Games
But I think it's kind of cool that each time a country hosts this, they get to radically change what events are offered across the board. Each nation typically includes games and sports that they excel in, or are only even played in the host nation period.
OK, IBV. As promised. But how can I honor you here? You're only an archipelago of about 4200 people. Lots of commercial fishing. At least you're leaning toward a subpolar oceanic climate. But that's not much for me to work with.
Best I can do. Let's all enjoy the best song from Icelandic band Kaleo. They're not from Vestmannaeyjar like you, but at least Mosfellsbaer is generally southern in your country. And this cut rocks, has enough pace to mitigate lead singer JJ Juliusson's usual annoying, Ethyl Merman-y vibrato.