TGIGF — Thank goodness it's Globetrotting Friday!  With T2T, Noob daily points out the best matchups from top leagues of the world.  They glisten like dewdrops on a spring morn.
Fridays, we wax a different kind of poetically.  With "big leagues" not offering as much, we go in search of diamonds in the rough.  Noob always starts us off with more familiar locales, but then we jet off to parts less known and heralded.
Come, Noobites, let's safari into the footyball jungle.
Arsenal vs. Liverpool – English Premier
EPL sends its top four to next year's Champions League.  With Manchester City nearly running away with the title now, top four is the goal.
These two are in 5th and 4th place respectively, separated by just one point in the table.  Arsenal haven't lost in their last four league matches, but Liverpool better than doubles that.
There's a rumor that the winners will get to feast on unlimited figgy pudding.   That rumor exists because Noob just started it.
RESULT:   3-3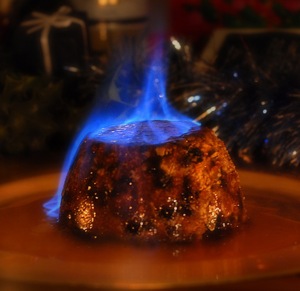 We don't need no water, let the figgy pudding burn.
Burn figgy pudding, burn.
B.  Vitoria de Setubal vs. Braga – Portugal League Cup
The remaining 16 teams in this event are divided into Groups of four, where they play a round-robin.  Only the winners of each Group advance.
Even though they've only played one of their three games, if VdS can win today, they win their Group.  This would be a nice salve on a awful league season.  They're in dead last.   Braga is in 4th in the Primeira Liga.
RESULT:    Setubal   2-1      VdS will advance!
Lugo vs. Rayo Vallecano – Spain Segunda Division
4th place hosts 5th in Spain's second division.   The top two from this league are automatically promoted to La Liga.  The next four play in a mini-tournament for a promotion.
The top seven in this league are in an absolute dogfight in the table.  Just second division?  Sure.   But the chance to get moved up into arguably the world's best league make this intense.
Fun(ny) fact:  Lugo is nicknamed O xogo bonito – "the Beautiful Game".  You know, what soccer itself is nicknamed.  Noob thinks you need to be a LOT higher in world stature to hold that moniker down.
RESULT:   Vallecano   1-2
Betty!!  
(Care to "Track Noob's ten"?)
Telstar vs. De Graafschap – Dutch Eerste Divisie
This Netherlands league only auto-promotes its champion into the top tier, the Eredivisie.   Eight teams from here, plus to in the top-flight, have a postseason playoff to see which two teams move/stay up.
These two are in good shape so far, in 4th and 5th place.  More, one of the teams ahead of them is an ineligible-for-promotion reserve team.   Telstar actually have a negative goal differential, however, could be a candidate to start falling.   Noobstradamus smells a road win in the works.
RESULT:   Telstar   3-2
Cerezo Osaka vs. Vissel Kobe – Japan Emperor's Cup
This is essentially Japan's FA Cup, and it has reached the Semifinals.
Presumably C.Osaka is hosting by virtue of its higher league finish this season (3rd).  Kobe finished in 9th, so this has been a surprising run for them.  It likely ends here.  The hosts were better in league by nearly a goal per game, and beat them 3-1 a month ago.
RESULT:   Cerezo   1-3 (AET)     What a match!   Each team scored in at 90′, and then C.Osaka added two more in extra time.
Kuwait vs. Saudi Arabia – Arabian Gulf Cup
Noob previously labeled this "Gulf Cup of Nations".  The above appears to be the more official name.  This confederation includes seven Gulf nations, plus Yemen.  The event is just starting its Group Stage – two groups of four each.  The top two finishers from each will advance.
After much political to-do, they finally decided to hold it in Kuwait this year.   Despite getting to play this match at home, Kuwait is in trouble here.  They are three times farther down the FIFA rankings than the Saudis.
RESULT:   Saudi Arabia   1-2
United Arab Emirates vs. Oman – Arabian Gulf Cup
UAE should definitely be favored, but this one should at least be more competitive.  They are FIFA-ranked #73 and #101 respectively.
RESULT:   UAE   1-0
With some sports, everyone's a loser.
Pirae vs. Dragon – Tahiti Ligue 1
Yep!   They run around and sweat profusely, even in paradise.  This match up features #2 hosting #1.  Looking at GD and with Pirae hosting, this looks to be a very even matchup.  Dragon lights it up, scoring at a four games per goal pace.   I don't care what nation league it's in, that's incredible.
Fun fact:   Pirae were the first French Polynesia Club to ever win the OCF (Oceania) Champions League, back in '06.
RESULT:   Dragon   2-5
The only soccer that should be allowed in Tahiti.  
Jinja SSS vs. SC Villa – Uganda Super League
This doesn't seem to be a very high-scoring league.   Villa is on top of the table, but doesn't average even two goals per contest.   Jinja sits in 9th.
Fun Fact:  The city of Jinja's largest employer is a sugar works (Kakira).
RESULT:   1-1
Kamza vs. Flamurtari – Albania Superliga
Back to Europe to close things out!   Noob's initial scouting had included an Egyptian Premier match, but ENPPI fell too far in the standings for me to give a poop about them now.  Be gone, "the Petroleum Team"!
League #3 hosts #5.  Skënderbeu Korçë is running away with the leagues one Champions League berth.   The Europa League slot the 2nd and 3rd place teams will get an open race though.   Kamza was just promoted from the second-tier First Division last year, so they're doing well to just be two points out of one of those.
RESULT:   Flamurtari   0-3
No kidding.  Noob Googled "Team Petroleum".  
Judgement error.