For our newest Noobites – Hi, and welcome to one of the light days of the soccer week!
Here at Noob, we take this this chance to embrace matches involving teams about to get kicked out of their leagues for poor performance.
Embrace their pain.  A burden shared is a burden lessened and stuff.
Spain vs. England – UEFA Nations League
All three teams in this League A Group have played two of their four matches.  Winners of each Group in League A make the Playoff Stage.
They're ranked 9th and 6th in the world by FIFA, but it's Spain who lead the group.  In fact, they're the only ones who have won a match.  Anything but a win and "The Three Lions" are no longer in contention.  (2:45 PM EST, Unvision Deportes)
RESULT:   England   2-3         For the winners, two goals for Raheem Sterling, two assists for Harry Kane, and one of each for Marcus Rashford.  But England still trails Spain by two in the table with one match remaining.
B.  Costa del Este vs. Plaza Amador – Panama National League
Panama's top league is a curiosity to Noob.  Only two teams score a lot, and they both give up so many goals that it doesn't really matter.
Costa del Este lead the league in the table by virtue of having the best defense of all.  Plaza Amador don't score or give up goals much at all.  So far, the style has been good to the tune of their being tied for #B.   Top two finishers in The Apertura and Clausura (first and second half-season) make the league Playoffs.
RESULT:   CdE   1-0
Sorry, Number Two.  You're a Digit of Suckitude.
The Quest for Number B is ON.
Libya vs. Nigeria – Africa Cup of Nations qualification
Top two finishers in each Group of four make the Cup next season.  They're halfway through the Group Stage and these two are #B and #3 currently.
Libya are just barely ranked in the top 100 by FIFA worldwide.   But they're #B after three matches!  They trail #B Nigeria by two table points.  The visitors today are ranked #48, indicating they should win this game handily, even on the road.
RESULT:   Nigeria   2-3      A painful loss for the Libyans.  They came back from down 0-2 to tie things up.      The second goal for Odion Ighalo wins it at 81′ for the visitors.
And now, your weekly Matches of Suckitooooooood!
Ceara vs. Botafogo – Brazil Serie A
Ceara have only lost one of their last six!   That push has only been enough to get them to 18th out of 20 league teams.  And four will be Relegated at season's end.  They've found a stride on offense, should catch Vitoria.  But they'll need to also pass at least one another team.
Botafogo is #14 and struggle so much on offense that their one of the teams Ceara could end up passing if they are able to save themselves.   (7:00 PM, Premiere Futebol Clube)
RESULT:   0-0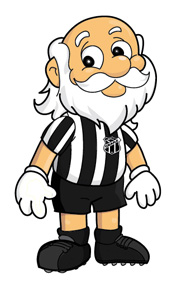 Not a cartoon ref, this is Ceara's mascot, Vovo!
Their colors just happens to be black and white.
Independiente de Valle vs. Guayaquil City – Ecuador Serie A
GC are so awful, there's only one team that doesn't score at minimum twice as often as them.  Last place.   Their defense is actually almost average.  Too bad for them midtable IdV's is just as good.
Fun Fact:   GC's stadium is named for Christian Benitez, who played in the early 2010's for Liga MX club America for a then-record 10 million bucks.
RESULT:     ppd
Dwangwa United vs. MAFCO – Malawi Super League
This isn't one of Africa's ranked domestic leagues.  But hey, they're playing.  Not only that, they're gifting us a double-Suckitude match!
The bottom three will get The Boot from this top-flite domestic league.  MAFCO are in second-to-last and have enough cushion to either side in the table that that won't change in 2018.
Dwangwa, on the other hand, have hope. They're just one spot higher in the table, but down only a little on GD to the team right above them.  They appear likely to finish a couple slots higher.  But this is the sort of game where they must get the three points, or Noob's prediction will prove wrong.
RESULT:   1-1
"Lakeshore" refers to Lake Nyasa, of which the Dwangwa River is a tributary.
Trajal Krusavec vs. Teleoptik – Serbia Prva Liga
With it being International Break for Europe, we need to look into countries' second divisions to find suckiness today.  Serbia's top league is UEFA-ranked #19, newly cracking the top 20!  Their top feeder league will Relegate four teams when all's said and done.
T.K. are in 14th of the 16 clubs.  They're one of three that score half a goal per game-average or less.  Still, they play very solid defense and Noob thinks their destined to finish above the Cutline.  At home today against a midtable club, I think they've got a coin flip chance to win today.
RESULT:   Teleoptik   0-1
Less Than Fun Fact:   Krusavec was very successful as an industrial city as part of Yugoslavia.  However, it never recovered from the 1999 NATO bombings as part of the Kosovo War.
Hapoel Marmorek vs. Hapoel Katamon Jerusalem – Israel Liga Leumit
The Israeli Premier recently fell out of the top 20 leagues in UEFA.  Right now, HKJ is #1 in the second division there, primed to move up to Premier.
If the season ended today, Marmorek would be in third-to-last, meaning they'd have at least a chance to stay up.  They'd have to play the third place third-tier club for the right to play in Leumit next season.
It won't come to that for Marmorek though.   They're one of the two weakest clubs there in Noob's estimation, will be sent down outright.   Swiss cheese defense.
RESULT:   2-2
Swiss raclette cheese has fewer holes, could be a slightly better defensive option.
Bogota vs. Tigres – Colombia Primera B
Is it really "Premier" if it's B?   No offense, #B, but it's a valid question.
Another is whether or not this league Relegates any teams at all annually.  Noob's sources are conflicted.  If they do, Bogota is in position to go down, second-to-last place.  Defense if their severe bugaboo.
Tigres' fight will to be to finish in the top half of the table.  They're just below that now, and based on stats at least, they're positioned correctly.  Noob surmises Bogota has about a 50-50 shot to earn a draw against them today.
RESULT:   Bogota   1-0
Fun Fact:   Bogota FC was originally named "Club El Condor".
Persiwa vs. Martapura – Indonesia Liga 2
The second-to-last place team in this league has nearly three times the points in the table as Persiwa.  As seems to be the theme today, they don't bother with defense.  Still, #6 Martapura is just barely above average.  Noob thinks this one is fated to end in a draw.
RESULT:   Persiwa   1-0         It's a Relegation Monday miracle!
So long from Wamena Papua (home of Persiwa) and the Baliem Valley Festival!