Yesterday was chiock full of smokin' FA Cup finals action!   We have a few more today, sort of a soccer apertif.  Savor the ten most important matches for us – the newish American fans of the world game – elegantly.  Mwah!
(edited 5/10, 8;30 Eastern)  Such a naughty Noobite am I!  how did I miss that the Semifinals of Liga MX's postseason tournament – the Liguilla – begin tonight?
Santos hosting CF America tonight should be the more interesting of the two semifinal two-legged ties.  It's on Univision tonight , beginning in just a few minutes.  Jonathan Rodiguez and Edwin Cetre will look to make it a high-scoring affair for the home side, which finished #4 in Clausura league play.  League #B CFA beat Santos 1-0 at home a few matches ago.
Noobstradamus Sees:   CFA gaining the advantage with a 1-1 draw.
RESULT:   Santos   4-1
West Ham United vs. Manchester United – English Premier
When Noob first scouted this game, West Ham was still in the Relegation conversation.  They are now officially safe.  Manchester United don't have anything to play for except hanging onto second.  Even a draw ensures them that.
Looking ahead to next year – if Man Utd. want to best their intracity rivals, they'll have to address goal-scoring.  They were merely fifth-best in that department.  West Ham's trouble is on the opposite end, having tied for conceding the most goals.   (2:45 PM Eastern, NBCSN)
Noobstradamus Sees:  …a 1-1 draw.  They'll all care, but only some.
They might play a reserve or two in this one…
B.  Anderlecht vs. Standard Liege – Belgium First Division A
Club Brugge – 42, Anderlecht – 40, Standard Liege – 38, Sporting Charleroi – 33.
Noob doesn't like to just list standings typically, but Belgium is getting double-featured today.  Three matches to go, and you can see just how tight things are.  Top two go to Champions League.
Anderlecht just beat leaders Brugge on the road a few days ago, have been the best side since the league divided into championship and relegation subdivisions.  Standard Liege will give them all they can handle, being undefeated their last five matches.   (8:30 AM, Eleven Sports Network)
RESULT:   Standard Liege   1-3    And we have a new #B in Belgium!
Number B, cover thy shame!
Sporting Charleroi vs. Club Brugge – Belgium First Division A
And here's that second scoop.   (12:00 PM, Eleven Sports Network)
Noobstradamus Sees:   …that Brugge has only won one of their last six matches, losing three.  But beat water-treading Charleroi 6-0 their last meeting.  Brugge, 1-2.
RESULT:   Brugge   1-3
Akhisarspor vs. Fenerbahce – Turkey Cup
The Final!  But the story of this tournament is already written, really.
Fenerbahce hosted a Semifinal against Besiktas.  Fans were so awful, including hitting a visiting coach in the head with stuff thrown, that the match was ended.  By league rule, Besiktas was to advance.  Instead. the league announced the remaining half hour of game time would be resumed on a new date (with no fans allowed).
Besiktas appealed for the win, but were denied.  In protest, they refused to play.  They forfeit all their prize money and cannot play in next year's FA Cup.
Noobstradamus Sees:   …that league #12 can't compete with #B Fenerbahce, much as it would feel good to see the latter lose.  Bad guys, 1-3.
RESULT:   Akhisarspor   3-2   Well whaddya know!
Greek fans are still crazier
Brondby vs. Silkeborg – Danish Cup
It's the Final of the DBU Pokalen.  This match is not at Brondby's home ground, but it is in Copenhagen, so it's still a home advantage.
Not that Brondby is going to need that help.  They're #1 in the Superliga, while Silkeborg are #11, currently slated to play in a postseason Relegation Playoff.
Noobstradamus Sees:   Brondby 4-0
RESULT:   Brondby   3-1
Djurgarden vs Malmo – Swedish Cup
This Final's at Djurgarden's place.  Last year, these two were #3 and #1 in the league, respectively.  This year has been a different tale, though they're not even ten games into the season yet.  10th and 8th place so far.  Ouch.
Noobstradamus Sees:   Snow.  Always snow.
RESULT:   Djurgarden   3-o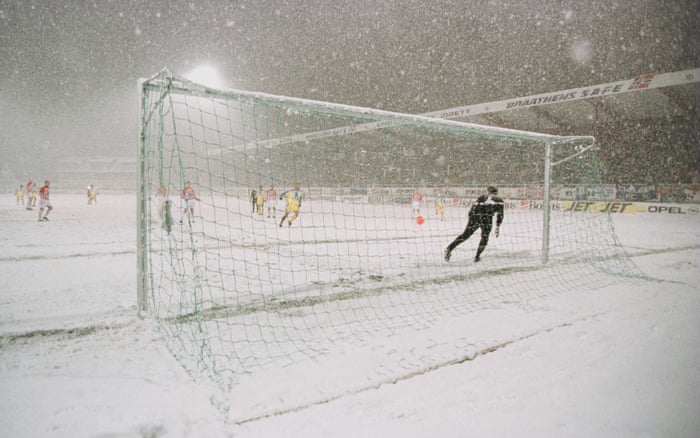 Orange ball alert!
Gaz Metan Medias vs. Hermannstadt – Romanian Cup
This is a one-off Semifinal, and in some ways the most intriguing matchup of the day.
GMM are in third-to-last place in Liga I, in line to have to play a Relegation playout match with a Liga II team for the right to stay up.  Hermannstadt are from said Liga II, have all but mathematically guaranteed themselves promotion to the top flight next year.  More, they were promoted to Liga II just this year!
Noobstradamus Sees:  …the fairytale rise of the Fighting Hermannators (ok, Noob made the mascot up) continuing!   0-1.
RESULT:   Hermannstadt   2-3   Minnow success!
Basel vs. Young Boys – Swiss Super League
Hail to the league champions!  Young Boys of Bern ran away with the title.  And Basel didn't have any competition for #B and the other Champions League invite.  The match may not "matter", but Noob always tries to acknowledge #1-#B matchups.
Noobstradamus Sees:  …Basel being brought the finest meats and cheeses from all the surrounding land!
RESULT:   Basel   5-1
…because other Swiss culinary traditions are weird
Boston River vs. CD Jaguares – Copa Sudamericana
South America's version of Europa League, where the First Stage is winding down.
Boston River are the #2 entrant out of Uruguay.  CD Jaguares are the 4th and final team to qualify from Colombia.  On paper, this is a pretty even matchup, with only a slight edge to B.R. for being at home.
Noobstradamus Sees:   …Boston River overcoming the 1-2 loss form the first leg of this tie and winning today 3-1.  For the Three-U land there shall be victory!
RESULT:   Boston River   3-0
Xelaju vs. Antigua Guatemala – Guatemala National League
Gotta love Guatemala, where the pitchers bat for themselves.
The Management interrupting here with this news bulletin:  Noobstra-dumbass is making a baseball joke.  You—
You don't think Noobites would get that on their own?  You're just grouchy about my dissing Sporting KC in yesterday's post.  Pipe down.  KC won.
And before you say anything else, fine, this is the first leg of a Quarterfinal match to start of this league's postseason.  They finished in 5th and 4th place and will probably play to a…oh…. 5-5 draw today.  Or something.
RESULT:   Xelaju   2-0
So long from my vacation digs in Guatemala!
(Shush, The Management.  They know.)