The ten most important matches to track for us, the newish American fans, hits its stride on the weekend.   Only the shiniest of matches get featured.  Enjoy Noob's mostly truth-telling.
San Jose Earthquakes vs. Houston Dynamo – MLS
The Track leads off the best American match of the day, two teams that made the playoffs last season.  It's early, but so far both are outside that top six this year.  The Quakes are playing much-improved defense, so look for them to control the pace at home.
RESULT:   2-2     San Jose with the equalizer in the 85′
San Jose have a new official mascot.
The Management here.  San Jose does not have a new official mascot.
Fine, ruin all my fun.
B.  Utah Royals vs. Chicago Red Stars – NWSL
Both have drawn in their first two matches.  Tracking expansion teams is always fun, even if Noob holds zero love for anything deemed "royal" this side of the Pond.  Utah's gals will try to control the game with their defense.
RESULT:   Chicago   0-1
Bur Noob is mad crushing on rhinestone Number B.
Tottenham

Sir Topham Hatt Hotspur vs. Manchester City – English Premier
Noob despises seeing it, but Hotspur have seriously put things together the last couple months.   They're tied for 3rd now and would need to collapse epically to not finish top-four, earning a Champions League berth.
Manchester City, meanwhile, have had a tough week and change.  Losing in this year's Champions League and then blowing a chance to win the league outright by blowing a big lead to Man Utd has to have left a sour taste in their mouths.  With nothing left to really play for, they may be caught sleepwalking by dreaded Hotspur.
RESULT:   Man City   1-3
Morelia vs. Toluca – Liga MX
League-leading Toluca have guaranteed themselves a spot in the postseason Liguilla with three matches to go.  Morelia is in 5th, but look quite secure as well.   Both are still playing for seeding though.
Toluca are fantastic on defense, and every bit as good scoring as Morelia.  On the road, however, Noob thinks this game is a coin flip.
RESULT:   Toluca   0-1
Noob said a COIN flip in Mexico.
Bayer Leverkusen vs. Eintracht Frankfurt – Bundesliga
Leverkusen have peaked at exactly the right time of year climbed to 4th and a Champions League berth if they can hold on.  Frankfurt is tied with fading Leipzig one spot down in the table, two points back.  Noob doesn't think the visitors have the offense to keep up today or to crack the top four before season's end.
RESULT:   Leverkusen   4-1
Barcelona vs. Valencia – La Liga
Like Man City, league-leading Barcelona just got knocked out of Champions League.  And they did it in astounding, blowing their 4-1 first leg-lead to AS Roma.  Since they've already all by wrapped up the league title, will they be coasting here?  Of course, the same could be asked of 3rd-place Valencia.  Their CL invite is all but guaranteed now as well.
RESULT:   Barcelona   2-1   And they have the league record!  That's 39 straight league matches Barcelona haven't lost.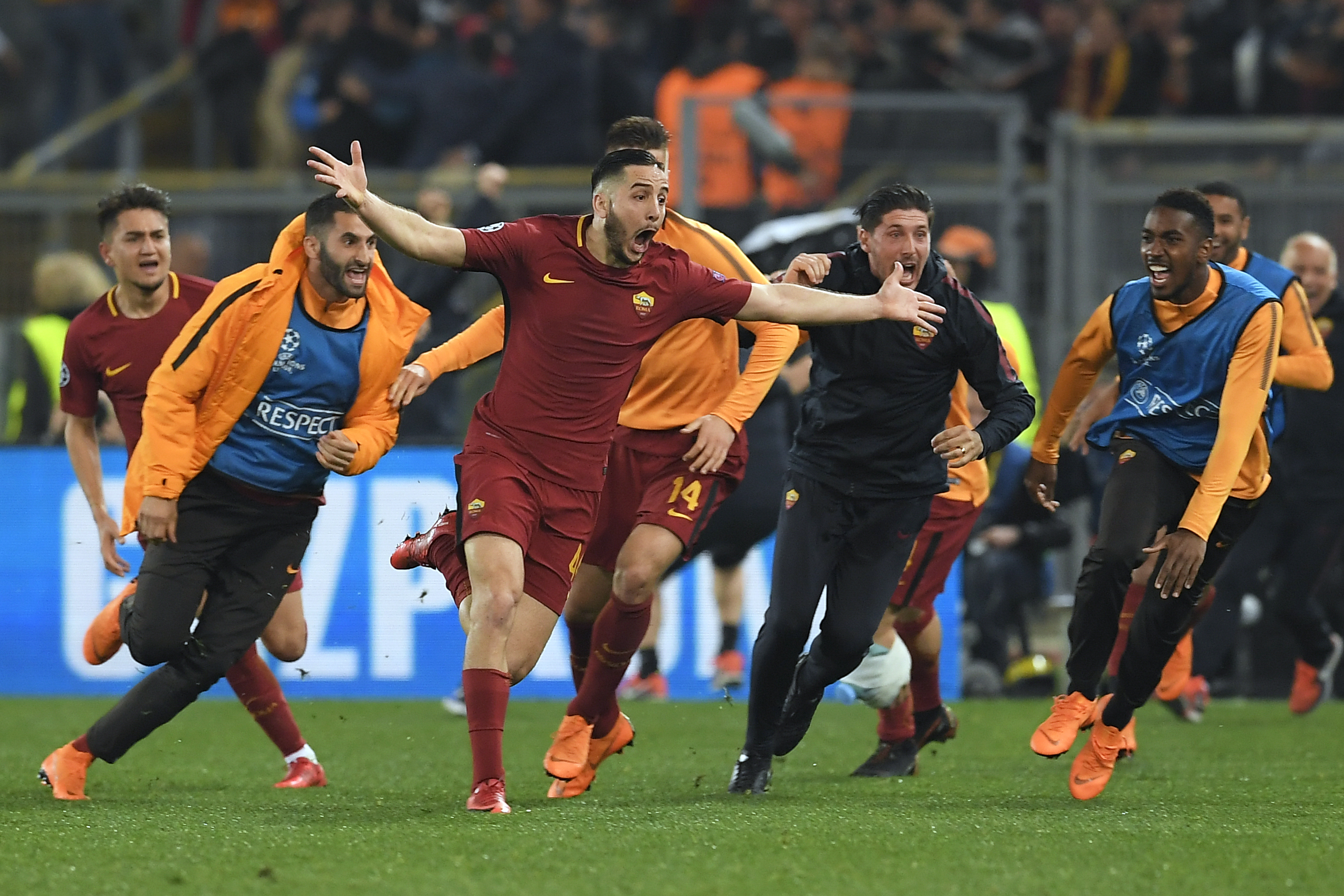 Roma celebrate their mighty comeback.
St. Mirren vs. Livingston – Scottish Championship
#1 hosts #2 in Scotland's second tier.  St. Mirren have a big lead on the pack, will get promoted to Premier League.  Livingston have six-point lead on the next two clubs, seemed assured of the best Promotion Playoff seed.
RESULT:   0-0
Shakhtar Donetsk vs. Dynamo Kviv – Ukraine Premier
Surprise!  Ukraine is ranked as the #8 league in Europe.   It's mostly due to the successes of these two clubs.  S.D. have already qualified for Champions League, but the league title here is still at stake.  They're six points up on today's guests.
#B Dynamo are 16 points up on the 3rd-place club.  How they haven't officially wrapped up the league's other Champions League slot is beyond Noob.
RESULT:   Kviv   0-1
Random Ukrainian surprise
Red Star Belgrade vs. Partizan – Serbia SuperLiga
Truth be told, there's not much drama left in Serbia.  Red Star lead defending champs Partizan by a dozen in the table.  Partizan leads the 3rd-place club by even more.  This league is ranked as pretty average in Europe (#25 of 55), but is on the rise.
RESULT:   Red Star   2-1
Olimpija Ljubljana vs. Domzale – Slovenia PrvaLiga
UEFA league-rank #30, but the Track still finishes strong with another 1-3 matchup.  Ljubljana (pronounce the j's and y's and you've got it, though it's still a little tricky for my Western tongue) have nearly taken the league title now.
Domzale are #3, but will have a hard time scoring today.  Today's hosts have only ceded 11 goals in 26 league matches this season.
RESULT:   1-1     Domzale tied it up in 90′
Noob's got this, seemingly-toothless Ramones fan-girl.