What better day of the week than Monday to embrace the darkness that looms over teams at the bottoms of their leagues!   Let's show them some love before they're unceremoniously given The Boot to lower divisions.
First, though, Noob starts you off with three matches that matter for happier reasons.
Watford vs. Chelsea – English Premier League
The bottom half of the table is very tight.  11th-place Watford lead the pack of also-rans, would need to fall apart here on out to get Relegated.
Chelsea, meanwhile, are in 4th place and in line for the league's last Champions League berth.  They're only a point behind Liverpool and a little safety.  But how will they bounce back after the 0-3 drubbing they took to Noob's beloved Bournemouth fighting Cherries a few days ago?
RESULT:   Watford   4-1      Chelsea went down a man to two yellow cards at about the 30′ mark.
B.  Olympique Lyonnais vs. Montpelier – French Division 1
Welcome to the Track, French ladies!  Noob honors your arrival by placing you under esteemed Number B.
Lyon's gals are a world power.  They're 19-0-0 this season.  They've outscored league opponents a mind-boggling 63-2.  They scare the pastry out of Noob.
Still, Montpelier are in 3rd, with only two losses blemishing their own mark this year.  They're one of only two other league teams to even have a positive goal differential.
RESULT:   Lyon   2-1
Hardcore, fiery Number B can help you make a grand entrance.
Raja Casablanca vs. Ittihad Tanger – Morocco Botola Pro
The top two teams from this league qualify for the next African Champions League.  And what a battle it is for those slots.
RC is in 3rd, just two points behind #B Tanger.  They, in turn, are only two points out of 1st.  The home side today needs to get out of the gates quickly, control tempo at home.  Tanger sports the best defense in the league.
Fun Fact:  Whether struggling or not, RC has always been known as an "artistic" club, basing it's play on pretty short pass-combinations.
RESULT:   ppd
Las Palmas vs. Málaga – La Liga
It's like Halley's Comet going by!  Second-to-last hosts last place on a Monday.  Since three teams get Relegated out of Spain's top league, it's looking more and more certain these two are Segunda division-bound.
Noob has a thing for island-based teams, and Las Palmas is in the Canary Islands.  What would be their key to winning, maybe even escaping the Drop Zone?  Playing any kind of defense.  They've given up 50 goals in their 21 league matches, second-worst in the league.
Fun-ish Fact:  Due to financial problems, Málaga secured a Qatari sheikh as owner in 2010.
RESULT:   Las Palmas   1-0
Sheikh, when your second chin is that big, the beard just can't help.
Platanias vs. Apollon Smirnis – Superleague Greece
We almost got two in a row!  The hosts are in last, but the visitors sit just outside Relegation, courtesy of goal differential tiebreaker with the 15th place team.
Platanias have both scored the fewest and given up the most goals in the league.  At least they're at home today.
Fun Fact:  Platanias play on three different home pitches.
RESULT:   1-1
CFR Cluj vs. Concordia Chiajna – Romania Liga I
Romania's top six make the league's playoffs.  Everyone else plays to avoid Relegation.
Cluj are #B and have mathematically already qualified to play for the title.  Anything but a win and 11th-place Chiajna is set for the Relegation Round.
RESULT:   Cluj   2-0
Fun, Scary Fact:  Chiajna's nickname is the Vulturii.  They are vampires.
The Management apologizes for this bald-faced lie.  Obviously this is the Volturi coven from the "Twlight" saga of films, books.  This is not a Romanian soccer team.  Please try and enjoy the rest of this post.  Sincerely – The Management
I still can't believe how worked up you get.  I just want people to make fun of you for droning on about anything Twilight.  Again.
The Management:  Well-played, ass-hat.
Just because you're right doesn't mean you don't need to shut up, The Management.
Macabbi Petach Tikva vs. Hapoel Ashkelon – Israeli Premier
Ashkelon are all but mathematically certain to finish in the bottom eight of the league and play in the Relegation Round.  Petach Tikva are up in 8th, yet far enough out of 6th that they'll be in the RR, too, just with better seeding.
Fun Fact:  Ashkelon has a habit of signing pairs of Argentinian players.
RESULT:   MPT   3-0
MAT Tétouan vs. Rapide Club Oued Zem – Morocco Botola Pro
Last place hosts 11th as we return to Morocco.  Tétouan have only one league win on the season.  That won't change unless they can start finding the back of the net more often than once every other match.
Fun Fact:  Harkening back to colonial days, MAT used to play in the Spanish leagues.  They are the only African team to ever play in a European top -flight division.
RESULT:   ppd
picturesque Tétouan
Temperley vs. Talleres – Argentina Premier
Noob's also been referring to this as Superliga Argentina.  It's crazytown trying to figure out which league names are general yet official versus when the name changes with a league title sponsor in play.
Regardless, Temperley may not have to worry about it lots longer.  They're entrenched in the bottom four, based on the current league season results combined with those of the last couple seasons.  That's how they determine who gets the boot there.  Talleres are in 3rd, and Noob thinks they'll finish even higher.
Not Fun, But Interesting Fact, I:  In the 1990's, Temperley was shut down for two years over owing the player's association $400k USD.
RESULT:   Talleres   0-1
Chacarita Juniors vs. Velez Sarsfield – Argentina Premier
Let's double dip!  Chacarita are even more certain to get demoted at season's end.  Hosting a team only in 16th gives them at least a puncher's chance today.
Not Fun,But Interesting Fact, II:  Chacarita had 10 points deducted from them in the table in the 1980's once, which made the difference between them staying up or getting Relegated.  Why?  Hooliganism!
RESULT:   Chacarita   2-0       It's a Relegation Monday miracle!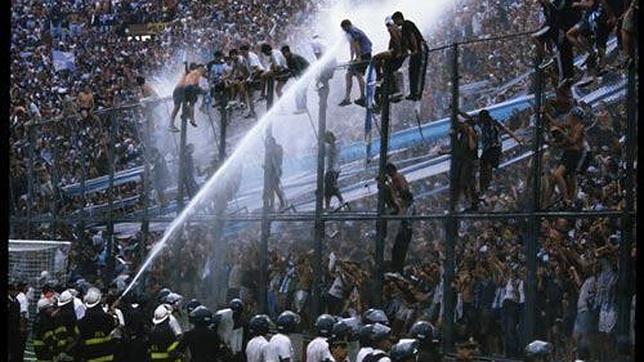 Apparently these Argentinian hooligans didn't put the lotion in the basket…