The ten most important soccer matches of the midweek, they await us, Noobites!  We get a spicy mix of league and Cup matches, a Premier League team gets a new name, I scare my volunteer with a thinly-veiled maiming threat, and so much more..
NEW FEATURE:  Staff seer Noobstradamus – who may or may not be merely an alter ego of Noob's – is challenging The Management and Dan-o "the Interno Inferno" to a contest of prognostication.
We'll all pick winners and losers for all games except Monday's.  We won't pick draws, because Amuricuh!   One point is earned for getting a game right, two for picking a big underdog to win in games I'll designate with a "u".
Monday, 1/2
Manchester City vs. Watford (u) – English Premier League
The City train just keeps rolling, seemingly unstoppable.   Noob's Tracking them because there's talk about this being a Greatest Ever-sort of team.  And they won't be sleeping on 10th-place Watford, since they don't have another League match for two weeks.
RESULT:   Man City   3-1
Watford, your crest still looks like an upside-down PSA for reminding people to use a licensed doctor for vaginoplasty.
B.  Napoli vs. Atalanta (u) – Coppa Italia
Number B.!  Italy's FA Cup has reached its Quarterfinals.
League #1 Napoli plays host.   They've won four matches in a row.  #9 Atalanta has been rolling for a while, but got ambushed at home by lowly Cagliari in their last match.  The winner will get league #2 Juventus in all likelihood.
RESULYT:   Atalanta   1-2    Noobstradamus succcess!  Not that, you know, I'm surprised or anything  *cough*
Napoli is in a dogfight for the league lead.  They will let their focus slip today.  Atalanta shall win.  Noobstradamus has bespoken!
Bespake.  Bespeaked?    Blaargh.
Iraq vs. U.A.E. – Arabian Gulf Cup
Reminder:  Seven Gulf area teams, plus Yemen.  These two both rate in the 70's in FIFA rankings, should be the higher-quality of the Semifinals.
Iraq looks like the class of the field.  U.A.E. somehow finished 2nd in their Group scoring only one goal in the three games.  (They gave up none.)  The winner likely gets Oman in the Final.
RESULT:   U.A.E.   0-0  /  2-4  pk      The Emirates' shutout streak continues.  On to the Final to face Oman.
Tuesday, 1/3
Arsenal vs. Chelsea – English Premier League
This should be the match of the midweek!  Neither club has lost since early last month.
Chelsea is in 3rd.  Arsenal stands at 5th place, a guaranteed 2018 Europa League slot.  They're well behind 4th-place Liverpool, but could use some space against hated rival and all-around scorned 6th-place Tottenham.
New Year's resolution!   Noob will now regularly refer to accursed, named-for-a-traitor Tottenham more regularly as "Tottenham  Sir Topham Hatt Hotspur".
RESULT:   2-2
He's a much more palatable figure than dastardly Henry "Hotspur" Percy.
Hello, Noobites- The Management here.  The Management would like to apologize for Noob's incessant ranting on this topic.  He's had his head med upped recently, but the hoped-for effect can take weeks to show up.  Thank you for your time and patience. – The Management.
Hey, The Management.  Noob doesn't remember signing away his HIPAA privacy rights.  But let's move on.
Sydney FC vs. Newcastle Jets – Australian A-League
#1 vs. #2!   Noob's always down for it.   Even if barely more than a dozen games into the league season Sydney is up eight points on Newcastle, who are in turn up seven on 3rd place.
These are the only two finishing positions that are AFC Champions League slots.  Sydney leads the league in scoring and defense.
RESULT:   2-2      Sydney salvages a point with a goal in the 87′
Formentera (u) vs. Alavés – Copa del Rey (Spain FA Cup)
This is the Round of 16.  Unlike with many FA Cups, teams here play two-legged ties (two-match series).
Formentera is our pececillo – Minnow.   They're a so-so third-tier team that have made it a long way.   Their guests are a poor La Liga team, and they've already beaten much better Atletico Bilbao.  Noob's got a thing for island teams, and Formentera are based in the Balearics.  Gofightwin!
RESULT:   Alavés   1-3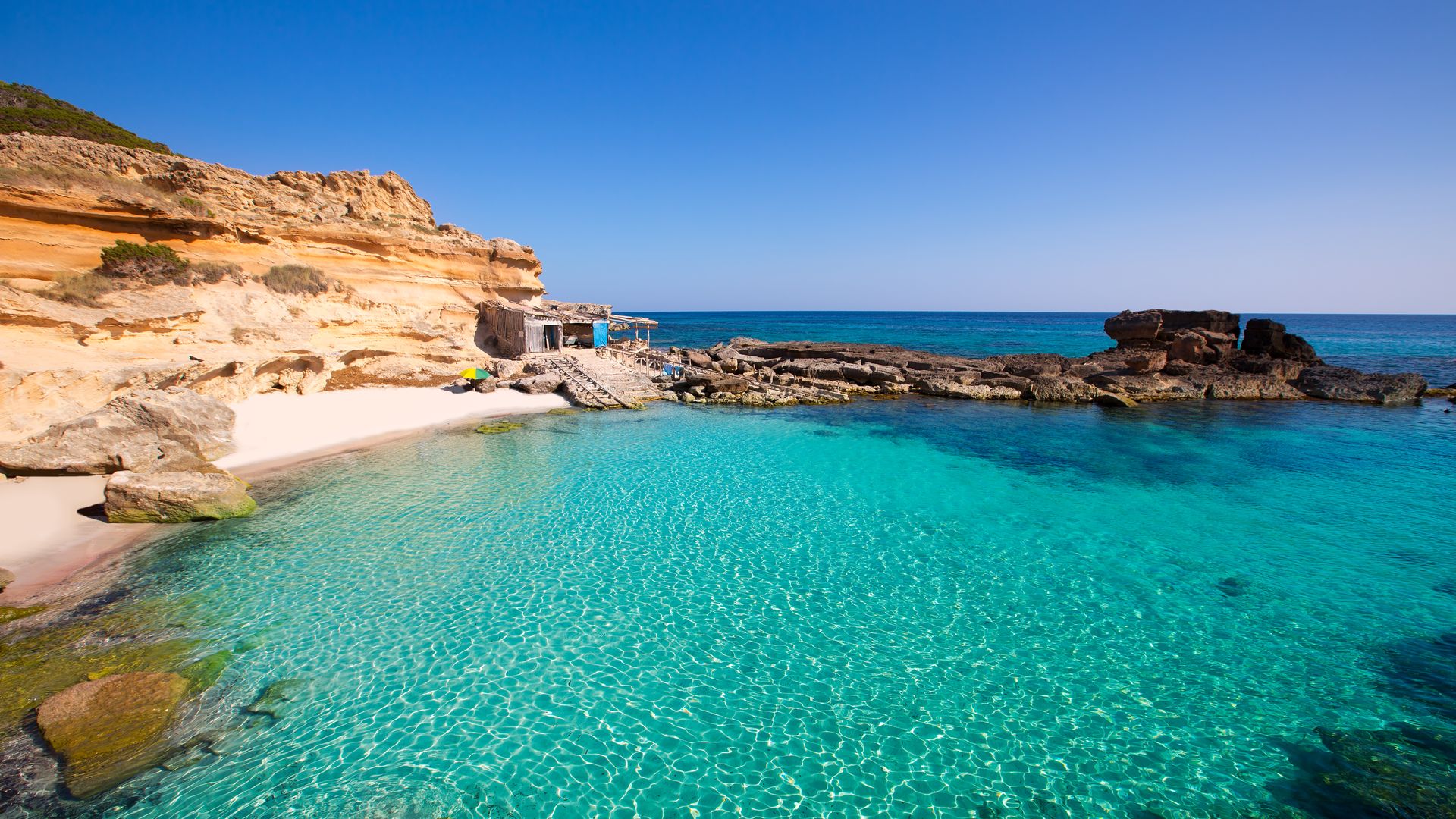 Someday Noob's ashes will be scattered in that lagoon.  Heaven.
Juventus vs. Torino (u) – Coppa Italia
This is not the Quarterfinal matchup league 10th-place Torino was hoping for.  They're defense is pretty suspect, and Juventus are the goal-scoring monster of Serie A.
Benfica vs. Sporting CP – Primeira Liga
Porto leads Portugal's top league, but Sporting Lisbon is tied with them.  Benfica is close behind in 3rd.  This league only gets to Champions League spots this year.  Torcida importante!
RESULT:   Juve   2-0
        Um, Mr. Noob, sir?   I don't mean to interrupt.
Yet here you are, doing just that, Dan-o the Intern-o Inferno.
        Are you trying to write "important match" in Portuguese?  
I'm not "trying".  I did.
        Er, that's actually "important candle-wick".
I once took a man's eyeball out with a mellonballer.
        Right.  Carry on!
Apollon Limassol vs. AEK Limassol – Cypriot First Division
The battle for Cyprus' second-largest city is ON.  Intracity rivalries reign supreme for Noob!
3rd hosts 5th place here.  The top six will have a postseason tournament for the league title and Champions League berth.   Apollon are the best team in the league and are undefeated.  They've played three fewer league games than the others because of their international competition play.
RESULT:   1-1
Wednesday, 1/4
Tottenham

   Sir Topham Hatt Hotpsur vs. West Ham United (u) – English Premier League
Sir Topham Hatt is in 6th place.   Feels good to use the new moniker in a sentence.  Not that Noob's bile and vitriol for the Traitorous Ones will ever diminish!   But it is nicer.
West Ham suck out loud and need to knock that crap off, get the big upset here.
RESULT:   1-1
Prognistication Challenge
Noobstradamus:   Man City, Atalanta, Iraq, Arsenal, Sydney,  Formentera, Juventus, Benfica, Apollon, West Ham
The Management:   Watford, Atalanta, Iraq, Chelsea, Newcastle, Alavés, Torino, Benfica, AEK Limassol, West Ham
Dan the Interno Inferno:   Man City, Atalanta, I-Rock (the name is sheer bravado), Arsenal, Alaves, Sydney ("the thunder from down under")*, Apollon, Torino, Benfica,  "I -Tottenham- some good learnins' so they'd better score some of them goals -Hotspur-".
*Noob points out the intern unintentional comedy:   1)  "thunder from down under" could, of course, refer to either or any Australian team, and B) would be less likely to refer to Sydney FC since they are nicknamed the "Sky Blues".   🙂   (Now watch him win.)